The flashback starts: Taylor Swift rerecording "Fearless"
Taylor Swift has cycled through an incredible number of phases during her music career, perpetually blurring the lines between musical genres like pop, rap and country. Her first album, "Fearless," sold over 12 million copies, and its hit songs "Love Song" and "Breathe" are still on constant rotation for her avid fans. The album is filled with sentiment and all the heartfelt country spirit of teenage Swift, which she addresses in a Billboard interview. 
"The album is filled with magic and curiosity, the bliss and devastation of youth." Swift said. 
However beautiful a time in her life this was, her producers at the time refused to give her rights to the album. She recently announced to hungry fans that she plans to re-release one of her first albums, and in the process, revive the excitement of her dynamic early career. As Swift herself sings in "Love Story", "I close my eyes and the flashback starts."
At midnight on Feb. 12, thousands of fans logged onto Spotify, Apple Music and Youtube to hear Taylor's matured voice singing one of her oldest and most well known songs, "Love Story." The original music video drew inspiration from "Romeo and Juliet," with a precocious Swift pining from balconies in a timeless white dress for her Romeo. Her new music video focuses on her nostalgia for that time in her life rather than the original sentiment of the song.
With a black sparkly baseboard, Swift displays a scrapbook of sorts, filled with nostalgic pictures of her with her curly hair, funky country outfits, a guitar and all the people who have been there for her since the beginning. The melancholy tenderness that she has developed on her newer albums, "Folklore" and "Evermore," is reflected in "Love Story (Taylor's Version)." Her voice has grown from that of an overwhelmed, lovesick dreamer to an adult looking back wistfully on a life full of passion and new experiences.
But as Swift signs the video "With love to all my fans," it's clear that not only is the song a landmark for who she was and how she's grown, but it is also to pay her respects to the audience who have followed her music through the years — country, pop, rap and alternative. These are the people who still blast songs like "You Belong With Me" and dance around their rooms on a Tuesday night, yearning for their boy next door, whether one exists or not; people who still pretend to slam their phones and scream "We are never, ever, ever getting back together!" The stark simplicity of the video will stand out to long-time fans as a reminder of a simpler time — she doesn't use any extra editing tools, opting for a format that could fool anyone into thinking they were back in 2008, listening to "Fearless" for the first time on a blue iPod touch.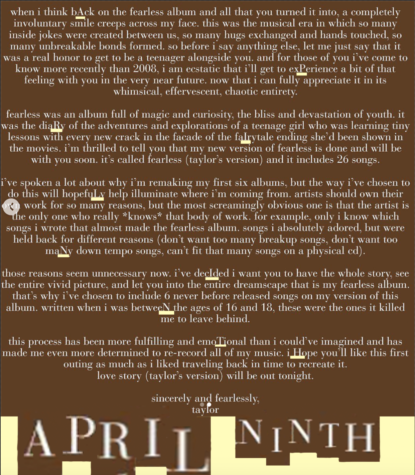 The decision to re-record the album stemmed from her fraught relationship with Big Machine Label Group, which produced Swift's first six albums. Scooter Braun acquired Big Machine Label Group in 2019, buying master rights to all of her albums thus far. These master rights include profit from streams as well as to allow usage in media, so this acquisition essentially robbed Swift. To add insult to injury, Braun is most known for his work with Kanye West, a notorious nemesis of Swift ever since he interrupted her VMA acceptance speech in 2009. Swift was quick to announce her re-recording after the acquisition, not only to earn the lost profits, but to reclaim a time in her life that was stolen from her. Re-releasing her albums would plummet the value of the original master recordings, and on April 9, as stated in a hidden code in her Instagram post, Swift will finally release the re-recorded version of "Fearless", taking back what's rightfully hers.
But Swift has never been shy to take back what's hers, whether it's her album rights or her dignity. In her early 20s, Swift faced extreme criticism for her love life, from the number of men she had dated to unsolicited opinions on who she should be with. She proudly confronts these assumptions head first in "The Man," as she sings, "And I'm so sick of them coming at me again 'Cause if I was a man then I'd be the man."
In a 2016 Vogue interview, she gave advice to her younger self, saying that although she dated like any normal 20-year-old, the amount of hate she got for it would be completely disproportionate. Taylor Swift is known for writing her songs based on life experiences and her feelings about them; songs seem to be a way for her to savor memories before they pass. Her experiences, like any young person's, include brushes with love and relationship struggles. 
Having studied and worked at her music since she was 14 years old, hearing others claim she wrote songs simply to trap boyfriends and complain about relationships must have been an incredibly stinging insult. Still, Swift continued composing, reflecting and taking ownership of experiences with her lovers and her own reputation.  Even more recently, she has brandished her sword to defend her feminist ideals when a 2014-esque "Taylor Swift slut" joke popped up on Netflix's new orginal, "Ginny and Georgia." In the show, a character tells her friend she goes through men faster than Taylor Swift. After being used to similar jokes that have plagued her career, the singer tweeted right back. 
"Hey Ginny & Georgia, 2010 called and it wants its lazy, deeply sexist joke back," Swift said. 
"Fearless (Taylor's Version)" will include the same 20 songs as in 2008, but also six never-heard-before songs, adding up to 26 recordings all Swifties have to look forward to. They might have been young when they started listening to her, but her decisions show their love story will never end.