Eric Shen wins gold medal at International Math Olympiad
Competing against more than 103 other countries with five other teammates on the U.S. team, senior Eric Shen is the first Lynbrook student to compete at the International Math Olympiad and one of the 44 competitors that won a gold medal, with the U.S. placing 3rd overall.
The three-day competition started on July 11 and was hosted by the University of Oslo in the capital of Norway. IMO awards gold medals for scores of 34 points or more out of 42 and silver and bronze medals for lower scores. Shen's final score came out to be 36 points, which earned him a gold medal. With the threshold for the highest award being 34 of 42 points, the room for error made Shen confident that he had a good chance of winning a gold medal with his answers.
"I was reasonably confident," Shen said. "There was just a tiny lingering feeling of 'What if something goes wrong?' It's like waiting for the results to come out on a test."
While in Norway for IMO, Shen explored the country with his team and family. Some memorable activities included meeting the mayor of Oslo, visiting City Hall, riding the Flåm Railway and taking a two-hour cruise tour through fjord sea inlets.
To be selected for the U.S. team, Shen had to compete in the American Mathematics Competition, the American Invitational Math Exam and the United States of America Mathematics Olympiad. The USAMO is one of the highest-level high school math competitions and consists of proof problems similar to the IMO, while the earlier competitions test calculation-based problems. The top 60 competitors of the USAMO go to a three-week-long Math Olympiad Program in the summer, which Shen attended in person in 2019 and 2022 and virtually in 2021.
"I would say the best weeks of my life were during MOP 2019 and 2022," Shen said. "It's really great because you get to spend three weeks of the summer bonding with people with similar interests in math."
Following MOP, Shen took the Team Selection Test Selection Test and participated in a series of olympiads and the following year's USAMO. Each student's performance in these olympiads forms their IMO index and the top six are selected for the U.S. IMO team.
"It was Eric's goal to get into IMO at least once in his high school career, so I was happy that he was able to accomplish one of his dreams," senior Steven Pan said.
Though Shen found success in his competitive math journey, he still struggled with immense pressure to place in competitions and imposter syndrome — self-doubt of one's skills and the internalized fear of being a fraud — from competing side-by-side with other talented students.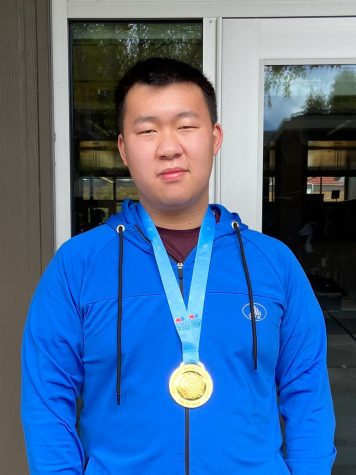 "I was the only middle school student at MOP 2019 and I knew next to nobody at all, so I was scared," Shen said. "I unpacked my things and was like 'What am I doing?'"
Dealing with expectations and imposter syndrome are still continuing struggles for Shen, but he finds ways to enjoy the opportunities with the support of his friends in the math community, which he says is the most valuable from his many years of math competitions. From receiving mentorship from older students in middle school and making lasting memories with friends in high school, this community of people with the same passion for math was where Shen felt most supported and where he fit in the most.
"MOP 2019 taught me that the math community and these friends are the greatest thing I can take away," Shen said. "It changed my mindset from being an extremely competitive person to just doing math opportunities for fun and hanging out with the people there."
As Shen graduates from high school, he hopes to carry his math and critical thinking skills into a Computer Science degree and career in a way that he can make a meaningful impact on others. He advises others with similar aspirations to only pursue true passions, have fun with the experience and avoid getting caught up with results and performance.
"If you don't enjoy it, don't do it," Shen said. "This is supposed to be fun. You don't need to stress yourself out preparing for competitions; if it's not enjoyable, that defeats the whole purpose."