A new sport: (Social) distance running
Amy Liu, Editor-in-Chief
December 9, 2020
On your mark, get set, go! 
Imagine a typical holiday 5k race: runners lining up at the starting line, listening for the sound of the starting gun and waiting to dash down the path. Organizers are waiting around the corner with water bottles, while friends and family are cheering on the side. This year, however, it may just be a single family preparing to run out of their driveway. Due to COVID-19 safety guidelines, many local races went virtual to ensure the safety of runners while still providing opportunities for training and fun. 
Although local races and marathons are most popular among already competitive runners, many holiday-themed fun runs, such as the Turkey Trot, are also aimed toward casual runners. In the past, the Silicon Valley Turkey Trot has held its annual 5k and 10k races on the streets of downtown San Jose, donating the profits from registration to Second Harvest Food Drive. Last year, with over 23,000 volunteers and 250,000 runners, the Silicon Valley Turkey Trot was able to raise 9.6 million dollars to provide almost eight million meals. 
This year, the event was held virtually through the application Racejoy, which tracked a runner's run or walk and automatically uploaded their results to the Turkey Trot race page. After downloading the app, participants hit a green 'GO' button and carried their phone with them as they ran to track distance and time. Between Nov. 21 and Nov. 29, runners could participate whenever they were free, and they could spectate online to cheer on friends and family as they finished.
"I volunteered at the [in-person] Turkey Trot for two years in the past, and I thought it was really impressive that they were able to adapt to a virtual run and continue to give back during the holidays," senior Nancy Qi said.
Likewise, the annual San Francisco Marathon cancelled its in-person runs, but participants are still able to take part virtually by running around the neighborhood or on a treadmill indoors. The event typically hosts more than 27,500 runners, but unlike the Turkey Trot, the San Francisco Marathon is holding specific synchronous race times on days throughout November and December. 
Runners can participate in the San Francisco Marathon through the Virtual 365 Real Time Live Race App, which allows runners to track courses and compete with other runners. Through this app, runners can choose a course to take and view their leaderboard results in real-time. Family and friends can also spectate a live run. 
Unlike past community or holiday runs, some races this year have deeper meanings concerning current events. In light of the Black Lives Matter movement and 2020 presidential election, running companies Oiselle and Run 4 All Women teamed up to host another virtual relay race, called Womxn Run the Vote. The goal was to engage Black voters and get them involved in the election. The event raised money for Black Voters Matter, an organization that seeks to increase voting efficiency in predominantly Black communities.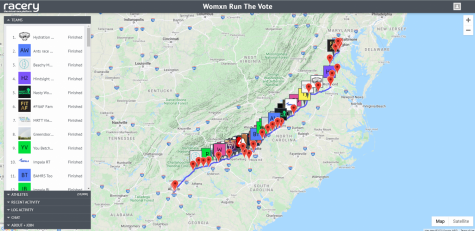 From Sept. 21 to Sept. 27, teams of 15 to 20 virtually covered a 680-mile journey from Atlanta, Georgia to Washington, D.C. on the app Racery. Along the way, runners learned about the historic figures from civil rights history. Throughout the week, runners uploaded their runs to a website which displayed a leaderboard and an interactive map showing each team's location. 
French teacher Elizabeth Louie reflects on how the cause of Womxn Run the Vote motivated her to participate. 
"Since it was a virtual relay race that I could do 'with' my teammates and for an important cause, I thought it would be meaningful to participate in," Louie said. "A team relay that contributes to something greater is what would drive me to compete again."
Participating in virtual challenges requires self-motivation, as participants are not physically surrounded by other runners for encouragement.
"One challenge is the fact that [we] couldn't run together, which usually makes miles go by way faster," Louie said. "You can go on a 10-mile run [with other people] and it's done before you know it, but when you're doing that by yourself it's a lot harder."
Many Lynbrook cross country runners feel the same way. To prepare for the now-postponed cross country seasons, Lynbrook runners have started training by participating in virtual challenges assigned by coaches on apps such as XCStats and Strava. Once the runners complete the challenges, coaches record their results onto a spreadsheet that the entire team can access, allowing them to see when their teammates have done the challenges. 
"Even though only maybe a dozen kids are there, a run still motivates the [runners] because they can see other people out training," cross country head coach Jake White said.
Although concerns about the pandemic prevent everyone on the team from showing up, White tells the runners to keep working out to stay in shape for the upcoming season. 
"When it's all virtual, you can see who's there running every day and your coaches can check in on you," junior Srushti Patil said. "It holds you accountable because you see all your teammates running everyday, so I'm like, 'Oh, I should probably run every day too, just like them.'"
These virtual runs provide both avid runners and casual athletes opportunities to take part in fun, festive community activities while staying safe and healthy amid the pandemic. Runners have been able to focus more on their individual schedules and progress than when they were with the team in-person. 
"There's definitely a craving to just see each other and be able to complete workouts together for [runners] who are training to race or PR," Louie said. "At the same time, I think the running community has done a really good job of creating low-key virtual runs to engage people who aren't in a space to push themselves as they normally would this year. Rather than focus on performance goals right now, I'm just happy to meet up with a friend for a socially-distanced run outside."