Staff and student athletes stay active with Strava
When shelter-in-place was announced on March 14, many Lynbrook cross country and  track and field athletes worried for the future of their athletic careers, especially after summer activities were halted following the alarming rise of COVID-19 cases in Santa Clara County. With fewer opportunities for training together, many athletes turned to Strava, a fitness app that tracks various aspects of a user's running and cycling activities, in order to stay motivated and connect with other athletes while staying safe.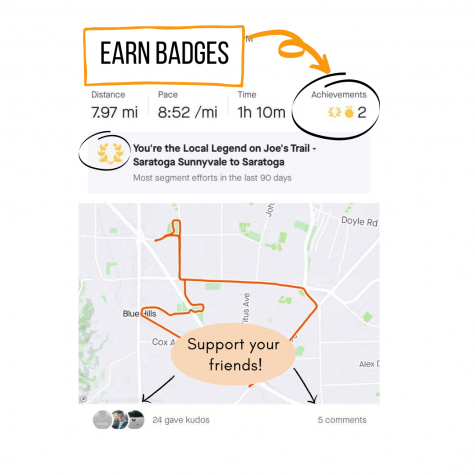 Since its establishment in 2009, Strava has remained a popular fitness app for runners and cyclists around the world and has welcomed more than one million new users per month from 195 countries upon shelter-in-place. Strava athletes have uploaded upwards of 822 million activities covering over 8 billion miles. Its popularity can be explained by the wide range of features that Strava offers and its friendly user interface. The cross country team began using Strava even before they had to train separately, but the app became essential to the team during the pandemic.  
"I first discovered Strava as a freshman when the varsity cross country athletes recommended it to me as an easy way to keep track of my runs," junior cross country athlete Srushti Patil said. "Ever since then, many of my teammates have been recommending Strava to other athletes, and now, almost everyone uses it."
Strava allows users to sync three types of devices to its app, including phones, fitness watches and computers. With a one-time Bluetooth pairing, runners can upload statistics of their runs without opening the app. Many athletes find functions such as detailed heart rate analysis, speed and elevation trackers useful in breaking down their runs and finding weaknesses to improve upon. 
"I've been using Strava to see my specific splits for each mile or see my full pace," Patil said. "I can tell which parts of runs I am struggling to do, along with which parts have been easier for me to run. I have tried using other fitness apps, but Strava is more accurate and easier to use."
Besides its use as a general tracking app, Strava also allows users to follow their friends' progress and compare statistics. One feature that is particularly beneficial during the pandemic is Strava's heat map, which shows how popular a trail is, allowing users to avoid crowded paths in order to maintain social distancing or discover new trails worth trying. Strava also allows users to view the activity of their friends, increasing their motivation to explore new areas while staying fit.
"I follow a woman whom I went to college with on Strava, and she lives outside of San Luis Obispo," Japanese teacher Jeremy Kitchen said. "When I was traveling there, I based my runs on hers and was able to find new places to run. And I do it around here too. I'll see people's runs and I'll think 'that looks like a fun place to go.'"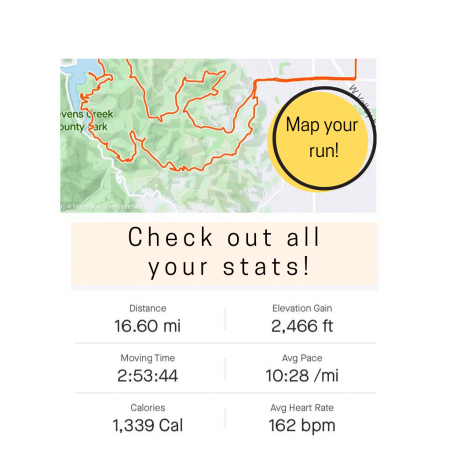 Another popular function, especially among Lynbrook's cross country athletes, is Course Records, a leaderboard that displays the best times on specific trails. This feature allows for friendly competition between users pushing to improve their times, which keeps athletes motivated to better themselves even during a time where no sports seasons can be held.
"When sports were canceled, I felt very unmotivated to exercise at first," Patil said, "However, when I saw my teammates running a lot, I became motivated to run as much as they did. I would look at maps and find segments that less people run on and I'd sprint to get the course record. Because I am able to see my teammates' progress on Strava, I am always held accountable for staying fit."
Lynbrook's cross country athletes on Strava have also been using the Strava Feed, where they can post their run summaries along with their statistics, pictures of the trail and additional captions. Other athletes can "give kudos" and comment on the run. Lynbrook's cross country program emphasizes team spirit, so Strava was the perfect choice for maintaining connections within the team as well as with their coaches despite being unable to meet. Athletes comment encouraging words on others' runs and workouts to boost team morale or give advice to help each other improve. Sometimes, even the cross country coaches join in.
"For me as a coach, I would like to keep tabs on them, just to see how they're doing," cross country assistant coach Luca Signore said. "I can see if they're running a particular route a lot and suggest, 'Hey, if you take a right here, this is kind of a cool route,' 'hey, you're probably running a little bit too fast' or 'you're running too slow' or whatever it might be."
Besides using the Strava Feed to encourage each other, the cross country athletes have also used this feature to discuss topics outside of cross country and bond not only as runners but as people. In a time where social connections are more essential than ever, Strava provides an outlet for athletes to destress with the support of other teammates.
"I really like the social media environment of Strava," Patil said. "During these times, Strava has become like our personal diaries. While we like to detail our runs, we also write random comments like what we've done during the day to keep in touch with our teammates."
Because Strava is a platform that emphasizes social connections between athletes, even Strava users who are not a part of the Lynbrook cross country program can find a place to belong and interact with other Lynbrook users inside and outside of cross country.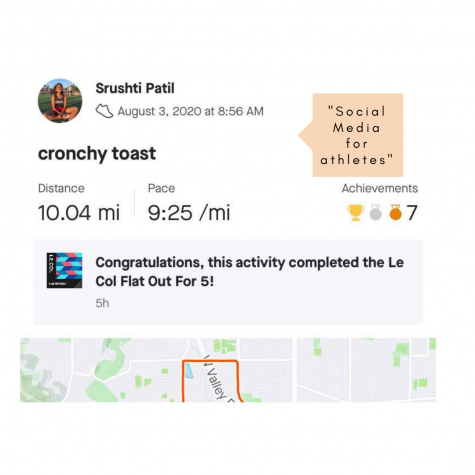 "It's fun to watch what other runners are doing," Kitchen said. " Sometimes, I see people who I've befriended from races, and we'll follow each other. Other times, I'll come across Lynbrook alumni on Strava and check out their runs. I would also give them kudos or comments from time to time. Some of the athletes in cross country also follow me on Strava, and then I'll follow them back."
Runners who are not in cross country or track have also taken a liking to Strava's functions. Other students, teams and even teachers have found this app to be a great way to find motivation during lockdown. As Strava is user-friendly for runners of all skill levels, many have developed set exercise schedules with ease.
"You have some of the serious elite runners who are on Strava, but then you also have people like me who are very far from elite and can still track their improvements," Kitchen said. "Strava recently released a leaderboard called Local Legends about a month ago, and it values grit over speed by placing those who run the same trail the most times on the top. The app developers are trying to find a niche for everybody on the app, and I think that they've done a pretty good job at it."
While the athletics department has had to adjust to shelter-in-place guidelines, Strava has helped many athletes in and out of cross country find ways to stay fit and maintain connections with other athletes during these unusual times. Lynbrook athletes have found Strava beneficial for not only improving their physical health but also maintaining their social health in a time where in-person interactions are discouraged.