Teaching from home: a new reality for teachers
For centuries, the traditional classroom has remained virtually unchanged: desks and chairs, pens and notebooks, teachers and students. The onslaught of the COVID-19 pandemic, however, has radically changed this image, forcing teachers to rethink their strategies in order to adapt to online learning. At Lynbrook, faculty members have found a variety of ways to communicate with students and keep them in the rhythm of learning. While teaching from a distance is an unprecedented challenge, teachers are finding creative solutions to make the best of remote learning, while investing time in their personal lives.
Prior to the official announcement on March 13, many teachers made preparations in anticipation of school closure. For instance, many AP teachers, including AP Calculus BC teacher Rita Korsunsky, checked out AP review books to their students beforehand. Art teacher Haviland Hage's students had just started their painting unit a few days before school closure was announced. Although painting from home was not a feasible option, Hage instructed her students to take art-related material from the classroom, so they could continue creating art from home.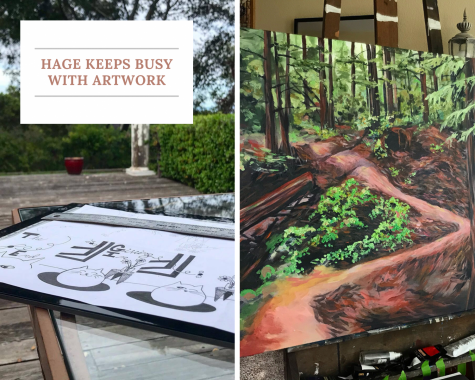 "That Friday, when I woke up, I anticipated that I would not see my students the next week," Hage said. "All morning, I was preparing my students for school closure. I had them take their sketchbooks, roll up a large piece of paper to take home and collect any projects they were working on."
In the week between the school closure and the start of distance learning, teachers worked hard to develop strategies for remote learning. They were faced with an overwhelming variety of platforms with which to assign tasks to students. Teachers have been experimenting with every possible resource, whether it be School Loop, Schoology, Google Classroom, Zoom or email.
Most teachers use their designated class periods to hold virtual meetings on Zoom or to assign lesson plans for students to follow. Although Zoom allows teachers to connect with their students through face-to-face interaction, many teachers have found that it is not a viable option for them.
"I don't really have the bandwidth to figure out how to get my students to see each other, because, as you can see, this is my shelter-in-place reality," language department head and Spanish teacher Kim Revilla said, as her daughter playfully interrupted her mid-interview. "It's a little too much to be video chatting with thirty-odd students. I hate that I'm not more in touch with them, but I do try to post answers online, and I also want to set up a watch party for a Spanish video series that my classes have been watching."
Nevertheless, these teachers have found ways to engage their students and make them feel connected without Zoom meetings. During class, Revilla does her best to evaluate her students' work and provide feedback. Similarly, Hage's students have the opportunity to view and critique each other's artwork through Google Slides.
Chemistry teacher Carol Fong has been checking in with her students at the beginning of each period by asking them to respond to certain prompts. From finding a chemistry limerick on National Limerick Day to revealing their favorite vegetables, Fong's students always have an easy, light-hearted task to look forward to at the beginning of class.
Some teachers have found creative solutions to bridge the communication gap between students and teachers. Take, for instance, economics and government teacher Jeffrey Bale, who makes it a point to send daily check-in videos to his students, outlining pending assignments, sharing interesting articles to read and updating them on his own life.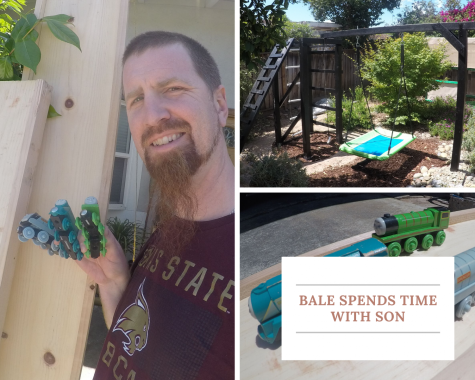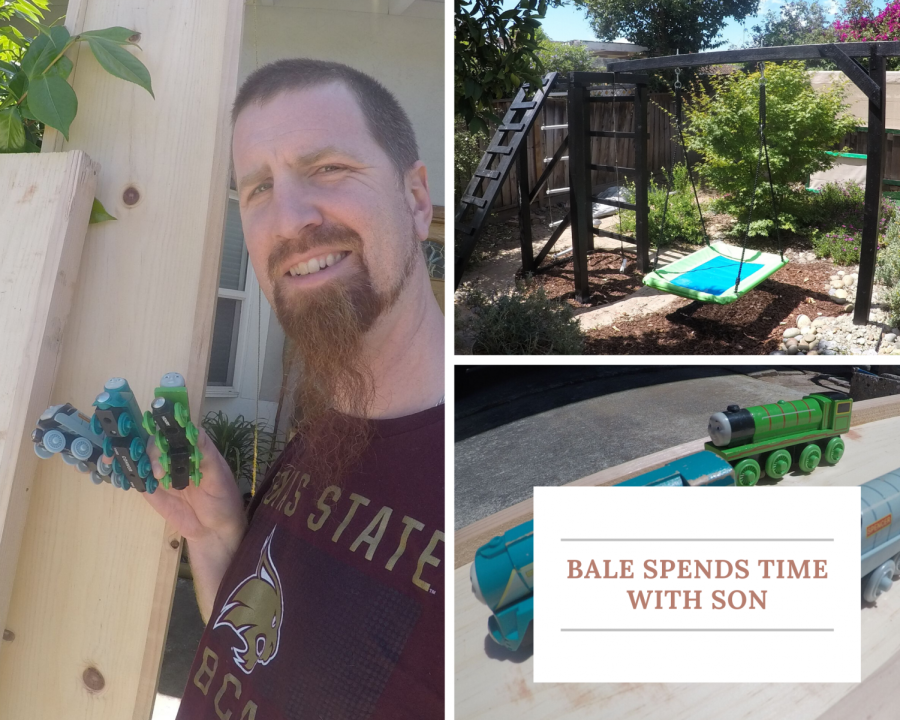 "My ultimate priority during these uncertain times is giving my students a sense of normalcy," Bale said. "Yes, I miss discussion, and yes, I miss having that personal connection with my students. That's why I have these daily videos, because it keeps both teacher and student in the rhythm of things. It's been a fairly effective way to maintain classroom rigor in this unusual environment."
Different departments at Lynbrook are facing their unique challenges in shifting to online learning. For example, science teachers miss physical experiments, which give students hands-on experience. The P.E. Department, now faced with the task of keeping students active while at home, has decided to send workouts and material to students in the faith that they will complete it on their own time.
"I was a little nervous because I wasn't sure how to teach a physical education class online," P.E. instructor Jennifer Griffin said. "We started researching some available online options, and we decided to use an app because we thought it would work the best in this emergency remote learning situation. We are hoping to get feedback at the end of the semester to stay prepared for the future."
Similarly, the world language department, which has historically been heavily reliant on conversation, is now focusing on helping students retain vocabulary and grammar skills.
"In this situation, I don't think that we can have a high bar for rigor, because it's completely unlike a classroom setting," Revilla said. "For assessments, especially at the end of the semester, my students will probably do some writing. I'll be looking at how they did on their writing and whether they've retained the concepts we've been going over. Having them speak would also be a good way to evaluate if they've maintained some sense of pronunciation and correct sentence structure."
While teachers are working hard to provide the best possible remote learning environment, students have had to overcome the challenge presented by keeping track of the plethora of assignments on different platforms. With multiple classes that each have drastically different lesson plans and limited class time, some students have found remote learning to be challenging.
"I definitely do think my teachers were able to communicate and assign work to the best of their ability," said freshman Shashin Gupta. "However, the workload is hard in many ways. Online videos and Zoom calls really can't make up for physical interaction between students and teachers."
Some teachers have been trying to circumvent the impersonal nature of online learning through encouraging self-reliance.
"I've been telling my students to read everything aloud, as if they are their own teacher," Hage said. "Because when you're skimming through material without reading it aloud, you end up missing or skipping important information. Also, don't just rely on the digital. Make sure you have a notebook for yourself to write down your assignments, because it helps to write it down, in addition to having access digitally."
Although remote learning will continue through the end of the school year, and the situation for the following school year remains uncertain, Fong advises her students to learn from the experience while they have the chance.
"This is a strange time for everyone, but it will pass," Fong said. "9/11 changed a lot of protocols, especially at the airports. This pandemic will also change how we live, as we try to resume some normalcy. There are many things that we take for granted and shouldn't. I advise my students to learn from this experience."
On a different note, teachers are coping with these changes by adjusting how they spend their time at home. From baking to reading to spending more time with family, Lynbrook staff members have found a variety of ways to keep themselves occupied.
"I've been spending a lot of time with my son, now that we're at home," Bale said. "I built him a swing-set in the backyard, and I play trains with him everyday. I guess that's a silver lining of sorts, that we get to spend more time with the people we care about."
Revilla has been spending quite a bit of time with her family outdoors. They frequently go on bike rides and walks, and Revilla has even shined up her old rollerblades. She has also been working in the garden and making chalk drawings with her children. Similarly, Hage has been trying to get exercise in her free time.
"I've been trying to run two to three miles every day to stay healthy and make sure my lungs are healthy while the respiratory virus is still out there," Hage said. "Of course, I've been keeping a safe distance while doing that. For my birthday during quarantine, my partner and I purchased an iPad Pro, so I've been learning to use Procreate on my new iPad. I'm also working on this huge painting right now, which is 30 inches by 40 inches."
In lieu of going on campus, teachers have been both creative and understanding in their attempts to give students a sense of routine, as they adjust to this atypical classroom setting.
Zines during quarantine: these are zines, or mini magazines, that Hage's students have created during remote learning. Artwork by Lynbrook students.