New Food? Always say yes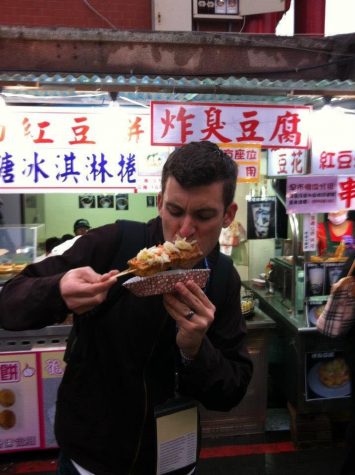 Stinky tofu, octopus balls, convenience store sushi, caviar. The thing that ties all of these unique foods together is that I said yes to all of them, and I'm glad I did.  While I may not be rushing back to have seconds of all of them, they've all been a part of my culinary journey and have helped define who I, and my palate, are today. 
Growing up in California's central valley, exotic foods weren't really something I came across that often.  My parents and I would go out for Mexican food every Friday night, which instilled in me a deep love for the comforting, authentic stuff I now crave weekly.  My best friend was aghast when he found out during our junior year of high school that I had never tried sushi, so he took me to an all you can eat sushi buffet.  I smiled and nodded while he made me choke down bits of raw fish that my palate just wasn't quite ready for. 
Years later I crave sushi almost as much as I do a loaded, greasy, meaty carnitas burrito, so I have him to thank for that. This is where it all started: someone learning that I hadn't tried what they considered an essential dish, putting it down in front of me, and saying, "eat!".  My only job was to say yes, and dig in. 
I tried to follow this philosophy through high school and college, staying open to new ideas and suggestions. For example, on a first date in college when I took her out for her favorite cuisine, Thai, I had no idea how or what to order. Luckily both my date and waitress guided me into a successful and delicious first Thai experience filled with Pad Thai noodles and rich yellow curry. This trend of trying new things when a friend nudged me into it continued on through college and served me well as I grew into an adult. 
Fast forward to a few years into my teaching career when I really began to embrace my opportunities to travel.  I was selected to be a chaperone for the Taiwan Cupertino sister city exchange program, and opportunity that filled me with both trepidation and excitement. Upon arriving in Taiwan, one of the first things that struck me was the food.  The Taiwanese people show their love and welcoming nature by feeding you, and I got to try dozens of new foods every meal when sitting down with teachers, principals, and delegates over mysterious soups, steamed whole fish, and fried rice sprinkled with hundreds of tiny shrimp.  I also learned that when walking the markets with a local, any food you point to will be quickly purchased for you and immediately placed in your hands.  My curiosity about pig's blood on a stick and stinky tofu landed me digging in seconds later, watched eagerly by my hosts to gauge my approval.  (In case you're wondering, they weren't bad, but definitely acquired tastes a little outside of my palate's comfort zone). 
Since then, I've continued to travel every summer, sampling every possible kind of street food I can get my hands on during multiple trips to Japan.  I'd recommend takoyaki (octopus balls), curry bread, and egg salad sandwiches from 7-11 if you're ever lucky enough to land in Japan.  I've also traveled to Spain, Morocco, and Scotland to name a few, and tried my best to stick to my "try anything once" philosophy.  One of the greatest benefits to this state of mind I've found is that it has the power to blow up stereotypes.  For example: haggis.  The Scottish delicacy of mixed meat combined with oatmeal, cooked inside an animal's stomach lining ends up being the butt of many Scottish jokes, but it is actually quite delicious! And the blood pudding that is placed generously in front of you at each breakfast meal is also one of the yummiest things I've ever eaten, no joke.
My years of saying yes to new things led me to one of the best elevated cuisine meals of my life this past October, when I took my wife to Manresa in Los Gatos for her birthday. Manresa is known as one of the top Bay Area restaurants that serves an 8-10 course meal made up of high-end, locally sourced cuisine with a pretty hefty price tag. This was my first Michelin-star rated restaurant meal, and I found myself trying caviar, truffles, lamb, abalone, and geoduck, and each bite was a magical experience. I can safely say I wouldn't have been brave enough to try every exquisite dish put down in front of me at that meal if not it weren't for my generous Taiwanese hosts, my Japan travel buddies, and my first sushi experience in high school, pushing me out of my comfort zone and into a world of culinary delights.