Under the flickering light of her bedside lamp, Class of 2021 Lynbrook alumna Amy Sun continues sewing the last piece of her recent collection, Genesis, in which she focuses on what she calls a "Neo-Chinese" style. Desiring to modernize elements of Hanfu — traditional Han Chinese clothing — in her style, Sun began YINGNA, her clothing brand.  
After founding the University of Washington's fashion club, MESH, in her freshman year, and helping organize its first fashion show, Sun created her brand in 2021. Her initial  goal was to educate others about Chinese culture. Researching more about her Han Chinese background, Sun realized how unrecognized her culture's traditional clothing was. She hoped to popularize her culture's clothing and to share her appreciation for it with others. Wanting to further connect her brand and her heritage, she named it YINGNA, a combination of her Chinese name, 孙姗娜 (sūn shān nà), and nickname, 莹莹 (yíng yíng). 
"I have always thought that my culture and its fashion is beautiful, and I want to share it with others," Sun said. "There is also little Hanfu awareness within the Chinese-American community, and I want to be able to combat that."
Sun was always interested in fashion and clothing, and joined Lynbrook's Indesign in her freshman year. The club's creative flexibility allowed her to create different stylistic pieces while incorporating unconventional items. She then became a designer for Indesign's annual fashion show, learning different styles and techniques throughout those four years. 
"All the members of Indesign were always encouraging and supporting one another, and having that space on campus to sew and learn with really fortified my skills," Sun said.
With her experiences from working in Indesign, Sun has started her own clothing line. Much like her initial process at Lynbrook, she still utilizes thrifted materials and unconventional designs to create unique pieces that showcase her culture. To ensure the success of each piece in her collection, Sun has to go through an extensive process: from brainstorming different styles and researching designs to planning and creating the piece itself. In the past, the creation process had been more spontaneous; Sun simply cut and sewed, seeing where each cut of the fabric would take her and adjusting when needed. 
However, as her brand and goals grew, her process did as well. 
"I used to always dive in head first," Sun said. "Now that I have rebranded, I do a lot of research to make sure I include all the unique details and properly showcase my culture. My new process makes the actual creation process much more efficient, and my designs come out much cleaner."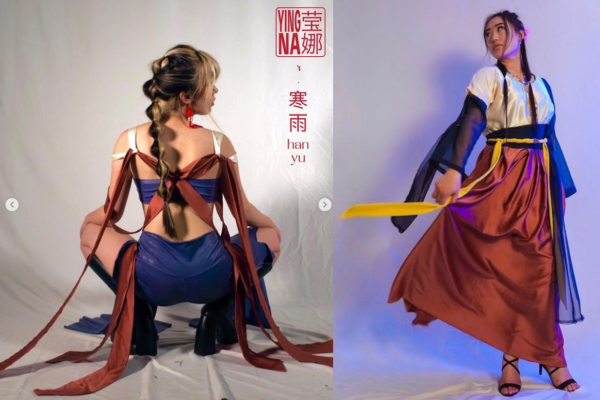 As an Informatics and Arts double major, Sun not only studies art but also the intersection of technology and society. She plans to try using 3D-printed fabrics to make her pieces more sustainable and produce more professional  accessories for her next collection. Sun also hopes to  include wearable LED lights and motherboards in the future, creating better textiles and more unconventional pieces. 
"Fashion has never really incorporated any sort of technology, and many designers focus on using traditional fabrics and methods for their pieces," Sun said. "However, it's always my dream to be able to combine them. Testing out more innovative fabrics means that we can sample what the future of fashion can be."
With the growth of her brand, Sun hopes to expand her clothing collections and continue to craft at least one new collection a year. She wants to inspire others to experiment outside traditional fashion rules and is confident that her pieces will be a part of the movement that paves the future of fashion. 
"As a college student, I don't know how long I can keep my brand going," Sun said. "However, if it ever does come to a close, I hope that my designs successfully spread more of my culture and show that fashion has no true limits."