5 Songs To Make Your Mood Bloom
Welcome back to Music Monday! This time, we're bringing you five songs from Troye Sivan's latest album "Bloom." I discovered Troye's music when I watched the "Blue Neighborhood" trilogy movie, and my music taste has never been the same since. I was able to relate to every song on that album, and three years later, here I am, feelings new emotions that he brings with "Bloom." Before I begin, you need to understand exactly how hard it was for me to choose only five songs off his entire album: it was as hard as being asked to choose my favorite member of my favorite new show "Queer Eye" (I hope I'm never in that position). Here are five songs off "Bloom" that you will not be able to stop listening to.
Seventeen
The album starts with "Seventeen," in which Sivan sings about that time in his life when "a boy becomes a man." Many of us are in that phase of our lives, trying to figure out how to be an adult without losing the enthusiasm of childhood. The beats in the verses are very soft, and the tune puts me in a contemplative state, where I'm just trying to figure out all the new stuff that adulthood is bringing to me. In the chorus, when the drums beat along with the background vocals and the slow strumming of guitar strings, Sivan reintroduces the vibes from "Blue Neighborhood," his previous album. This is the epitome of what I call a "pensive party tune" — a song that puts me in a reflective mood, but I can't help bobbing my head to it.
Lucky Strike
Where do I even begin with this song? The title references one of the world's most well-known cigarette brands, and Sivan sings about how his lover is as addicting as a cigarette. The verses are very calm and subtle, but after Sivan talks about his boy "like a queen, unlike one you've ever seen," the chorus comes breaking through the soft music, I immediately have to start dancing; it's an insult to this song if you don't automatically start singing the lyrics at the top of your voice with your head swinging from side to side. The minimalism of the tune coupled with a strong bass and beats is what brings the danciness to this song.
Animal
The first time I read the title, I thought of Maroon 5's song "Animals," and this song manages to convey the same lyrics very differently. The song starts with nothing but a strong bass (serious Billie Eilish vibes), and the chorus is composed of a few taps on the piano and plucks on the guitar. I get chills listening to the song every time, especially at the end. I actually had tears the first time I heard it, because of how beautiful, delicate and inexplicably expressive the song is — it's just a pure and wholesome "ode to the boy" Troye loves.
My My My!
Probably the most glamorous song in the album, "My My My!" is the song I put on when I'm feeling, well, glamorous. The beat is perfect for a "Victoria's Secret Strut," as Troye likes to call it, and I can feel myself taking diagonal steps, with my coat flowing, shoes clattering and arms spread out. Just like most of the tracks in this album, "My My My!" delivers the most bop-worthy beat with the least amount of instruments; all it needs is a powerful bass and strong drum beats.
Dance to This (ft. Ariana Grande)
This is the collab of the year, hands down. I am always ready for two pop queens on the same track, and "Dance to This" gives me just that. The song doesn't have as much of a tune and deep lyrics as it does a good beat and bass, which is all I need to start dancing in my room like no one's watching (hopefully).
Plum
I know I said in the beginning that I would only talk about five songs, but today's Music Monday would be incomplete without this beautiful track. This is perhaps one of only a couple songs on the album that gave me solid "Blue Neighborhood" vibes, perfect with all the beats, bubbly-tune and bass. The song is about how Troye and his lover's "time has come," and that "even the sweetest plum has only got so long." On "The Late Show with Stephen Colbert," Troye said that the track was about realizing that a relationship wasn't working out between a couple, and that "even the most pure, sweet thing can eventually rot." The music on the track, however, is cheerful and bright, and although it is about a good relationship not working out, I have to sing all the words in my car with a happy smile.
Other songs that I love just as much:
The Good Side
Bloom
Postcard (ft. Gordi)
What A Heavenly Way To Die
1999 – Charli XCX
Yes, this isn't on "Bloom," but this is Charli XCX's new song featuring Troye Sivan, so of course I had to talk about it. The track is a true bop, and as Charli put it, she and Troye really did "save pop music." Filled with beats, bass and piano notes, the second I hear the first beat, I start dancing. Even though I was born in 2001, I still want to "go back to 1999" and "sing 'Hit Me Baby One More Time.'" Charli and Troye reminisce about their childhood: how they had no money, no problems, and all they did was relax and enjoy every moment.
About the Contributor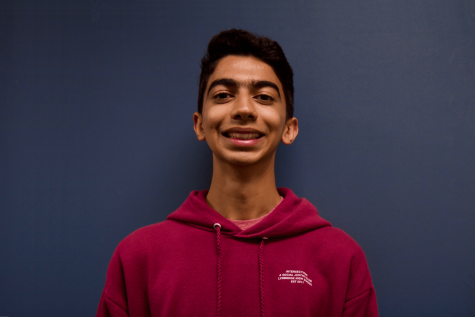 Hatim Saifee, Web Editor
Hatim is a senior at Lynbrook. He came to the States in August 2016, so he's learning many new things here. He works part-time at Starbucks and loves getting...