5 Songs to Sweeten the Heart of the School Year
Hang on for a minute...we're trying to find some more stories you might like.
To put it simply, Ariana Grande's fourth studio work, "Sweetener," is the album I never knew I needed. In her interview with Jimmy Fallon, Grande explains that the album title was inspired by "bringing light to a situation or to someone's life, or somebody else who brings light to your life or sweetens any situation." Grande has definitely had a number of tragedies within the past few years, and this album is the comeback we have all been waiting for. "Sweetener" set the U.S. Spotify record for 15.1 million albums streams on Spotify, the biggest opening day for any female artist. With school having been in session for a month now, these are the five songs that have never failed to sweeten my day:
God is a woman
Possibly the most idiosyncratic song in her album, "God is a woman" blends her immaculately layered vocals with a rather religiously controversial chorus. The chorus has elicited a discussion regarding its religious accuracy, with the chorus's repetition of "God is a woman." However, this song, stripped away of any religious connotation, can be perceived as empowering, instilling confidence in women. This is my go-to song for when I'm feeling insecure, unconfident or even just subpar (trust me, having a box of Cheez-Its at 2 a.m. doesn't have me waking up feeling so pretty).
successful
When you first listen to this song, you may think that Grande is being a little egotistical: "yeah it feels so good to be so young and have this fun and be successful" (can't relate). In actuality, its intent was to redefine what "success" entails and not make "successful" a dirty word for people, especially young girls, to use. It's meant to feel empowering without the cliches that empowering songs usually necessitate, and this song, co-written by Pharrell Williams and Grande, captures that beautifully.
no tears left to cry
"no tears left to cry" is what every student needs to listen to before the beginning of his or her school day. Although the title may suggest self-pity or misery, it actually conveys the opposite: "no tears left to cry" embraces and encourages a positive mindset and outlook on life. As your drag yourself down the hallways of school, remember to start "pickin it up, pickin it up, [start] lovin, [start] living, [start] turnin' it up."
sweetener
Now this is a bop. "sweetener" is the perfect song to listen to on Friday nights, after a long week of studying and lost sleep. As Grande says, "when life deals us cards, make everything taste like it is salt, then you come through like the sweetener you are to bring the bitter taste to a halt." "sweetener" is unlike any song Grande has ever released: it's a perfect mix of Grande's harmonies, with a repetitive yet playful chorus that has been said to remind many of the classic video game "Bop It".
breathin
"breathin" is your go-to song for when you're feeling anxious or stressed. Combatting the highly stigmatized and commercialized topic of mental health in the music industry, Grande has been very raw and open in regards to talking about her own struggle with mental health. "breathin" touches on her anxiety attacks that were exacerbated subsequent to the terrorist attack at her Manchester concert in 2017, adding a personal touch to a subject that resonates with many.
Listen to the album here:
About the Writer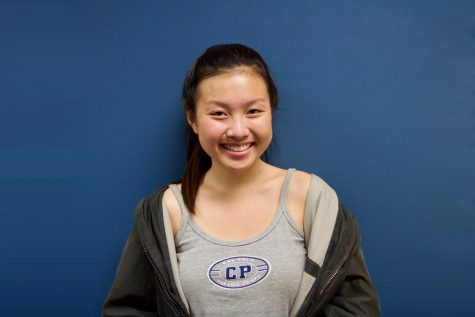 Belinda Zhou, Opinion Editor
Belinda Zhou is currently a junior and the Opinion section editor for the Epic. She enjoys singing along to all the lyrics of "Fergalicious", hanging out...