Aarush Narang brings a new world of favor to his table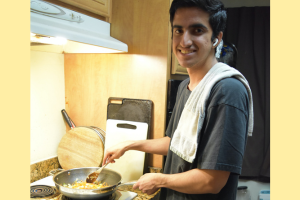 While some like to spend their hours indulging in the virtual realms of video games or heading to local eateries to grab some grub, junior Aarush Narang prefers to spend his free time in the kitchen, whipping up a variety of cuisines. From delightfully seasoned pasta to freshly baked cajun chicken breasts, Narang's creations are a feast for the senses. For Narang, the kitchen is like a laboratory, where he can engage in culinary experiments, trying out various recipes and measurements to make delicious dishes.
Narang first started learning how to cook in sixth grade, driven by his desire to help lessen his mother's workload in juggling both work and home responsibilities. In seventh grade, he took Culinary Arts at Miller Middle School, and in his freshman year of high school, he enrolled in Introduction to Culinary Careers. Initially, he primarily focused on making Indian cuisine, but, as he has taken more courses, he has developed his culinary skills while also experimenting with new cuisines.  
"My favorite part of the process is probably chopping and preparing everything," Narang said. "That's the most fun part because you get to see how everything comes together and coalesces into a tasty dish."
Typically, when looking for new recipes to attempt, he browses apps like Tasty, an online food network that hosts a vast collection of diverse recipes from all parts of the world. Other times, he stumbles upon new recipes while browsing YouTube, often drawing inspiration from popular culinary-based YouTubers like Babish Culinary University, Joshua Weissman and Adam Ragusea. When it comes to new recipes, Narang tries his best to closely follow the recipe's measurements due to its unfamiliarity. However, for dishes that he is more comfortable with, he is less stringent with following the recipes closely, and will sometimes even try to add his own personal spin to the dish, adding some of his own spices or ingredients.  
Around June 2022, Narang decided to start sharing his culinary creations on his Instagram account because he felt that he was constantly taking pictures of his food, but didn't have an outlet to share them. In some of his posts, he also includes recipes for others to recreate his dishes. Since creating the account, he has posted more than 50 of his creations. His portfolio encompasses a diverse range of dishes, from baked sweets to salads, curries and pastas, each with its own unique personal touch of style.  
"I find it really cool that he's sharing cooking content," junior Gio Cabaltica said. "I think it takes more courage to post your cooking than it does to post pictures of yourself, so I commend him for that."
Narang usually opts for making Indian, as well as a mix of Italian, American and some Chinese cuisine. He also tends to include chicken in many of his dishes. Of the different foods that he has been able to make, he considers the MasterChef-inspired pan-seared chicken complemented by pea, carrot and cauliflower purees and a lemon pan sauce as one of his best and most challenging creations. While he regards risotto as a delicacy, he feels he can only make it sparingly because of the amount of work and effort required to make it.
"There's this one thing — it's almost like a Chipotle bowl — that I like to make pretty often because I also work out on a regular basis," Narang said. "It's a quick meal with a lot of protein."
Some of the most enjoyable aspects of cooking for Narang go beyond the intricacies and time dedicated to making a dish— Narang cherishes the interpersonal relationships that can arise from the process. In particular, he finds cooking with his mom especially fun because of the special bond they have with each other. Similarly, he often shares samples of some of the food he's made with his friends at school.
"One time, he delivered me a container full of the chicken fried rice that he made the day before," Cabaltica said. "And man, was he cooking! It was just on another level, like something I feel like my mom would make."
In the foreseeable future, Narang aims to continue to pursue his hobby, expand his culinary skills and post his creations on Instagram — in addition to assisting his mother in the kitchen.