Summer Reflections: Lessons learned from a summer of STEM
STEM summer programs are often considered opportunities for exploration of complex subjects not covered in a traditional high school setting. Students not only grow as budding scientists, but also as people, in personal, social and other aspects. Many high school students regard such programs with utmost importance, equating participation with a strengthened college application and resume. The prestige of these programs, however, cannot be used to predict an attendee's experiences, as such programs are not one-size-fits-all solutions to increase knowledge and inspire interest in scientific fields.
This summer, Epic staffers Hsin Yen and Michelle attended the same science-oriented camp, albeit at two different locations. Both held high expectations for the camp, but ultimately left with similar unsatisfactory experiences.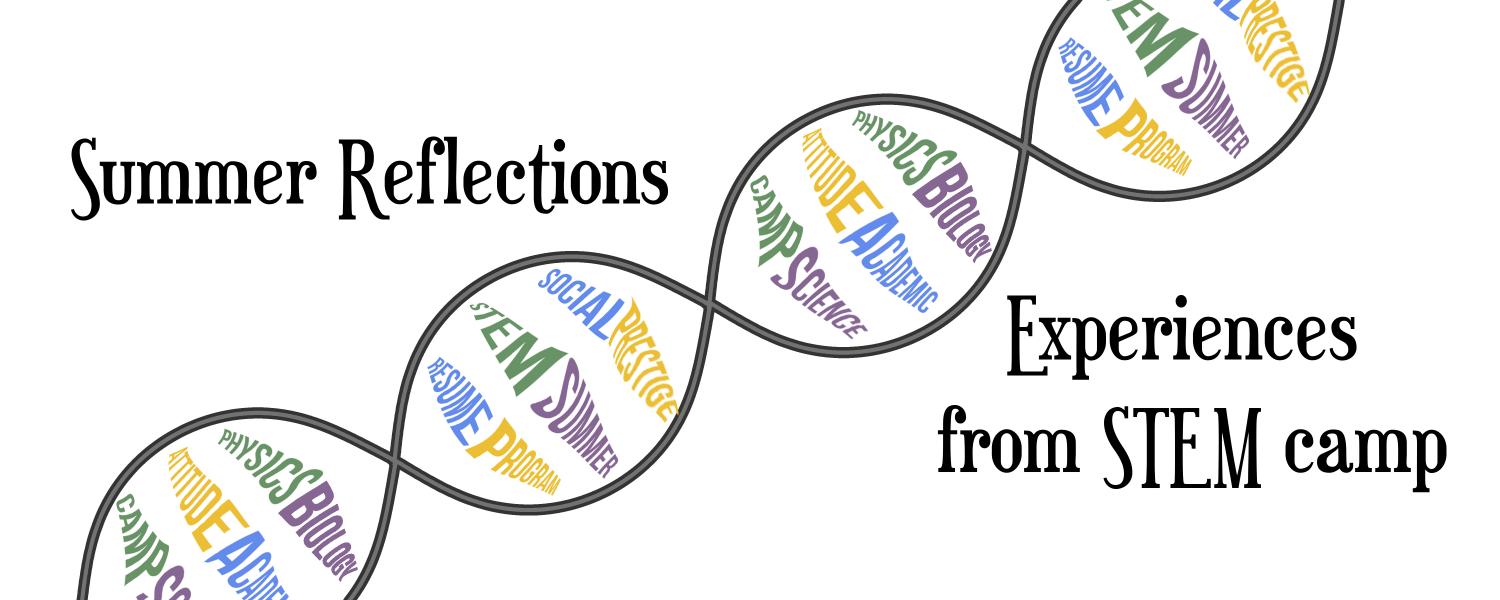 Q: Why did you decide to apply to the camp?
Hsin Yen (H): For the past few years, my parents have always encouraged me to attend programs over the summer to discover where my interests lie. Biology is one of my favorite subjects, and since this program had wide a variety of choices for biology, ranging from marine biology to molecular biology, I was really interested and decided to apply. I had attempted to apply to the summer program last year, but procrastinated on finishing the application, so I decided to apply again this year. Additionally, I had some friends that attended in previous years and they had enjoyed how the program balanced fun and academics.
Michelle (M): I have always been really interested in science, especially after delving deeply into physics in recent years, so I thought that the camp would be a perfect fit for me. The program's quantum mechanics course seemed to lie within my interest in physics. Like Hsin Yen, I had applied to the summer program the previous year, but was not admitted. I wanted to go to the camp so much that I applied again a year later.
Q: What were your expectations going into the camp?
H: Since I had friends who had attended this program before, I had asked them about their opinion of the program before I decided to apply. They told me that although it was difficult to get in, the actual rigor of the program is not as intense. Thus, I was prepared for interesting course work, but nothing too challenging. I also expected to meet people with the same interests and have a lot of free time to socialize and do homework.
M: Having attended another summer academic program two years before, I used my prior experiences to set my expectations for this camp. I thought that the coursework would be challenging but enjoyable, and that I would meet people with whom I could become close friends. I had also talked to other people from Lynbrook who had previously attended the camp, and they had warned me that I would have to be extremely interested in the material at hand to not get bored during entire days filled with classes, so I knew that the academic aspect would be rigorous.
Q: How were the people that you met there?
H: I must give credit to the summer program for assembling a class that is so diverse. I was able to expand my horizons by meeting people from all over California and from varying social backgrounds. I also learned, however, that I do not get along with people who are extremely arrogant about their intelligence. Some of these people were used to being in the top of their class at their respective schools, but were unable to acknowledge that when put into a group of similarly talented students, they did not stand out. I do not want to discredit their accomplishments, as they are remarkable people, but I did not understand why they had to act so conceited when everyone else was on the same level as them. Nevertheless, learning how to interact with these kinds of people was another valuable learning experience because I would eventually have to meet people like this in the future. Despite this negative aspect, I also met many people that I was able to relate to and look forward to seeing them again in the future.
M: I met a few people who I became quite close to during my time at the camp, and I hope to continue to keep in touch with them. I found many of the people I met there, however, to be unrelatable and narrow-minded. I felt that because a lot of them had an inflated view of their intelligence and thus acted arrogantly. Like Hsin Yen, I do not want to completely discredit them; they may have been smart (and were probably much more intelligent than I am), but I felt that they did not have to act so arrogantly, no matter their level of intelligence. As an innately introverted and closed off person, I had been working on becoming more open and relaxed for a long time by the time I attended the camp, so I would often joke, laugh and poke fun at myself during the program, thinking that that would be considered "normal" behavior by my classmates. I failed to realize until it was too late that because of the laidback persona I exuded, my classmates did not take me seriously. Toward the end of the camp, I felt tired of laughing at myself, tired of making it seem like I was okay with being joked about and just tired of the camp in general. Every time someone joked about my lack of ability do something, I would laugh it off, but inside, I would feel just a little more hurt. I could not understand why people did not see that I did not have to be serious and discuss calculus or physics all day long in order to enjoy learning those subjects and still be a reasonably functional human being.
Q: How did you feel about the education that you received there?
H: I was thrown off on the first day, because we had dived straight into genetics without any review of important concepts such as the central dogma and the structure of DNA, so I reviewed the material before our second lecture because I was afraid that I wasn't going to be able to keep up. In the days that followed, I did learn much more about genes and genomes, but the concepts that were taught were not applicable in the labs that we did. Additionally, I felt that the labs were repetitive and we were not given enough information as to why we were even doing the lab in the first place. For my group's final research project, we decided to go in a more computational research direction, which would involve programming with Python and R and using programs like Cluster 3.0 and the Galaxy, but we did not learn enough about computational biology to know how to operate such programs with ease, so we had to get help from the TA along every step. We also had to spend a lot of our project time helping other groups that had not received the help we did. We did not even end up using our data from our lab in our final research project, so I thought the labs were a waste of time.
M: I felt that the course name and description were incredibly misleading. My course was supposed to be centered on quantum mechanics, but most of the material that we were taught was geared toward giving us the skills needed to complete our final project, which we had no choice in choosing (other courses of the program allowed students to choose their own projects, while mine did not). So, we ended up learning programming and electricity most of time, instead of actual concepts of quantum mechanics. I was definitely dismayed that we were not given the opportunity to choose our own final projects, which were the same for all groups in my class, and that we did not get to learn much about the subject area of quantum mechanics in general. Additionally, the course was not taught very well. My programming class  had students copy code all the time, while my physics class threw us into labs without sufficient explanation about the concepts and lab equipment. I would have preferred a teaching style that was in between the two classes, with a little guidance but not to the point where we did not have any freedom to discover things for ourselves.
Q: Did your expectations match what you actually experienced? Why or why not?
H: Although I had been warned that  I would not learn much at the summer program, the combination of flaws in the residential life and people I met led me to be very discontent about attending the program to the point where I was happy to leave on the last day.
M: As you can probably tell by now, my expectations did not match reality. I think one of the biggest problems was that I came into the camp with high expectations because I had wanted to attend it for such a long time. I had allowed myself to make the camp out to be more wonderful than it actually was, and when things turned out differently from what I expected, I found myself incredibly disappointed.
Q: What are some pieces of advice you would give to other high schoolers looking to attend STEM summer camps in the future?
H: Attending STEM summer camps are a great way to show colleges that you are passionate about science and math, but it is very easy to be blinded by the prestige of a program and stumble into something that you did not expect. It is incredibly important to think about how you as an individual will fit into the program, not how others will perceive your attendance of the program. After all, summer programs are about what you actually get out of taking part in it, not what other people think you should get out of it. In the event that you are stuck in a program you regret attending, keep in mind what you do not like about it and learn to avoid it in the future.
M: It is great to be excited about science and to look forward to attending a STEM camp, but do not make the mistake of setting your expectations too high. Know that the actual experience is usually very different from what you might expect; you have to be there to tell whether you would enjoy something or not. When you are met with a situation that you are less than content with, you just have to make the most out of it, and that is one thing I think I failed to do—I let my disappointment overshadow the positives of the camp. There are some amazing STEM camps out there—you just have to find the right one. No matter what kind of experiences you have, do not let anything stop you from exploring what you are passionate about.
Q: Any final thoughts?
H: It is important to avoid letting the prestige of an activity get in the way of whether or not it is actually a good fit for the expectations and needs of a student. My experience at the program certainly does not dictate how anyone else will feel about their experience. I had friends that felt disappointed like I was and friends that felt like this program was the best summer of their life and the event that cemented their decision to pursue molecular biology and bioinformatics in the future.
M: It is difficult to classify anything as completely good or bad. Attending the camp had its negatives, but also its positives. I met people that I really liked there and continue to talk to every day, and I had a lot of fun doing activities like going to the local farmer's market, learning to bike without hands and seeing horses on campus. Although I was not extremely impressed by my academic experience, it gave me more knowledge about programming and electricity and insight into the life of a researcher. During and after my time at the camp, I felt very conflicted, but I know that I have grown from the experience in some way.