Diving into Studio 74's virtual "Little Mermaid Jr."
Amy Liu, Editor-in-Chief
May 13, 2021
Lights, camera, action! Amid the pandemic, Lynbrook's Studio 74 will put out another spectacular production, but with a virtual twist. Join the cast and crew of The Little Mermaid Jr. for a trip under the sea and attend any one of their 12 shows from May 14 to May 23.  
Studio 74 decided to perform The Little Mermaid Jr. this year because of the high female count in the crew and numerous female roles in the play. Auditions for the musical began in January; those who wished to audition submitted two clips specific to the part they were auditioning for, showcasing their acting and singing skills. Those who passed the first stage of the audition then received callbacks from Director Dani Howard and Vocal Director Crystal Isola to read lines for roles they were being considered for, and the final cast list was revealed on Jan. 28.
"It feels like a dream come true," said freshman Adithri Sharma, who plays Ariel. "I've always loved to sing and act, but I've always done them separately, so putting them together was so cool for me. This is also super special to me because Ariel was my favorite Disney princess for a while when I was younger, so I was really excited when I got the part." 
Upon receiving the cast list, each actor received a green screen and lighting equipment, which they set up in their house before each acting rehearsal. After practicing lines together on Zoom, actors practiced and recorded their acting by themselves. 
"When preparing for an acting rehearsal, I first have to memorize my lines because during rehearsals, we focus on the blocking and delivery," said junior Siddharth Chattoraj, who plays the seagull Scuttle. "Occasionally, I will also watch other productions of The Little Mermaid to gain inspiration for my performance."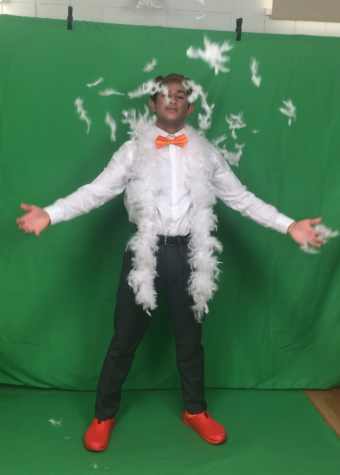 There are also rehearsals for dancing and singing. Actors practice the choreography and singing the sheet music on their own before joining the rehearsal, in which they practice with the whole cast, go over challenges that arose during personal rehearsals and learn new material. 
Studio 74 split into numerous student-led teams to put the production together, which gave the crew the chance to bond in these teams off-screen. Due to a greater interest in contributing to the production than in the past, there were more and larger teams, with many created or modified to accommodate for a virtual show. From design to stage managing to directing, there was a team for each person's interests. 
"In the beginning of the production, Mrs. Howard sent out a form asking which backstage roles we were interested in because everyone does something backstage," said freshmen Janhavi Venkatesh, who plays one of the six Mersisters. "I personally selected marketing, because I have experience with that, and costume, because I'm learning fashion design." 
One factor that was essential to virtual production was video editing. Junior Anthony Huang, who plays the Pilot on-screen, took on the video designer, editor and sound engineer position, using editing softwares Final Cut Pro and Logic Pro to piece the entire show together.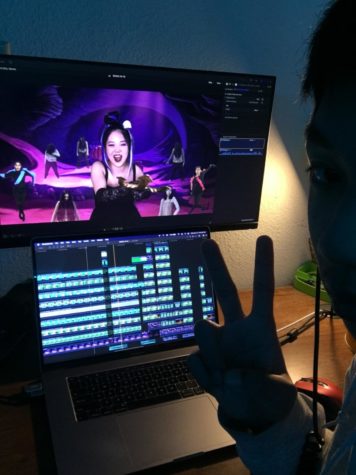 "The editing process really starts with preparation for filming, so that includes checking everyone's green screens, going over voice recording standards and talking with Mrs. Howard about what makes it easier for me to edit," Huang said. "Without good filming, it affects the editing process or the quality of the final product. Then, it's just me sitting in front of a computer, editing for hours and checking with Mrs. Howard to see if she would like to make any changes."
Shifting the musical online for the first time in Studio 74 history brought challenges for the crew. Following a faster-paced schedule compared to previous years, the actors had a more difficult time getting to know each other. Many also found it challenging to stay in character when recording by themselves. Multiple adjustments had to be made in order to obtain high quality video and audio clips for the editing process. However, being online has also allowed the team to connect in ways like never before.
"I feel that Studio 74, as a department, has grown immensely throughout the musical creation process, despite it all being virtual," Chattoraj said. "Students still see and interact with each other through Discord, rehearsals and tech meetings, so I believe that the virtual nature of our production has allowed Studio 74 to bond further by finding new and innovative ways to be creative." 
Take a look at Studio 74's hard work on their website and buy your tickets for The Little Mermaid Jr.