Lynbrook field hockey: The legacy of Sandi Stober
The clacking of the sticks and muffled steps as players rush across the field; the exhilarating, breathless clarity as one takes the shot; the arc of the ball sailing through the air; the crowd's roar of approval as the ball slams into the net. These are the sights, sounds and emotions that can be experienced in a game of field hockey at Stober Field. 
Field hockey is a sport in which two teams of eleven players use curved sticks to try to strike a small ball into the opposing team's goal. In early civilizations, men played varying versions of field hockey, and international competition started in 1895. Soon enough, field hockey became India's national game when its team competed in the Olympic Games in 1928 and won the gold medal. This stirred up other competitors, leading to more international games and eventually the start of the World Cup in 1971. Field hockey also gained popularity among women, who regularly played friendly games but could not compete internationally until the 1970s. 
At Lynbrook, the history of the field hockey team is quite extraordinary, with 10 CCS titles ranging from 1980 to 1997 and around 25 league championships. If asked, almost all of those players would credit the same person as the reason for their wins — the legendary coach and founder, whom Stober Field is named after — Sandi Stober.
In the fall of 1970, PE teacher and coach Sandi Stober brought field hockey to Lynbrook. Stober was a major factor in building Lynbrook's field hockey team as well as the culture surrounding it. Her attitude and dedication toward each game and team member strengthened the team's desire to win, leaving a long winning streak in her wake.
"She had a gift," said art teacher Charlotte Kruk, who used to practice with the players when Stober was their coach. "She had a really good heart. I never once heard her say a bad thing about a player. She was funny and quick with her wit, making her easy to work with and delightful to be around. Stober had a way of focusing on skilled fundamentals, encouraging every player on her team to shine uniquely. The kind of daily energy that she brought made you want to win for her and play with every ounce of your being, harder than you thought you could because you felt noticed by her and loved."
In addition, under Stober's care, the field hockey team dynamic was cultivated so that there were not two separate teams — JV and varsity — but rather a big family in which the players supported each other.
"Stober was an excellent teacher and she really cared for her students," Class of 1993 alumnus Keri Flaherty Sarojak said. "She just cared so much about how we were doing, not only on the hockey field, but also off the field. She truly developed us as people and she was just so amazing in the way she cared for us as people not just as players."
The field hockey teams' family dynamic has never wavered — from when Stober coached her first field hockey team to today. Every year, freshmen not only join the team, but also join the family of field hockey players that Stober created many years ago.
"We are really close, and I would say we're like a family," senior Jocelyn Chow said. "We rely on each other, and, even when new players come, that family-like dynamic still remains."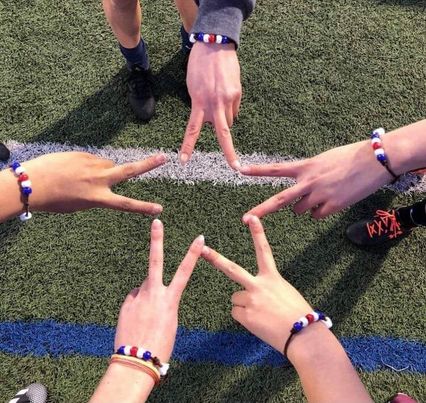 Each team has its own traditions when it comes to sports and Lynbrook field hockey is no exception. One tradition at Lynbrook is to wear bracelets called bear scares, which have five beads — two blue, two white and one red. The different-colored beads represent Lynbrook's school colors, and team members are required to wear them at all times, with the exception of during games, when jewelry is not allowed. 
"We all have a bear scare that we wear on our left hand which is closest to our heart. Essentially, I like to think of it as a symbol of how we all may be different people with differing interests, personalities and academic achievements, but that doesn't mean we can't share something or love and bond over something together." senior Navya Bhakta said.
Besides bear scares, the field hockey team also practices other traditions. To raise spirits and get ready for home games, the field hockey team meets during brunch at the top of the quad to cheer the words: "rah hockey." Cheers for field hockey are especially striking, not just due to the volume of the cheer or the level of synchronization, but rather the team's trademark skirts. Originally, players wore skirts called kilts, and, to maintain this tradition, some of Lynbrook's JV and varsity team members wear plaid kilts to school on their game days.
Field hockey has always been a point of pride at Lynbrook, and, to emphasize this, Stober would constantly remind players that they represented their school on and off the field. Stober Field has been important to the field hockey team for many years, and though Stober passed away in the spring of 2001, her impact on Lynbrook and Stober Field's legacy will continue for decades to come. In remembrance of Stober, field hockey players tap their sticks against the rock on Stober Field with Stober's name on it before every home game.
"Stober field represents Sandi Stober's many wonderful qualities, including her passion and love of the sport," retired PE teacher Linda Nichols said. "All field hockey players know what she meant to Lynbrook and how she was one of a kind."