Five Songs to Prepare You for the School Year
Welcome back to Music Monday! We started off with five timeless summer songs to make the transition from summer to school smooth but energetic. This week, we bring you five songs that will continue the vibe, but also prepare you to get ready for all the assignments and test to come. They are evocative, but they have strong beats and uplifting lyrics that make you look at the upcoming year with positivity and excitement.
Younger Now by Miley Cyrus
This song will make you feel like summer break was an escape from your hectic routine. It is something that will shape you into a positive outlooker, and it is an opportunity for you to channel your inner kid. But "what goes up must come down", and it's time to get down to business. It definitely will make you feel nostalgic, but will also reminds you to be aware of the present. You'll probably listen to this song on Spotify through your earphones while walking in the park and spending some time with yourself.
Best Day of My Life by American Authors
This hit by American Authors has impassioned and charismatic lyrics with loud rock drums mixed with a classical tune. It talks about accomplishing the impossible, about never turning back and looking straight ahead at a bright future. It inspires you to give a 110 percent in everything you do and to take risks without speculating about possible dangers. It's a song  that would blare out through your convertible's stereo on a two-lane highway running alongside the beach and the sea.
Feels by Calvin Harris ft. Pharrell Williams, Katy Perry, Big Sean
You've probably already heard this on your radio a million times. Surprisingly, it's not a song you get bored of when you listen to it all day. The music makes you feel like you're back at the beach, partying and dancing with your pals as the sun shines and makes the day pleasant and lively. When you get frustrated with your overwhelming work, take a break, lock your room, put this song on, and dance your heart out. This will be the stress reliever that always has your back.
One Minute More by Capital Cities
This song is saturated with instrumental choruses and an upbeat rhythm. The combination of the music and lyrics in the verses entrap you in a state of imagination, or better, a calm trance, where you lose yourself for a brief moment. You evade from the present momentarily, but the fast tempo and the loud beats of the chorus bring you back to reality and incite the energy inside you to perform better. This song is the perfect balance between serenity and enthusiasm.
Fresh Eyes by Andy Grammer
Here's a song about change in perspective, which would relate to the dynamic mood of the summer – relaxed, adventurous, and childish. These moods all make you look toward the future in a different way, an attitude you didn't think you could approach the future with. It challenges you to try thinking in an exotic manner, to "see with fresh eyes".
About the Writer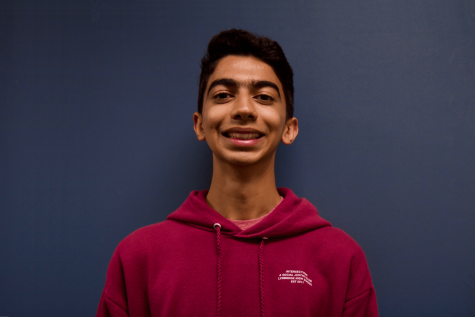 Hatim Saifee, Web Editor
Hatim is a senior at Lynbrook. He came to the States in August 2016, so he's learning many new things here. He works part-time at Starbucks and loves getting...