Super Bowl LV: Through the eras
Grab your seats, it's T-minus 1 day until Super Bowl Sunday! In this game pitting the red hot Tampa Bay Buccaneers (Bucs) against the thundering Kansas City Chiefs, 43-year-old Tom Brady will play in a record-breaking 10th Super Bowl and look to add a seventh ring to his legacy as the greatest of all time (GOAT). On the other side of the field, Brady's younger, more mobile counterpart — 25-year-old Patrick Mahomes — will compete to take home back-to-back Super Bowl titles for Kansas City. The electrifying spectacle of this clash of eras — the GOAT facing off against the best of this time — will chronicle Super Bowl LV as one in the history books. Let's take a look at other memorable Super Bowls in the past that have graced the covers of history.
To read more about Super Bowl LV, jump directly below the timeline.

Just a year ago, the Bucs were licking their wounds from a mediocre 7-9 campaign under Jameis Winston. The playoffs were a distant dream. Fast forward a year, and the team is suiting up as the first NFL team to play the Super Bowl in their home stadium.
The reason? One man: the 43-year-old ageless wonder, Tom Brady.
At an age when most quarterbacks have retired to playing golf, filming commercials or calling plays as commentators, Brady is playing the best football of his career. On Super Bowl Sunday, he will become the first quarterback to start a Super Bowl in three different decades, as well as the oldest player to ever participate in the Big Game. From a sixth round draft pick to a six-time Super Bowl champion, Brady has beaten long odds to earn the title of the indisputable GOAT. At this point in his decorated career, he arguably possesses three Hall of Fame careers in one and is competing against entire franchises in accolades. Though not the most physically gifted quarterback in the league, Brady's intangibles — his resiliency, hunger to win and ability to read defenses like an open book — have allowed him to maximize his success, regardless of the offensive pieces around him.
At the twilight of his career, Brady left behind a 20-year dynasty in New England and set his sights toward Tampa, bringing his winning mentality with him. With many doubters predicting an 8-8 season, the Bucs became the dark horse and unlikely champion of the National Football Conference (NFC). Under a new system, Brady led the Bucs to their first playoff victory since 2003 and defeated Hall of Fame quarterbacks Drew Brees and Aaron Rodgers on the road. In his quest for a seventh Super Bowl title — more than any NFL franchise — Brady continues to defy Father Time and breathe life into the once-beleaguered Bucs.
On the other side of the bracket, Mahomes represents the dawning era of football — everything opposite of Brady's waning career. Mahomes is a generational talent, combining freakish athleticism and monstrous arm strength to head the top offensive unit in the NFL. Having yet to lose a game by more than one possession, Mahomes has proven to be just as much of a playmaker as Brady since his NFL debut. This year, his postseason run has been nothing short of stellar, as his sensational 300-yard performance in the American Football Conference (AFC) Championship Game punched the Chiefs' second Super Bowl ticket in a row.
Last season, Mahomes became the second youngest quarterback to win a Super Bowl at 24 years, 138 days young. This year, he will compete against Brady to become the youngest quarterback to win two Super Bowls — ironically beating out Brady himself for the record. The Chiefs are also vying to become the first team to win back-to-back Super Bowls since Brady's Patriots in 2003 and 2004.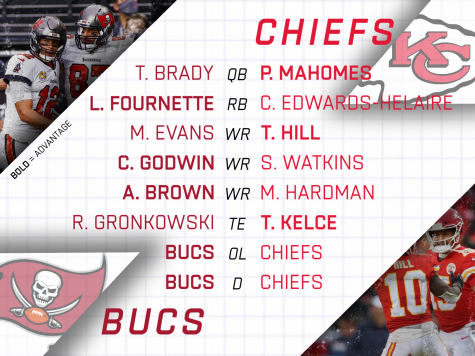 On the receiving end, both high-powered offenses are dotted with top-end talent. Brady enjoys a terrific supporting cast in receivers Mike Evans, Chris Godwin and Antonio Brown — the best receiving corps in the league. Receiver Scotty Miller has shined as a deep ball threat, and tight ends Rob Gronkowski and Cameron Brate have proven to be reliable targets on chain-moving and scoring plays.
Mahomes, who leads the league's No. 1 offense, is surrounded by elite playmakers Tyreek Hill and Travis Kelce. Hill and Kelce are arguably the best receiving duo in the league, with speedsters Mecole Hardman and Sammy Watkins further contributing to the Chiefs' prolific passing attack.
Super Bowl LV has storylines galore, as the divergent journeys of former "Killer B's" Antonio Brown and Le'veon Bell will also clash on the turf. Between Brown and Bell, who were part of the Steelers' holy trinity in 2018, one will take home his first Super Bowl ring in a non-Steelers uniform. Another swirling narrative to watch out for is that of Gronkowski and Kelce; although Gronkowski is no longer the freak athlete he was on the Patriots, both are among the greatest in their position.
Regardless of the game's outcome, this epic quarterback showdown between the GOAT and the plausible heir to the throne is already historic. Seldom do players with the stature of Brady and Mahomes square off on the championship stage, and many have likened their matchup to that between Michael Jordan and LeBron James. In previous head-to-head matchups, Brady and Mahomes are deadlocked at an even 2-2; under the spotlight, both will seek to emerge victorious in a potential "passing the torch" game.
Brady and Mahomes playing in the Super Bowl ⏳ pic.twitter.com/fbiK9SczpM

— SportsCenter (@SportsCenter) January 25, 2021
Betting against Brady this season has proven to be foolish. Betting against Mahomes, though, is equally foolish. With both teams as evenly matched as they come, the execution of their defenses could be the key determinant of the game. Although the Bucs boast a deeper overall roster, the star power of Mahomes alone may offer the edge to the Chiefs. Only time will tell if experience can outweigh youth on football's biggest stage.
For those who are watching the young champion take on the gridiron legend, Super Bowl LV kicks off on Sunday, Feb. 7 at 3:30 p.m. on CBS.