Senior Maison Yee commits to women's basketball at Pomona-Pitzer
10 years of hard work have changed what started as an entertaining hobby for senior Maison Yee into an incredible basketball journey. Next year, Yee will continue this journey on the Pomona-Pitzer women's basketball team, a joint program between Pomona College and Pitzer College, and will further her academic studies at Pitzer College in southern California.
"Basketball runs in my family," Yee said. "I started when my dad signed me up for clinics. And then when he saw that I really took a natural liking to it, he put me on a team when I was about third grade."
When Yee was 8 years old, she started playing basketball in a youth organization called Tri-City Youth Group, where she learned the fundamentals of the sport. Practices and games, although regular and instructive, were never too serious. 
"At first, my 8-year-old self was doing this for exercise and fun," Yee said. "It wasn't that serious. But once I was in eighth grade, I realized the opportunities that basketball can give you. That's when I started realizing that you can take it further than high school and possibly further than college."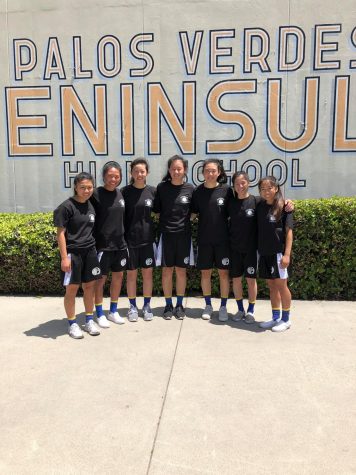 Players from Tri-City often feed into the San Jose Zebras Youth Foundation, which introduced Yee to a large Asian-American basketball community, as the foundation was created for students with Asian and Pacific Islander heritage. In middle school, Yee joined the Amateur Athletic Union (AAU), a national organization that organizes events for all types of sports. Competing in AAU basketball at a national level gave Yee the opportunity to play against a wide range of competition and become more serious about basketball. Yee's first AAU team was Palo Alto Midnight, where her coach saw her potential and trained her accordingly.
"He would always put me against the older girls, who were sophomores and juniors, when I was in sixth grade," Yee said. "That's when I really gained that competitive drive for basketball to motivate me to keep going."
After playing for Midnight, Yee transitioned to playing for Fever Basketball, another AAU team based in Los Altos, where she's been ever since. Her experience with Fever has challenged her to become a better player. Yee has played with highly talented players and has also been exposed to a variety of opponents through travel tournaments to places including Las Vegas and Chicago.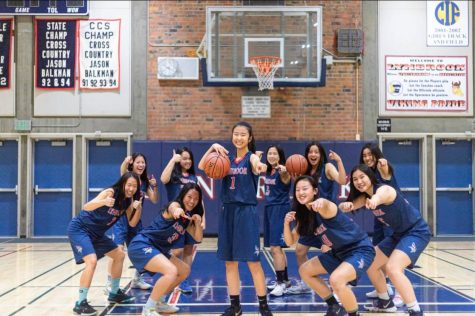 Apart from her impressive club basketball experience, Yee has played on the girls' basketball team ever since transferring to Lynbrook in her junior year. 
"In sophomore year, the basketball community at my other school wasn't a very positive environment, and it was really emotionally draining," Yee said. "I was highly competitive with myself. I would always get on myself for not doing the little things as perfectly as I wanted them to be. But when I transferred to Lynbrook, I was more confident in myself and my capabilities, since I knew people before I transferred. It was comforting because I knew my teammates and coaches trusted me on the court."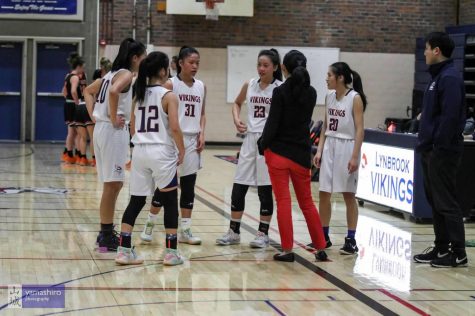 Members of the Lynbrook basketball team, whom Yee considers family due to the encouraging atmosphere, are close friends on and off the court. Even after hours of practice or a game, they stay for dinner together, bringing them even closer and strengthening their bond on the court. Yee thanks the team for giving her the best two years on the Lynbrook basketball team that she could have asked for and for helping her grow as a player and a person. 
Admittedly, it is hard to get close without a few shared comedic and entertaining experiences. Although Yee was only on the team for one full season before the pandemic, she has had her share of fun and wacky bonding activities. Apart from the typical lunch or dinner after practice and games, the team always looks forward to their Christmas bonding activity at the coach's house. 
The team also has many pregame routines. Music is a shared interest among many team members, and Yee enjoys listening to songs with her teammates in the dark if they arrive in the locker room ahead of time. According to Yee, their overall favorite is "House Party" by Sam Hunt. During that time, each team member writes down their goal for the game in a binder.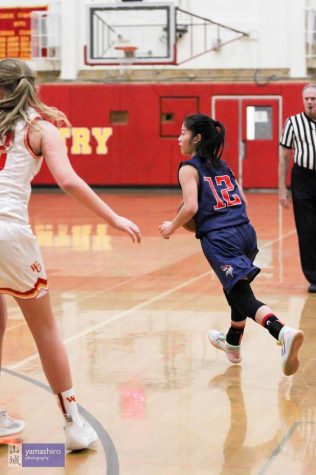 "For example, I could write that my goal is to play defense without getting tired or just have a positive mindset throughout the game," Yee said. "And then after that, we have our usual chant that I still have yet to learn. Then we normally slap the top of the doorway."
Following a brief hiatus after school was closed in March, Yee practiced with the team in person from June to November, after which the team had to switch to Zoom workouts. Yee acknowledges that these virtual workouts are not the most thrilling, but they still serve the important purpose of keeping the players in shape for a hopefully upcoming season. On her own, Yee practices in front of her house by casually shooting hoops and practicing her ball handling. Despite a slight distaste for running, as a point guard, Yee is used to sprinting during games. She occasionally does running workouts to increase speed, as long as it does not involve long distances. Yee has also tried high-intensity interval training, more commonly known as HIIT workouts.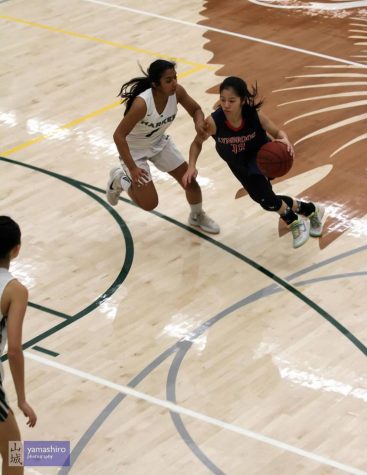 Practicing day in and day out requires a commendable amount of self-motivation and self-discipline, which are qualities that Yee has developed through her basketball journey. She has also gained confidence in her capabilities, which she initially struggled with due to her height of 5 feet 3 inches — a height which most people consider short for a basketball player. 
"Showing up on the court back when I was 4 feet 11 inches, people would automatically think, 'Oh, she's so short. She can't even see over her defenders or shoot that far,'" Yee said. "But I can shoot near half court, so when people see me shoot at that range, they're really surprised, and I find that kind of funny."
Even if she was uncertain at first, Yee feels great satisfaction in proving her, and others', doubts wrong with her success. 
In hopes of continuing her basketball journey in college, Yee contacted Pomona-Pitzer. During the phone call with the coach, Yee introduced herself, talked about what she knew about the school and expressed her interest in both the basketball team as well as the academic opportunities that Pitzer College had to offer. Yee kept in contact with the coach, so during college application season, Yee applied to the school with help from her Lynbrook coach and AAU coaches, who provided input on Yee as a player.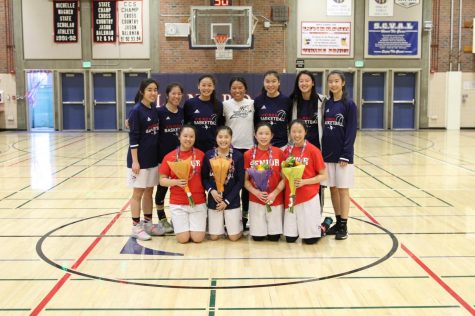 At Pitzer College, Yee plans to study economics. Looking towards the future, basketball will always remain an important part of Yee's life. 
"I do know that I don't want to stop playing basketball after college," Yee said. "It's highly likely that I won't go professional; let's just keep it realistic here. But I would note that my coaches don't play professionally. I would like to give back to the organizations that I played at, which I am also doing right now. Playing overseas is an option, but for now I would just like to keep basketball in my life, like a hobby, after college."