"Genshin" and its impact on games
"Genshin Impact," named Apple's "iPhone Game of the Year" and Google Play's "Best Game of 2020," is a roleplaying adventure game that received more than 17 million downloads within its first week of release and has changed millions of lives during the COVID-19 quarantine.
In the fantasy world of Teyvat, each player, referred to as "Traveler," embarks on a quest to find their missing twin. Upon traveling to the nearest nation of Mondstadt, the traveler is able to explore available regions, meet new characters, fight off monsters, cook food, complete quests — the list goes on and on. "Genshin Impact" offers a variety of characters who have one of the seven element attributes that exist in Teyvat. Each element has a certain reaction to the other ones which helps players maximize damage when fighting. The elements — anemo, cryo, dendro, electro, geo, hydro and pyro — represent wind, ice, nature, lightning, earth, water and electricity respectively. 
"Conceptually, it's a nice game," said senior Matthew Lu. "There's the 'Breath of the Wild' and 'Spellbreak' feel. 'Genshin Impact' has an enjoyable story with developing characters, and is more of a peaceful game that lets you enjoy aspects like how pretty the world is, instead of solely focusing on combat."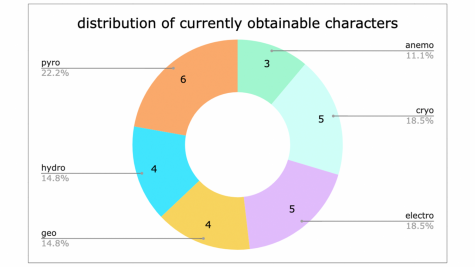 As "Genshin Impact" is an open world, adventure roleplaying game, each player is allowed to freely roam and explore regions as one of the world's characters to collect materials or fight off wild bosses. Players are able to have an unlimited amount of characters in their inventory, and can select any four characters to be put onto a team. These teams can be easily managed and other characters can be swapped in and out, as long as the player is not in combat or certain domains. When battling, players are only able to switch between and use skills from the four characters that are currently in their team. Additionally, there is a cooldown when switching between characters on a team, so players cannot excessively change characters during battles or while exploring. 
Generally, people have a team with one damage dealer, who is usually a character with high damage per second (DPS) that attacks while charged or when elemental skills are on cooldown. Besides a main, high DPS character, many teams have two characters who focus on elemental reactions rather than pure damage, and one support, who helps with controlling enemies, buffing and healing. With a well-planned team composition and good timing, players can deal large amounts of damage as elemental combos land.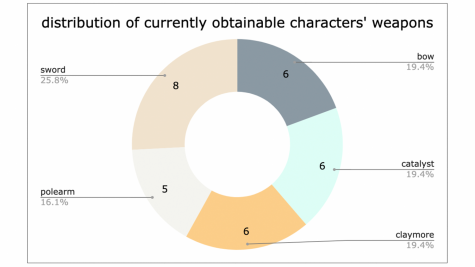 Even though each player starts off with a full team of playable characters, there are ways to obtain characters with higher ratings, which often means they are more powerful, and stronger weapons, which will help in combat. One of "Genshin Impact's" attractive points is its growing diversity of characters, each of which uses one of the five weapon types: bow, catalyst, claymore, polearm or sword. Characters and weapons are obtainable through the game's gacha system, which often has a banner that increases a few characters' drop rate, or a player's chance of gaining a character on any singular pull. 
Gacha refers to a toy machine that is common in Japan, where a person pays money to receive a random prize. In games, the concept is similar, using in-game currency to pull, or to randomly obtain an item; in "Genshin Impact," players will be able to acquire a weapon or a character for each pull. Although "Genshin Impact," like most other gacha games, is a free-to-play game, people can spend real money for more chances to pull.
Banners are the main attraction of gachas, because they have rewards that people will want to pull for. "Genshin Impact" has two types of banners, the normal banner and the limited banner. The normal banner offers most of the obtainable characters and weapons in the game. However, the limited banner features either a five star character or weapon which cannot be acquired through the normal banner, and usually only stays for about two weeks. This, combined with increased drop rates, compel many players to pull for limited five stars.
Because the chance of pulling limited characters or weapons is very low, gacha games implement a pity system, where a player will be guaranteed to pull the featured character or weapon after a certain number of pulls. The "hard pity," or number of pulls needed to guarantee a five star, for "Genshin Impact" is 90. However, there is a 50% chance of gaining a weapon instead of the character, which most people pull for. To be guaranteed the featured five star character, players may need to pull up to 180 times. On the other hand, "Genshin Impact" has a "soft pity" system, where the rate of gaining a five star increases after 75 pulls.
Currently, there are two nations that have playable plotlines: Mondstadt, based on Germany, and Liyue, based on China. All of the cutscenes in each plotline are fully voiced in four languages: English, Chinese, Japanese and Korean. It is rumored that the nation of Inazuma, based on Japan, will be open for players to explore sometime in March. It is possible to see each country's influence on the characters from each nation, whether it be their clothes or habits. 
Like many games, "Genshin Impact" has an energy system, which in this game, is known as resin. Although many players are unhappy with the low maximum and slow regeneration time, the wait time can provide players a break from playing and  prevent players from gaming too intensely and possibly passing out from lack of water or food. 
In addition to resin, the game has many other forms of currencies, although the two that are most important are mora, which is used to buy standard goods and level up weapons and characters, and primogems, which can be exchanged for wishes to roll in the gacha system.
"I think the wishes come pretty slow, but with events and the nice pity system, it's not too bad," said Lu. "[The gacha system] is pretty good compared to some other games, since you're guaranteed four stars at a decent rate. Also, as banners change, your pity doesn't reset."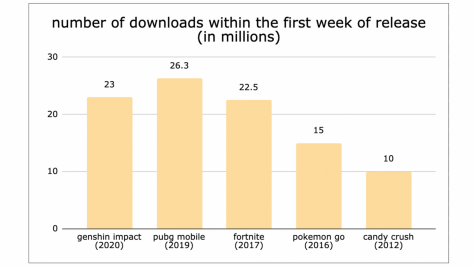 Since its release on Sept. 28, 2020, "Genshin Impact's" popularity has exploded, reaching first place on the Apple and Google Play stores in downloads by the end of the month.  The number of downloads in its first week of release overtook "Pokemon Go's" record-setting 15 million, and after a month of its release, "Genshin Impact" earned $245 million, exceeding the popular multiplayer online battle arena "Honor of Kings" in revenue by nearly $30 million. Within two months, "Genshin Impact" generated $393 million on mobile exclusively, nearly tripling its production budget of $100 million. Although "Genshin Impact" ranked second in top grossing mobile games worldwide during those two months, it is now one of the world's most popular mobile roleplaying games.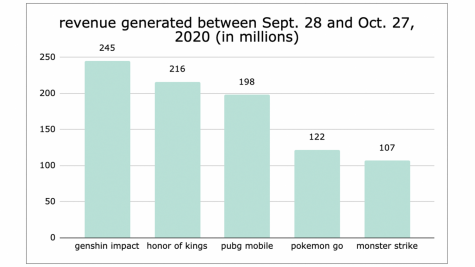 One of the reasons that it was able to receive so much attention was because of its gacha-dependent style. Gacha games like "Arknights" and "Granblue Fantasy" have been very popular for a long while, and "Genshin Impact" was able to offer an attractive gacha system that does not interfere with the main plot. Another reason may be because it is a free-to-play game. Unlike the game it drew inspiration from, Zelda's "Breath of the Wild", "Genshin Impact" is not limited to one device, and players can play on iOS, Android, PC or the PS4.
"I started playing 'Genshin Impact' because everyone I knew was playing it," said junior Ashley Leng. "I thought the art was really nice. Overall, it's a really great game and it's free, so of course people are going to talk about it and download it."
Even though "Genshin Impact" has record breaking statistics, it is not the first time that its developing company, MiHoYo, has released a widely popular game. Its previous game, "Honkai Impact 3rd," reached one million downloads in Japan just 11 days after its release in 2016. The two games have a few similarities including characters and gacha systems. However, "Honkai Impact 3rd" is a game that is more reliant on gacha and player versus player, while "Genshin Impact" focuses more on player versus environment. Evidently, players prefer the adventure-based game, with its player base many times larger. 
As every game company does, MiHoYo has had its fair share of dangerous bugs and hacks. Many players have lost their accounts to hackers due to the lack of two-factor authentication. Players who have lost anywhere from a few to hundreds of dollars were unable to retrieve their accounts, as the company refuses to return stolen accounts if the hacker spends money on it. One of the biggest scares is that there are hackers who are able to obtain accounts solely through their user identification. Many players have advised not to share it freely online, and when MiHoYo asked for account numbers for an online giveaway, players responded with disappointment in the company's ignorance.
Despite the controversy surrounding the company, "Genshin Impact" is still a game that anyone can enjoy, whether they prefer exploring or battling enemies. Its beautifully rendered open world and intricate plotlines draw new players in every day. New content is released every few weeks, giving every player something to look forward to.
About the Contributor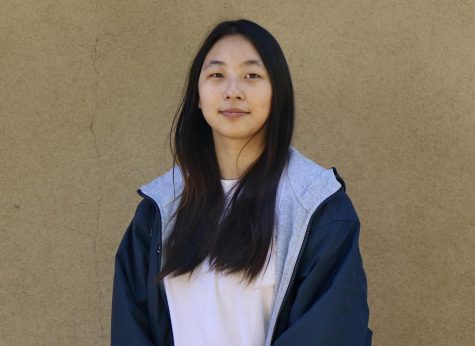 Stella Huang, Photo Editor
Stella is a senior and this year's photo editor for the Epic. Outside of class, she is usually playing mobile games, procrastinating or sleeping. She likes...