Senior Alexa Kwan commits to swim at UC Davis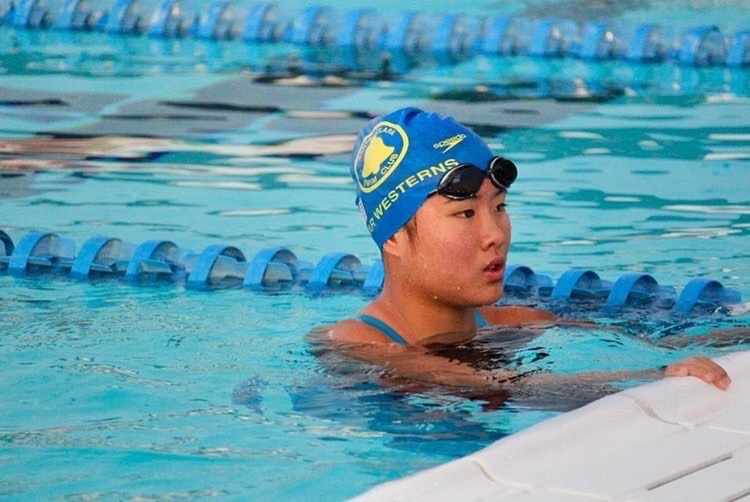 After 13 years of hard work in the classroom and in the pool, senior Alexa Kwan is ready to head to the University of California (UC) Davis, where she will swim at the collegiate level and study managerial economics. Kwan currently swims for the international team at Santa Clara Swim Club and will compete on the Lynbrook swim team for her third season in spring 2021.
Kwan started swimming at age 4 when her parents enrolled her in a class at Santa Clara Swim Club to improve her water safety skills. She quickly fell in love with swimming and transitioned to the competitive level at her club when she was 8.
"My parents would take me to swimming competitions hosted at the club, and there would be trophies and medals on a table to the side," Kwan said. "I remember telling my mom, 'Mom, I want a trophy like that', and she would tell me that the only way I could get one was to win a race. After that, I asked her to register me for competitive USA swimming at the Santa Clara Swim Club."
As she grew up, Kwan tried other sports, from soccer to basketball, but stuck with swimming because she appreciated how the sport allowed her to set and achieve goals as an individual.
"The other sports [I tried] were more like team sports, and I love the team bonding aspect," Kwan said. "But with swimming, I get to have a lot more individuality, and I feel like I'm able to grow as a swimmer and as a person, too."
Kwan is particularly proud of breaking a Pacific record with her relay team, remembering it as an important milestone in her swimming career. When she was 12, she became the champion for the 100-meter backstroke in her age group for the Junior Olympics. At 13, she moved up an age group and became Junior Olympic Champion in that group the year after that.
When she started her transition into high school, Kwan had progressed past Junior Olympics and started competing in the Far Westerns swim meet, where she worked hard to achieve her next goal: getting her Sectionals cut, a qualifying time that would allow her to participate in the meet.
"I have a whiteboard next to my bed, and every morning, I would write a new goal that I wanted to hit," Kwan said. "I remember writing down my goal to get my Sectionals cut, and that was the longest time I've had something on my board. It took me a year and a half to get my Sectionals cut, and I was able to get my cut for Futures, the level beyond Sectionals, four months after."
At Lynbrook, Kwan raced for the swim team in her freshman and sophomore years, but her junior season was cancelled because of COVID-19. She made it to finals for Central Coast Sections in both seasons and won Rookie of the Year and Most Valuable Player in her first and second seasons, respectively.
"During meets, she always makes sure to warm up and warm down and she really prepares herself for each race, which is not something every swimmer does," said senior Michelle Choi, Kwan's teammate on the Lynbrook swim team. "We're usually in the same relay for meets too, and they're one of my favorite parts about swimming with her. She's really supportive because we're racing together, and it's always fun to swim with someone who's really good."
Now, Kwan is working hard to achieve her Junior Nationals cut. As a swimmer, Kwan is a sprinter who races primarily in 50 to 100-yard events. Her specialty strokes are backstroke and butterfly. Under normal circumstances she would be practicing hard to reduce her times at the Santa Clara Swim Club, which has no off-season, but team and individual practice routines have changed due to COVID-19.
"The longest break we used to get was a week off, and sometimes we didn't even get it," Kwan said. "When you miss a day or two in the water, you begin to lose your feel for it. "
In a normal year, Kwan would practice six days a week, with afternoon practice for three and a half hours every weekday and additional morning practices from 5:30 to 7 a.m. on Tuesdays and Thursdays.
Now, their club can only hold practice every other weekday, along with Saturdays and Sundays, at the Milpitas City pool. Swimmers, once packed four to five per lane, now occupy every other lane, starting at opposite ends of the pool to minimize contact. The changes have resulted in an increased number of groups that need to use the pool, which has shrunk pool time from two hours per practice to an hour and 10 minutes.
"We do dryland practice on our own now, too," Kwan said. "COVID-19 hasn't brought us closer, obviously, and I'm missing more of the team dynamic because we can only talk to each other if we shout. However, we try to make the most of it."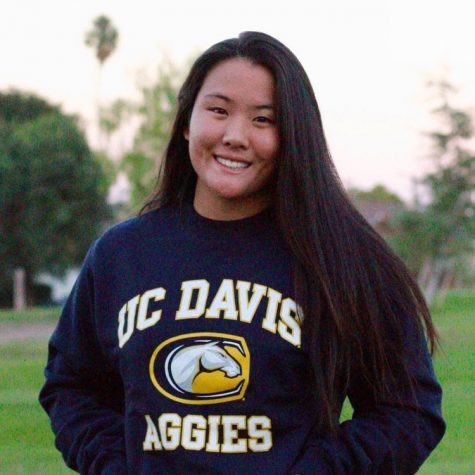 Following her recent commitment to UC Davis, Kwan says she always knew that she wanted to finish her swimming career at the college level.
"Ever since I was little, I watched NCAA Swimming on TV," Kwan said. "When Olympians are interviewed, they always say swimming at the collegiate level is a great experience. For myself, I know I want to surround myself with people who also swim. The lifelong friendships, travelling for meets and knowledge that college swimming will push my limits even further convinced me that this was the right decision."
Kwan started reaching out to colleges in March of her junior year, specifically looking for schools with suitable athletic programs that also had her desired major, managerial economics. To determine if each university's programs were suited for her, Kwan compared her times against the athletes to determine whether the program would be a match or a reach. Her advice for underclassmen interested in pursuing collegiate athletics is to start early and to not choose a school solely for its athletic programs.
"You can start talking to recruiters by the start of your junior year," Kwan said. "For bigger schools, like those in the Ivy League, you want to talk to them for at least a year, because they really want to know who their athletes are in and out of the water."
Kwan talked to the recruiter from UC Davis for about five months and was offered a spot in August. She ultimately committed to the school because its athletic and academic programs, financial package and major offerings were the best fit for her.
"I felt like a huge weight was lifted off my shoulders when I committed," Kwan said. "I still have a semester and a half of high school to go, and I always strive to do the best I can. I'm trying to keep my straight-A GPA, regardless if I've committed or not. But, it does feel really good."
When asked about the future, Kwan envisions keeping swimming in her life by pursuing a career with the Olympic Committee in Sweden once she graduates college and gets her MBA. There, she'd like to analyze data for athletes and work with Olympians to keep giving back to the sport she loves.
About the Writer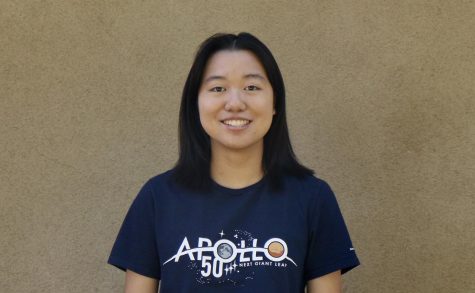 Youqi Huang, News Editor
Youqi is one of two News Editors for the Epic. She loves writing for the Epic and is really excited about covering different aspects of life on campus....