Local Home of Hope chapter spreads stories across the globe
Throughout the month of October, the San Jose Youth Chapter of Home of Hope hosted a book drive and fundraiser with Lynbrook Key Club that raised 400 books for underprivileged children in the Bay Area. The Home of Hope Youth chapter aims to create a global impact by donating book profits to schools in India.
"Home of Hope does a ton of projects in India, which mainly focus on educating disadvantaged or disabled children," said Pranav Kirti, senior and President of the Home of Hope Youth Chapter. "Our main goal as a youth chapter is to help fundraise for Home of Hope."
Kirti organized the book drive, which was held on Saturday, Oct. 3 and Saturday, Oct. 10. Student organizers placed a book stand with a large sign reading "Book Drive" on the Johnson Avenue and Rainbow Drive corner of Rainbow Park. After leaving the stand out for the two Saturdays and receiving over 400 books, Kirti and senior Siddharth Bawankule, Vice President of the San Jose Home of Hope Youth Chapter, sorted and organized the donations. Since the book drive took place at such a well-known location in the Lynbrook community, its prominence helped raise awareness about their efforts.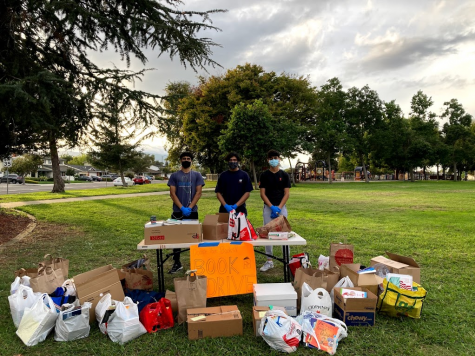 "Lots of people stopped by and asked us [about the book drive] and then came back later to bring  books by," Bawankule said. "But we also put out notifications on Nextdoor so that people could know in advance." 
Community members could drop off any type of book they wanted to or no longer needed. The book drive welcomed a variety of contributions, from childhood storybooks to SAT prep books.
With the help of Lynbrook's Key Club, which encouraged its members to donate books by awarding points for donations, Home of Hope was able to collect more than 400 books, bringing the book drive to success. Some members went above and beyond in contributing to the event, such as freshman Alicia Tong, who donated 82 books to the book drive.
"I decided to donate the books since we had a lot of old books we didn't need in the house anymore," Tong said. "It was also a good opportunity to give back to the ones in need." 
The books will be donated to libraries, homeless shelters and local book thrift stores like Half Price Books where underprivileged families often turn to buy books for school at low prices. All of the profits Half Price Books earns through selling books donated by the Home of Hope Youth Chapter will go to schools in Uttar Pradesh, India, where the schools will use the money to buy textbooks.
"We did [this] event that contributes directly to our community because we didn't just want to fundraise for the [Home of Hope] organization," Kirti said. "We wanted to get involved with our own community and benefit underprivileged kids that live in San Jose."
Home of Hope has multiple youth chapters which span across the country, with branches in states from Hawaii to North Carolina. Since each chapter hosted their own book drive, as a whole, they collected 3,100 books through the book drive.
"It was a lot more successful than we imagined," Kirti said. "Initially we thought that we were just going to donate all of our books to Half Price Books, but because we got so many, we had to reach out to other organizations."
In addition to Half Price Books, Home of Hope Youth Chapter will be donating to libraries and are considering donating to homeless shelters, orphanages and churches. Although Home of Hope organizes a large gala as a major fundraiser every year to generate lots of donations, the book drive felt like a more meaningful and personal way to give back to the community. 
"The book drive did have a certain different character to it [than the Home of Hope Gala]," Bawankule said. "It made us feel like it was all by us or by our own efforts compared to the gala because the gala was really large scale."
The Home of Hope Youth Chapter hopes that the book drive can help provide supplies to children in underprivileged areas, where schools supplies, textbooks and books are not as plentiful and affordable. By raising money and hosting donation drives, Home of Hope Youth Chapter can provide resources and improve education for children locally and across the globe.
"We think that the biggest step to becoming a successful adult is a proper education," Kirti said. "That's why we use [our] chapter and our organization, as a whole, to put such an emphasis on getting these kids textbooks and setting up schools in underprivileged areas."