Outdoor activities to try during the pandemic
Because people can no longer gather indoors, many Lynbrook students and teachers have taken up many outdoor activities such as hiking, skateboarding and rock climbing. These pastimes help them not only to get exercise and de-stress, but also to socialize while following social distancing guidelines. 
HIKING
Hiking has become a popular outdoor activity because it is accessible to everyone. Around the Bay Area, there are several hiking trails with breathtaking views for people of all ages and experience levels. 
The Rancho San Antonio Preserve has multiple trails, and the longest and most popular is the PG&E Trail, a trail for expert hikers that climbs over 1,600 feet and covers 4.2 miles. At its peak, hikers can see the entire Bay Area, including  noteworthy landmarks such as Mount Tamalpais and Mount Hamilton. The Fremont Older Open Space Preserve, which is less than 4 miles away from Lynbrook High School, has many intermediate-level hiking trails. Hunter's Point, a favorite among students, is a short and fun 0.8 mile hike that ends in a spectacular view of the Silicon Valley. Another popular trail is the Parker Ranch Trail, which connects to many other trails like the Steven's Canyon Trail and has a balance of steep climbs and flat terrains. A short drive away from the Lynbrook campus is the Stanford Dish Trail. This trail is a moderate 3.8 mile hike that offers a unique view of the mountains, the Peninsula and the Stanford Campus. Stanford Dish hikers are also often treated with sightings of deer, birds and flowers.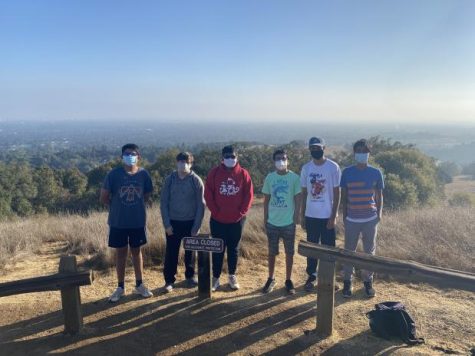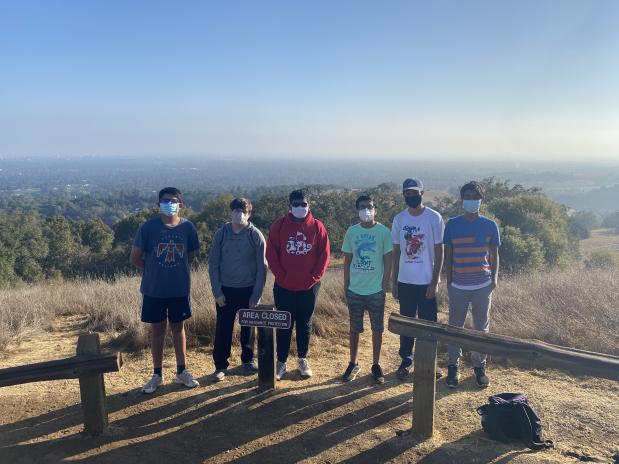 While the pandemic has led to an increase in hikers since it is easier to social distance in the outdoors, there have been some changes in hiking norms. In accordance with health guidelines, many hiking trails in the Bay Area now have new rules requiring masks and establishing one way trails. 
"Unless it's a very wide trail, you're going to have to spread apart a little bit," said sophomore Dhruv Malik. "That can be annoying because then you'll have to speak up if you have multiple people and space out a little bit as people don't tend to wear masks when they're hiking. "
Nevertheless, due to the abundance of local trails and the fact that no special skills are required, hiking is an easy way for students to spend time outdoors.
"Hiking is a pretty accessible activity, and there are plenty of trails within 20 minutes from my house," Malik said. "It doesn't require much equipment in general. You just need a decent pair of shoes, comfortable clothes, some water and a backpack." 
SKATEBOARDING
Many Lynbrook students skated to school when classes were in-person, and the pandemic has given them additional time to practice their skills. Skateboarding can be both a safe and thrilling activity.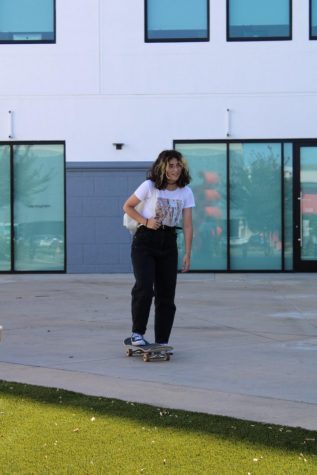 "When I first started, I was really nervous because I thought I was going to hurt myself, and I did hurt myself a lot," said sophomore skater Elif Ipekci. "But, over time, you get over that, and I just really enjoy it now because it's actually fun when you're comfortable with the skateboard."
Skateboarding may be difficult for first-timers, and a lot of practice is needed to get more familiar with skating. Many skaters usually become comfortable with their boards by trying to go out of their comfort zone and pushing themselves to go faster. Learning to skate has other benefits as well: it is not only an enjoyable activity, but also an environmentally-friendly travel option for commuting short distances. 
There are many skateparks in the Bay Area, which often have both bowl features and elements of a street course, such as stairs and rails. Local parks include the Fremont Skate Park, which offers bowl features and a street course; the Mayfield Skatepark, which has many street obstacles and is a great park for street skaters; and the Roosevelt Skatepark, which includes two bowls and a section for street skaters. 
Furthermore, many tricks can be done at these different parks. A beginner trick is the Ollie, which is when the rider is in the air, and skaters use the trick to jump over obstacles. This trick can be used in many of the street sections of the parks, with the different rails and stairs. Another trick is the Shuvit, in which the skater turns the board more than 180 degrees while ensuring the back of the board does not touch the ground. This is a very useful trick as it can make learning more difficult tricks, like the Pop-Shuvit, easier.
With many in the community working from home and schools closed, the roads around Lynbrook have far less traffic than usual. The empty roads and restricted access to skateparks during the pandemic provide an opportunity for students to practice more on local streets and improve their skating skills. It has become a great way to interact with others with similar interests and learn different tricks, like the Kickflip or the Grind. Although these tricks can take months to learn, skating can allow individuals to show off remarkable skills and share their accomplishments with others. 
ROCK CLIMBING
Rock climbing is an activity that many Lynbrook students usually do indoors at a gym with friends or in teams. With gyms closed during the pandemic, some students have taken up the activity outdoors. Rock climbing is a specialized sport that requires both upper and lower body strength, stamina and endurance.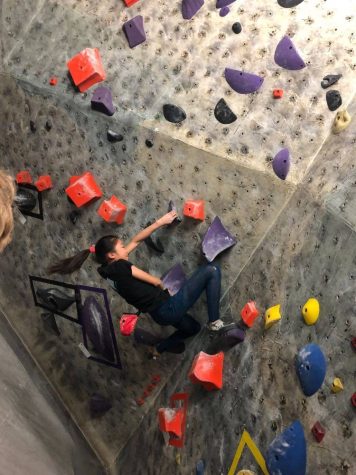 "I like rock climbing because all the different problems are so unique," said sophomore Ellen Kwon. I view the climbs as a puzzle for your whole body to solve. While solving the problem, you push yourself mentally and physically, whether it be your fear of falling or the finger strength you need to hold on."
Since indoor climbing gyms have many safety precautions, such as harnesses and safety nets, climbing outdoors is vastly different from climbing in a gym as indoors. However, outdoor climbing can be particularly exciting as an individual is experiencing raw nature.
 "It is much more thrilling because of the higher risk factor and climbing real rocks," Kwon said. "Being ready for the unknown gives me adrenaline."
There are many local rock climbing spots where both beginners and experts can rock climb. The location closest to Lynbrook is less than 40 miles away in Scotts Valley; Panther Beach  is known for being a tricky spot due to difficulty in determining handholds and footholds. Another spot is the Beaver Street Wall, which gives a spectacular view of San Francisco and is a great spot for beginners with basic knowledge on outdoor rock climbing. Approximately 30 minutes away from the Lynbrook campus is Castle Rock State Park, a large and scenic park nestled in the Santa Cruz Mountains. Students with some experience in indoor gyms are likely to get the most out of this venue and climb with ease. 
Rock climbing is a great option for students who want to challenge themselves, feel a sense of accomplishment and exercise both their body and mind. 
"I think climbing is a perfectionist sport because of the tedious moves and specific sequences you need to execute to successfully top a climb," says Kwon. "I feel like rock climbing is a unique sport. No climbs are the same so you can never expect what you will encounter when you climb."