Construction continues throughout pandemic
Renovation of the cafeteria and lower quad was completed on campus at the beginning of the 2019-20 school year, and until quarantine began, students were still adjusting to these new features. Even with students and teachers off-campus, construction of the upper quad, guidance and student services (GSS) office building and the gym lobby is in progress.
The transformation of Lynbrook's campus includes three phases. Completed in spring 2017, Phase One cost $7 million and included the Field House addition, which consists of a new weight training room, dance studio and PE classroom next to Stober Field. Currently in progress, Phase Two includes the renovation of the cafeteria, quad and ASB room, in addition to the construction of a brand new gym lobby. Phase Three entails the construction of the GSS building and auditorium lobby.
While students were still attending class in person at the start of February, the gym, along with one entrance of the girls' locker room, was blocked off to begin the addition of the gym lobby. Throughout the summer, not only did the gym shut down but also, by May 4, the campus driveway was closed for construction. Many students saw the now-complete driveway during Viking Days in August.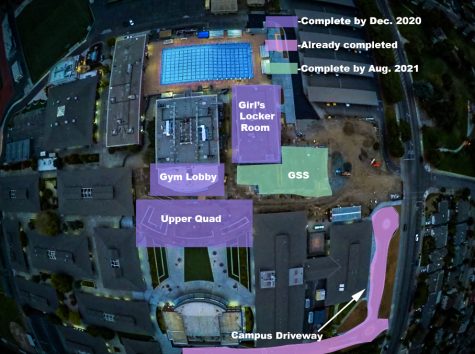 Some facilities currently undergoing construction include the gym lobby and the upper quad. The gym lobby will serve as a space for concession stands during sports events in the gym, and it will also display trophies. In addition to the gym lobby, the gym and girls' locker room also have been seismically retrofitted with an additional diaphragm layer in the ceilings for structural stability in case of an earthquake. The quad, gym lobby and seismic retrofit work for the gym and girls' locker room will be completed by December 2020. Another ongoing project is the GSS building, on track to be completed in August 2021. The building will replace the old weight room, and will extend into the current parking lot and connect to the girls' locker room. Other potential projects like the renovation of the bike parking area, construction of a new campus promenade and the new auditorium lobby are currently under review. 
Despite the pandemic, the construction team has been working diligently to deliver high-quality results. Due to COVID-19 and recent wildfires, the team has added face masks, face shields and respirators to its personal protective equipment while on site and has spent more time cleaning tools and abiding by social distancing precautions; however, there have been no major delays in plans. In fact, because students are no longer on campus, some projects were finished faster. For example, the seismic retrofit installation of the girls' locker room took one summer instead of two. 
"Dealing with extra precautions because we are working together during COVID is stressful, since we are still trying to make sure that we deliver satisfactory results," Senior Project Engineer Danny O'Malley said. "But I have no worries in the world. I love the people I work with from this school district, and it has been a pleasure working out here."
Lynbrook has undergone many changes to create a better environment for students and staff and to supply the school with the best facilities. Families who come to support student athletes have a designated area to wait for games to start in the gym lobby, and students will have more space to gather with friends, eat lunch and study in the new quad. 
"The new quad will make homecoming look a lot nicer and more accessible," Senior Clerical Assistant Jena Rajabally said. "I think it does lift the spirits of students to see their school updated and looking so new. They can have more pride in their school."
Lynbrook's campus transformation has been an ongoing project for years, and the campus will be considerably different when students return. Following the schedule, the current phase of construction will be completed by August 2021. 
"Having nicer buildings creates an effect that the school is pristine and sparkling and gives students the feeling that the construction is making their school better," senior Pearl Klassen said. "I don't think construction does too much, but in a strange way it does a lot, mentally. I think it really does create a better environment."
This transformation may also boost the spirits of students and staff when they fully return to school after their time away during the pandemic.
"When we do go back, it'll bring an extra layer of hope that we're finally back and we can see how beautiful our school has become and how much has been accomplished while we've been gone," English teacher Erin Levin said. "I think that the new construction will give us a renewed sense of belonging, and a feeling that we're cared for with all the time and materials that were put into making this massive change for us."
About the Contributor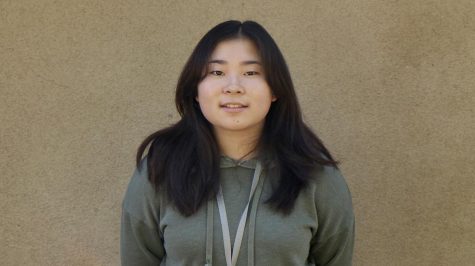 Elizabeth Park, Writer
Elizabeth is a sophomore and a writer for the Epic. She enjoys reading and writing and is super stoked to try out journalism. In her free time she watches...