Lynbrook choir attends virtual concert AVoice4Peace
Amy Liu, Editor-in-Chief
October 7, 2020
In honor of the International Day of Peace, choirs around the world gathered on Sep. 21 to sing Ukuthula, a traditional South African hymn of peace. AVoice4Peace is a world-wide peace awareness project, and this year, all FUHSD choirs participated in their live virtual concert.
Founded in 2014 by Ken Wakia, director of the Nairobi Chamber Chorus, and Dr. Kevin Fenton, director of the Festival Singers of Florida, AVoice4Peace aims to dedicate one day to lending voices for peace on the International Day of Peace through a choir event. Wakia and his team filmed a documentary in Kenya to recognize the expressive musical culture of the region, led by the belief that by coming together to work towards a common goal of harmony and a world without violence, hunger and injustice is possible. More than 400 choir students from all over the country attended the event virtually this year, with a majority of attendees coming from the West Coast. 
Since this was the first time the event was held virtually, activities such as guest speakers, polls, breakout rooms and music were implemented to ensure an experience as engaging as in-persion renditions. The program started off with Dr. Frances Fonza Smith teaching everyone "Better" by Hezekiah Walker, a song about the positive outlook to the future. 
Dr. Ryan Luhrs spoke about the importance of choir, and Dr. Brandon Boyd discussed the development and features of Negro Spiritual and how African music has influenced the music across the world today. Throughout the program, there were also breakout rooms led by the coordinators to help attendees gain a greater understanding of what peace means and how to bring peace in choirs.  
Lynbrook choir started preparing for this virtual concert a month before the event, merely a week and a half after school started. Vocal Music Director Crystal Isola first heard about this opportunity from MVHS choir teacher Amy Young, who organized this year's AVoice4Peace event. Young invited all of FUHSD's choirs, and Isola knew right away that she wanted to share this with her students. 
"I just thought it was nice to have something to work towards right now when we're talking a lot about Black Lives Matter, the pandemic, loneliness and the importance of social life," Isola said. "I felt that to do something like this was particularly timely. I really have advocated my whole life [for] peace, kindness, equality, social justice and feminism, so it was right down my alley."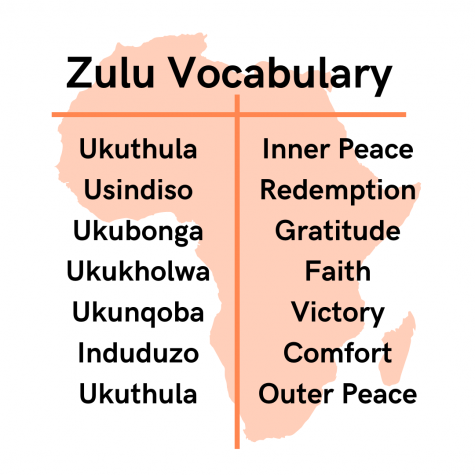 Preparation began right away. Choirs from the west coast were each assigned one seventh of the song "Ukuthula," which means both inner and outer peace in Zulu, a language spoken in South Africa. The LHS choir was assigned to sing the "Ukukholwa" portion of the song, which means faith. 
What seemed like a long month of time to prepare quickly passed because of distance learning. In choir, practicing as a group is important for the final performance to sound unified, but rehearsing individually makes unity more difficult to achieve. 
"It's very difficult when you sing in a choir because you need to be singing at exactly the same time," Isola said. "Your section should sound like one voice. That means you have to shape the vowels exactly the same; you have to say the consonants exactly the same; you have to sing in time with the rhythms and the notes with exactly the same sound. To do that, of course, it really is best to be face to face and hear each other in order to get the blend." 
Students used the app Acapella to record their parts individually, sent them to Isola for her to critique and then re-recorded based on her feedback until it was perfect. However, recording individually meant that students could not rely on the conductor or listen to the different sections as an example. 
"It was kind of a struggle to know exactly how to sing when we couldn't hear others perform it with us," said junior Alisha Bose, a member of the Dolcissima choir. "Our rhythm had to be super precise because we had to sound unified, but we couldn't rely on the cues that we generally would [in person]." 
Something else Isola had to consider was deciding on who to perform the solo part. Isola chose the soloists by having students send in recordings, and the process of reaching a decision involved a back and forth of sending recordings and constructive criticism between the students and Isola. Eventually, Isola picked the solo with the best tone quality, which was by junior Ananya Balagere from the Dolcissima choir. 
"It was definitely very different preparing for my solo for the virtual concert," Balagere said. "Usually soloists just warm up with the choir and perform on stage, but this time, it was unusual as I had to warm up by myself, at home, and then perform in front of a camera in an empty room."
Balgere found that there were many problems when recording at home, such as her recording picking up background noises. Balagere recorded the solo part several times before the quality was satisfactory for the concert. 
Despite these challenges, Isola felt that there were some benefits of remote choir. Students are able to get more individualized feedback on their technique, posture and performance than in-person choir, and Isola is able to get to know her students better.
All LHS choirs attended the virtual event Sep. 21. Many students were amazed at how well the event was organized and had meaningful discussions in their breakout rooms. 
"We discussed a lot of important questions such as the impact music has and important themes like justice and intolerance in the world," Bose said. "It felt like a super safe place to share your opinion and talk with others." 
The lecture on Gospel and Spiritual music was also a big take-away for both students and teachers. 
"I've been teaching 33 years, plus I was a musician my whole entire life, [but] I never knew the difference between Gospel music and Spirituals," Isola said. "That was really cool, and I thought it was neat that kids were really interested in that too." 
The event finished off with the pre-recorded concert for the piece Ukuthula. AVoice4Peace coordinators stitched together the seven parts of the song by FUHSD and Dublin choirs, and the final result was presented to all attendees through screen-share. 
"It was hard to understand the magnitude of the project until we watched the entire performance with so many people," Bose said. "Though we couldn't hear each other, the virtual piece was gorgeous, and we could see people smiling and swaying as they sang along."
One of Balagere's favorite aspects of the event was getting to hear people from other schools sing their verses of peace. 
"There were so many soloists from different schools, and it was special to hear them sing their solos in their own ways," Balagere said. "I thought it was amazing to see that many people who all love music and expressing their ideas through music. It really lifts your spirits seeing so many people coming together as one community."
Although the pandemic has changed the circumstances Lynbrook choir operates in, many positives have come out of the experience as well, such as having the opportunity to attend a national event of this magnitude virtually. AVoice4Peace encourages students to have conversations about peace and take action to combat injustice, in spite of the current negativity in the world.