FUHSD community pushes for antiracist curriculum and climate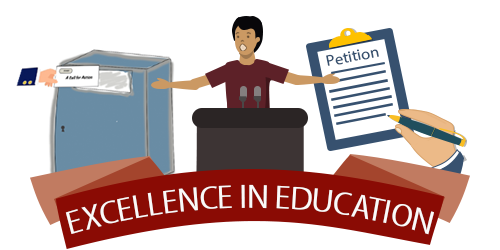 With the recent rise of racial justice movements such as Black Lives Matter (BLM), FUHSD has been pushed to speak up in the anti-racism conversation. Students, teachers, administrators and community members are hosting town hall meetings, sending letters and writing resolutions to promote anti-racism and equality within the district. Members of the community are demanding more transparent disciplinary records and a more inclusive curriculum as part of the fight for equality. 
On May 25, George Floyd's death at the hands of Minneapolis police reignited BLM protests across the country. The tragedy also took social media by storm, with people urging each other to educate themselves about the U.S.'s history of systemic racism. 
A week later, on June 1, FUHSD Superintendent Polly Bove sent out a district-wide email acknowledging Floyd's death and the importance of anti-racism. 
"We have a duty as educators to provide a space for honest conversations about racial injustice, bias and the systems embedded within our society that bestow privilege on some, while cruelly disadvantaging others," Bove said. "It is our responsibility to continue to come together to combat all forms of racism, bias, discrimination and injustice." 
In response to the email, FUHSD teachers came together to write a letter to district administrators to ensure that FUHSD made good on the pledge they put out to the community. In their letter, which collected more than 700 signatures from district students, staff and alumni, they detailed five demands: learning and practicing culturally responsive approaches, amplifying Black, Indigenous and people of color (BIPOC) voices, tackling anti-Blackness within FUHSD, creating an inclusive environment for marginalized students and employees and continuing to improve staff's anti-racism knowledge. 
"Anybody who is Black or Latinx can feel polarized in this community," art teacher Charlotte Kruk said, referencing a Western Accreditation of School & Colleges study. "I signed [the letter] because I wanted to stand with those people and speak about [the issue]."
District leaders acknowledged the teachers' message and began working toward solutions together. However, they noted that the issue is complex and solving it presents many obstacles. 
"When you try to mandate everybody [in the district] do something, such as take part in a standardized anti-racism curriculum, it creates a 'one size fits all' or 'top-down' mindset,' which the leaders in our district do not think is an effective way to change culture," FUHSD Coordinator of Academic Interventions Josh Maisel said. "Our goal is to move forward in a sustainable way, and this takes a delicate combination of strong direction from the top with plenty of feedback and guidance from students, teachers, staff and parents. We want real change in culture and don't want this to feel like we've just checked a box."
In early July, around the same time that the letter to leadership was circulated, a coalition of students and alumni held a town hall meeting focused on racism and sexual harassment in the district. The organizers, part of a group called the Coalition for Racial Justice in FUHSD, facilitated a discussion that featured a range of speakers, from administrators to alumni, who spoke on racial justice issues specifically at FUHSD high schools. 
"It wasn't until well after I graduated, really just a few weeks ago, that I realized that this was an issue that the district needed to address," town hall speaker and Lynbrook Class of 2019 alumnus Yiu-On Li said. "During my time at Lynbrook, I didn't pay attention to [these problems] myself, and most people around me didn't either." 
In his speech at the town hall, Li discussed how racial issues presented themselves throughout his high school years. 
"FUHSD's lack of exposure to Black people and voices inevitably led to ignorance and a feeling of apathy, and that [Black peoples'] problems, whatever those 'problems' are, are not our problems." Li said at the meeting. 
The town hall aimed to amplify the voices of BIPOC members of the FUHSD community as they spoke about their experiences of being marginalized at school. After the event, the coalition turned its efforts toward seeking policy change in the district.
"Right now, [the coalition] is focused on demanding that the district collect and fully release data on disciplinary actions dependent upon race and ethnicity demographics," coalition member and Lynbrook Class of 2020 alumna Sarah Sotoudeh said. "It's really important because it can show the institutionalized racism and racial disparities in our district."
The coalition is specifically interested in data regarding arrests in schools, visits from neighborhood resource officers and interactions with Immigration and Customs Enforcement. Following the town hall, members of the coalition have also attended multiple board meetings to voice their concerns. 
Outside the coalition, current Lynbrook students are also devising and proposing ways to cement anti-racist education. In August, seniors Ria Chaudhary, Kanav Tirumala, Katie Chen and Zoe Parkhomovsky were part of a student-led team that wrote a resolution for the Santa Clara County Democratic Party Central Committee (SCCDCC) with the goal to implement ethnic studies curriculum in every California high school. 
Ultimately, they hope to paint a more accurate picture of American and world history that amplifies minority voices. As a result of students' presentations, the SCCDCC adopted their proposals as a county policy that the party pledges to support. The party's commitment to the resolution will influence which candidates they choose to support based on the candidates' position on the new policy.
In addition to these students' efforts, state-level legislators have been working to accomplish a similar goal with California Assembly Bill 331, a state bill proposition. If passed, it will require a semester of ethnic studies, either as a separate class or integrated into current history and literature classes, for high school graduation in California, effective 2029-30.
 Next year, Lynbrook, along with other FUHSD high schools, is replacing 12th grade European Literature with a new course titled "Story and Style." Although the change is unrelated to Bill 331, it also aims to expand writing and literature curriculum beyond the Eurocentric scope that is traditionally taught. 
"If our views are shaped by a Eurocentric history narrative and books only by white authors, our worldview will be limited," Chaudhary said. "Once a student graduates high school, they can vote, and they deserve to have the education necessary to make an educated choice." 
A petition advocating for Bill 331 gained more than 16,000 signatures after circulating on social media and helped the amended bill pass its second hearing with the California Senate Appropriations committee. If the bill is not amended further, its next challenge will be to pass the Assembly and Senate votes before going to the governor for signature or veto. 
Additionally, in preparation for the 2020-21 school year, FUHSD administrators included two new modules discussing anti-racism in the first week of school, one designed for students and one designed for teachers. The anti-racism module took one hour to complete and ended with a student reflection. It was centered around the topic of online hate speech and how to counter it. 
"There's something powerful about starting everyone on the same page," principal Maria Jackson said. "That's why we really wanted [a module] across all the schools for all the students and teachers. We chose to focus on online hate speech because it's relevant to our remote learning environment, and in general, people are more likely to say hurtful things from behind a screen." 
In addition to their standing equity-in-action training, teachers were also given a module to complete at the beginning of the school year. This module encouraged teachers to self-reflect and further educate themselves on issues of systemic racism in the past as well as the present. Many students and teachers believe that this is a great step in the right direction; however, others are continuing to demand more action.
"[Staff] should definitely be a part of the conversation and be doing this stuff with [students]," Jackson said. "But it won't be effective if it's just us giving them materials. My hope is that students can also take [anti-racism] on themselves through doing research and having the hard conversations with each other." 
The district plans to keep providing resources and encouraging conversations about anti-racism by including anti-racism training in homeroom classes throughout the year. 
"If people think that [the modules] are the only thing we're doing for anti-racism, they're just not seeing the rest yet," Maisel said. "This will be not even just a year-long endeavor, it must continually develop and evolve and will be continuous over multiple years."
Like other school districts across the nation, FUHSD is making changes to tackle a system that marginalizes certain minority groups. Letters, petitions, proposals and even bills have been the beginning of a movement for a safer, more inclusive learning space. Members of the community have committed to holding each other accountable as they strive to establish an anti-racist environment where all BIPOC students and staff feel heard and empowered.