The best bops for stressed students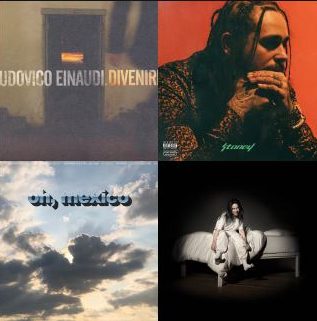 When I began high school, my workload and study time increased drastically, as many warned me it would. To avoid the boredom of sitting in a chair for hours on end, people I knew listened to music or even watched Netflix as they worked. However, I quickly realized I couldn't concentrate on my work if I listened to my usual upbeat tunes, much less watch Netflix. To provide a solution to that problem I found a way to combine both music and studying, and that's where this playlist comes into play.
You get home from school, knowing what's coming. Three-plus hours of sitting in a chair studying for that test that could cause the demise of your right-on-the-edge perfect grade. To get into the study mood, this playlist begins with a six-minute piece of classical music by composer Ludovici Einaudi. I don't particularly like listening to classical music, but while I won't admit it, I've noticed that it helps me stay focused.
Once you've faced the fact that there's no more time left to procrastinate and you're willing to start studying, it's time for some intense concentration. The next few songs have lyrics, but they're all relatively slow and quiet so as to not distract you from those polyatomic ions you're trying so hard to memorize.
I don't know about you, but if I'm concentrating hard, the music in my earbuds fades into the background and I don't even notice it. Jeremy Zucker's "mexico" is the perfect song for this; the soft guitar and steady voice gives the song a calming feel, allowing it to easily fade into the background. Billie Eilish's songs achieve a similar effect through her soft instrumentals and quiet voice, but the beat is more present and has a lower pitch. In my opinion, this part of the playlist is ideal for studying for math and chemistry, which require the most concentration and least distractions. This section ends with another classical piano piece to maintain the quiet vibe until the end of the study session.
When you are exhausted from that molecular geometry, it's time for a break. Perhaps to check your phone, or take a power nap, maybe even take a quick boba run to get that oolong milk tea with 100 percent sugar, no ice, pearls and lychee jelly that you've been craving since yesterday morning. That's when "EARFQUAKE" by Tyler the Creator comes in as a mental break. The song has a faster and more dynamic beat which gives it an invigorating vibe. The song keeps the energy going, giving you a break from the boredom of studying for hours on end.
Once your break is over, the next few songs are more upbeat, yet still allow for a good amount of concentration. This part of the playlist is ideal for studying for that one class that you feel good about, the one you already know you're gonna ace — not too much studying, not too much concentration required. Ariana Grande has a powerful voice and she isn't often one to keep quiet, but in "needy," she sings in a relatively soft tone and maintains a steady beat, giving the song a gentle and muted feel so it doesn't become too distracting. This section ends with "Hot Shower" by Chance the Rapper, another upbeat song to keep the energy up.
After a few hours of studying it might feel as if you're glued to your chair — trust me, I know the feeling. But it's okay, keep it up, there's just a few things left to study. The rest of the playlist is ideal for studying for classes where you know the material, but still need to review it. For me, these would be literature, history or a foreign language, since those don't require as much concentration as science or math classes.
The songs are less concentration-heavy in comparison to those at the beginning of the playlist, as they are louder and faster-paced. This section features songs such as "Orange Juice" by Melanie Martinez. Compared to Billie Eilish, Melanie Martinez has a louder and more prominent voice in her songs; her voice in "Orange Juice" is quiet relative to her other songs, but its faster beat still keeps it interesting. The last two songs are by artists who both have bolder, attention-catching voices. This is usually quite distracting to me, because how can I resist the urge to sing along? But in this case, the slower beat of the song creates the illusion of calm, making the lyrics less distracting.
Sometimes, the silence of a quiet room can sidetrack the mind of a stressed student just as much as a high-intensity pop song. This playlist helps me, as a person who struggles with concentration, stay on track while still allowing me to enjoy my music. I hope it will do the same for you. Good luck on your finals!