Craft faire sells holiday cheer
Lynbrook held its 40th annual Holiday Craft Faire on Saturday, Nov. 23. Hosted by Lynbrook Instrumental Music Boosters (LIMB), an organization that supports Lynbrook's music program, the faire featured over 100 vendors selling handcrafted items.
The event is LIMB's largest fundraiser of the year and was organized by Craft Faire Chair Jen Liu. The planning process for the faire began as soon as the previous year's ended, with the organizers holding a meeting to evaluate what parts of the event went well and what could be improved. Liu started reviewing vendor applications and documents, such as seller permits, in July. Once the school year commenced, more parent volunteers joined the effort.
"The money we make here goes to funding student trips, new band uniforms and additional instructors," Liu said.
At the faire, the vendors were split into indoor and outdoor booths, selling items ranging from handmade soaps to locally-produced honey. Two Lynbrook clubs, Character Design and ArtReach, and Lynbrook alumna Grace Ling, also set up booths.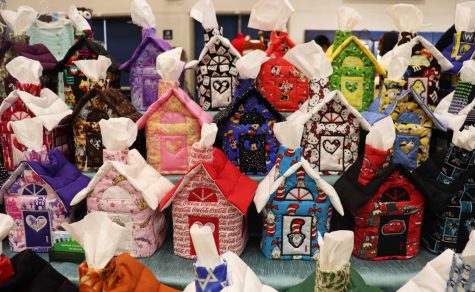 "I liked how there were such a variety of different crafts and talents on display," said sophomore Leah Homstad. "All the crafters were really welcoming and knowledgeable, which helped answer all my questions and made the whole experience very valuable."
This is Character Design Club's third consecutive appearance at the Craft Faire. Half of their proceeds went toward the club and the rest was donated to the American Cancer Society.
"When we started it, it wasn't because we had a need to raise money," said Vice President Anna Shaposhnik. "Rather, we wanted to reach into the community with our art."
Character Design sold stickers and keychains featuring original designs from club members, newspaper cup holders, notebooks with custom covers and commissioned drawings. Customers could request a character, family member or pet to be drawn, and then pick up the finished piece later in the day.
"The first year, we got so much business," Shaposhnik said. "No other booth sells custom art, so I feel like we are special in that way."
Ling graduated from Lynbrook in 2015 and has always had a passion for art and drawing. She majored in Bioengineering and Computer Science and Engineering at Santa Clara University for her bachelor's degree, but is considering moving toward a more art-centric career in the future.
"I recently started selling my art in artist alleys at anime conventions," Ling said. "I was excited to see an opportunity to become a vendor at my high school and to reconnect with my friends and teachers."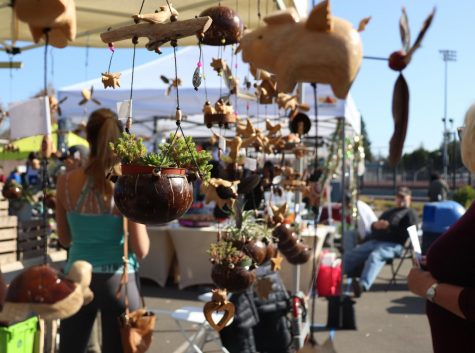 Ling has an art account on Instagram, @candyleaf_, where she posts her drawings and runs an online store on Etsy with the same name. Her art is inspired by her STEM background; one of her designs resembles the cytoplasm of a cell. At the Craft Faire, she sold acrylic charms, pins and stickers of her original designs.
Lynbrook's music program also ran a bake sale and a raffle, with proceeds going to LIMB. Vendors could choose to donate one of their goods to the drawing, and prospective participants buy tickets for a dollar each for the chance to win one of those prizes. Liu cites both of these as important sources of income from the faire.
The food trucks parked along the driveway to the school were another option for food. Ten percent of their earnings went toward supporting LIMB.
"We make money through fees that vendors pay," Liu said. "And then we also make money from the bake sale. It's a big bake sale, so we usually make a couple thousand dollars and quite a bit of money from the raffles."
Liu is proud of the popularity the faire enjoyed this year and thanks student and parent volunteers for their work, as well as the many visitors.