New Music Genesis class pushes the boundaries of music education
Row after row of glossy computer screens, all black, perfectly positioned and aligned. The silver hardware glints under the light streaming in through the windows. In a corner, rows of piano keyboards are stacked up on a rack. This is not what most picture when they imagine a music classroom. However, this unorthodox setting is just one of the many unique features of the music department's newest class: Music Genesis.
Music Genesis is offered at all schools in the FUHSD district, and Lynbrook is the latest school to make this addition. The class focuses on music literacy, and its goal is to give students a holistic view of how all genres of music work. The music department has advocated for this class in previous years, but there was no classroom that could accommodate its structure until the recent development of the new Mac Lab.
Technology is vital to the Music Genesis curriculum, which was developed by John Burn and Jeff Morton from Homestead High School. In addition to lectures in class regarding the seven elements of music — tempo, timbre, melody, rhythm, harmony, dynamics and form — students do a lot of independent work using the computers. In the classroom, each student has a specific station with a Mac, headphones and a piano keyboard. Students use applications such as GarageBand to create soundtracks. Each soundtrack the students create has a different focus depending on which element of music they are learning about in class at the time.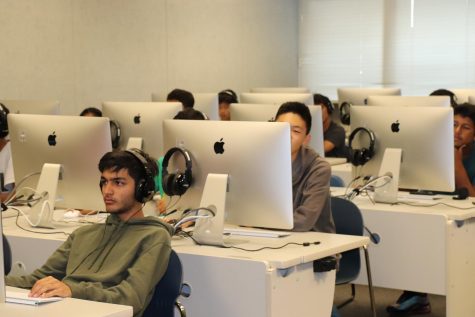 "This is all new to me, so I've had a big learning curve myself to figure this out," said Music Genesis teacher Crystal Isola. "The GarageBand program really is very intuitive though, which is great. It has so much to offer this class."
As students get more familiar with the program, the difficulty of the projects increase. For example, later this year, the students will create their own soundtrack to go along with a Superman cartoon.
Students also learn how to play the piano using online video tutorials and a keyboard, which is connected to their computer. They learn piano because it was found to be the easiest instrument to use to grasp an understanding of the elements of music. Unlike other instruments, students are able to play a chordal accompaniment and melody at the same time, which gives them a better idea of the structure of a musical composition.
"A really unique aspect of this course is the amount of diversity within the curriculum," Isola said. "Students are exposed to many different styles of music, like jazz and pop and folk, so even if they have classical training, the class still gives them something new."
The class is primarily intended for students that have no musical background, but the flexibility in the course also challenges the abilities of students that are more musically advanced.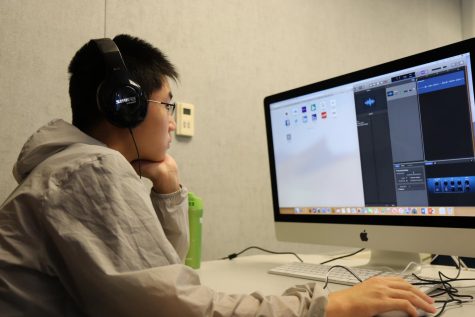 "I took this class because I wanted to get a broader understanding of music in general so that I could develop and apply the skills to when I play the piano," said freshman Kavya Pandrangi.
The students also get hands on experience by applying their knowledge to real life situations. They get to see how all the different musical aspects they talk about in class come together in a performance.
"One thing I'm really excited for is that we get to go review the choir, orchestra and band concerts each semester and see how the concepts we learn about work in real life," said sophomore Clark Wang.
Activities such as critiquing concerts provide students with the unique opportunity to test their knowledge and understanding of the elements of music. This goes hand in hand with the goal of the course: for students to have general knowledge and appreciation for music and the way it works.
"I really believe that this class can make you a happier adult, because you will get exposure and understanding of whole worlds that you might not have had otherwise," Isola said.
If students find the course rewarding and interest does not decline, Music Genesis will remain as a course offering for students new to the world of music.