Lester Leung and students alike win big at Synopsys Championship
Hang on for a minute...we're trying to find some more stories you might like.
As judges approached the table, each student straightened their posture and tucked back their neatly-combed hair, hoping to win over the judges with standing tri-fold panels, laptop presentations, project prototypes and months of dedication to their research. With the 2019 Synopsys Championship officially kicking off in September 2018, the Santa Clara Valley Science & Engineering Fair Association challenged hundreds of middle and high school students to address questions in the fields of computer science, environmental science, chemistry, biology and more with independent project-based research.
Affiliated with the Society for Science & the Public, the fair was held at the San Jose Convention Center on March 14, 2019, where Lynbrook students sought to qualify for state and national science fairs. In recent years, Lynbrook has performed considerably well, with numerous students being awarded the Grand Prize and First or Second Place in their respective category. This year was no exception, as four won the Grand Prize, seven the First Award and seven the Second Award.
In addition, more than 60 companies and private, professional and government organizations awarded students with Special Awards based on each organization's criteria. Several students also advanced to compete in the Intel International Science & Engineering Fair in Phoenix, Arizona from May 12 to 17, while others are also eligible to further compete in the Broadcom Math, Applied Science, Technology and Engineering as Rising Stars (MASTERS) Competition in Washington D.C. in October 2019.
Adding to student success, chemistry teacher Lester Leung was also awarded with the Horace Lucich Award for Outstanding Teachers in recognition of the time and care he gave to students to aid them in achieving success at the competition.
"It feels good, of course, to be recognized for the work that you do," Leung said. "But I'm more proud of our teachers for putting in all that work and their willingness and commitment to the students."
Leung shares the duties of mentoring students for the science fairs with biology teacher Isaac Pallone, who teaches the Independent Study in STEM class and guides students through the research process over the course of the school year. While Pallone usually mentors underclassmen and entrants to the Synopsys competition, Leung more often helps upperclassmen, who can submit their research to a variety of science fairs, including Regeneron STS.
As the teacher sponsor of six Lynbrook entrants, Leung worked closely with freshman Shailesh Senthil Kumar, sophomore Eshani Jha, juniors Raghav Ganesh and Chinmay Lalgudi and seniors Jason Dong and Charles Huang, providing specialized guidance in the specific area of each student's research. On top of helping them with their project applications, he made sure that each student was on track with the process of competing at Synopsys.
"[Leung] made sure that my project stayed within the safety guidelines," said freshman Shailesh Kumar, whose project studied the effect of quorum sensing molecules on extracellular matrix production in the Staphylococcus epidermidis biofilm. "He helped me plan out my project and ensured I finished on time. He wasn't super strict and was fun to work with."
Despite it being his first year managing the overall science fair organization for Lynbrook, Leung was effective and detail-oriented throughout the process, looking for ways to better support students. Leung introduced the STEM Think Tank, in which science fair mentors listened to students' ideas, typically those new to fairs, and gave them tips in project planning.
By providing students with resources and support with their project, Leung also developed close relationships with each student throughout the process.
"You tend to build relationships with the students, and it's like a community," Leung said. "So when you see them grow from freshmen to seniors and they're winning these huge awards, you feel nothing but pride."
About the Writer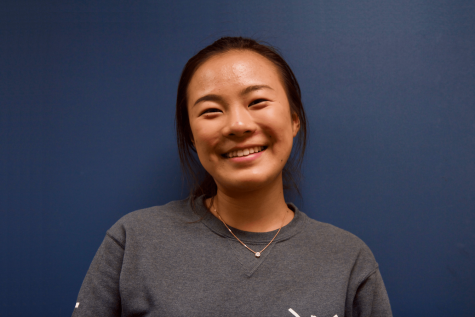 Justine Chen, Editor-in-Chief
Justine Chen is one of the Editors-in-Chief and extremely excited to be working with new staff members this year! In her final year of high school, she...