Life-changing book recommendations from your library experts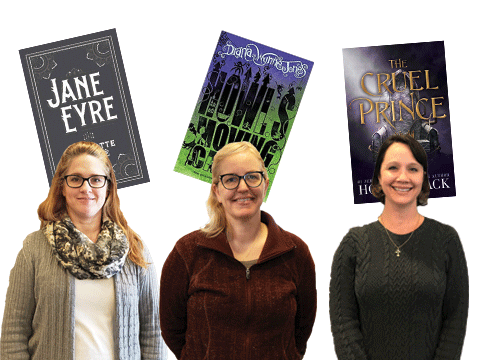 On any given day, crowds of students use the necessary resources that the library provides, however, what many do not see is the team of librarians hard at work to keep the library running smoothly. Whether they are working at the circulation desk, in the library's back office, between shelves or in classrooms, librarians Amy Ashworth, Tonya Robertson and Susan Lucas work together to create a welcoming library environment for students. In their time working with books, they have discovered several books that they have found inspiring, life-changing or simply exciting.
In Ashworth's first year at Lynbrook, she worked at the library's circulation desk and then became the Library Media teacher the following year. She teaches students the skills of information literacy, such as how to use databases correctly and how to evaluate source credibility. Ashworth is also in charge of ordering books and doing collection reports on the library resources to determine if unused resources should be removed.
Her favorite part of the job is that she has the opportunity it gives her to teach in the classroom. Ashworth works with history teacher Mike Williams in leading professional development for the staff and regularly goes into classrooms to teach students about information literacy. Last year, Ashworth hit a milestone in her career when she completed her master's degree in Library and Information Science through an online course at San Jose State University while working a full-time job at Lynbrook.
Ashworth initially found a book that she loved by watching the movie "Howl's Moving Castle." While watching the credits scroll by, she noticed that the movie was based off Diana Wynne Jones' novel "Howl's Moving Castle," and upon reading the book, she fell in love with it. She found the novel unique, because although it is a story that traces the emotional growth of the protagonist, the young girl is physically growing in a peculiar way, as she is cursed to be trapped in the body of an elderly woman while having the mind of her teenage self.
Ashworth loves fantasy books in general and encourages reading for pleasure because she believes that reading books, aside from typical classics, broadens students' horizons.
"There are lists of books that you should read before going to a college, and students often go to it thinking that it's a chore," said Ashworth. "But ultimately, they wind up realizing that it's actually a pretty pleasurable experience. I think the same thing goes for reading for fun — it helps you to de-stress and escape in a good way."
Like Ashworth, Robertson believes in the benefits of reading for pleasure. Robertson began her career in the human services field, in which she worked with foster children and homeless youth. However, she switched to working as a Library Specialist at Lynbrook in 2015 since it gave her more time to spend with her family.
As a Library Specialist, Robertson has varying responsibilities, from helping students access resources to deciding if library materials need updating. Robertson also works with Ashworth and Lucas to recommend books to interested students. Robertson's favorite genres include young adult fantasy fiction and historical fiction, however, she likes to read from a variety of genres in order to responsibly recommend novels to students who may have different preferences.
Robertson recommends the novel "The Cruel Prince," the first of "The Folk of the Air" trilogy by Holly Black. "The Cruel Prince" is about a young girl's struggle to be accepted in a fairy world she is stuck in. Robertson especially enjoys the fantasy aspect of the story and thinks that it appeals to everyone since it is a fun, well-written and quick novel to read.
"I've read some of Black's earlier books, and the writing style in "The Cruel Prince" is so great; it just flows really nicely," Robertson said. "You can look back, think of her earlier works and see how she's grown so much as a storyteller — that's what's really special about the series."
Another face students will see in the library is Lucas, the third Library Specialist, who began working at Lynbrook in August 2018 after transitioning from her job as a graphic designer.
Lucas recalls that when she was in high school, she read a novel that she did not appreciate then but has since found deeper meaning within: "Jane Eyre" by Charlotte Brontë. "Jane Eyre" takes the reader along with Jane, a young orphan girl. Lucas found the main character relatable as they both were trying to find love, acceptance and their place in life in the face of other struggles.
"I think that like Jane, our students want to find a place that fits for them," Lucas said. "We kind of have expectations of what our perfect life is going to be and it usually doesn't work out that way, but despite obstacles on her path, Jane remains resilient. I think that having the ability to maintain resilience without compromising morals or integrity is something our students can take away from the novel."
The librarians are an integral part of Lynbrook and, as experts in their field, they are willing to provide their insight whenever needed. Their doors are always open in case anyone needs help, wants to talk or is looking for more book recommendations.
About the Writer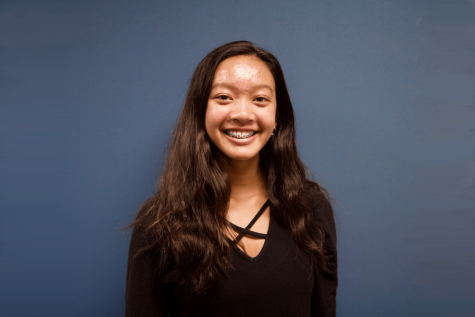 Alisha Naidu, Writer
Alisha Naidu is a junior at Lynbrook High School and a staff writer for the Epic. She loves mid-distance and long-distance running and hopes to compete...