Saying goodbye
As the school year comes to a close, seniors prepare to part with their friends and family and open up a new chapter in their lives. For some, this means saying goodbye to the small family they have built over the course of these past four years within their sport teams.
Zay Batlivala: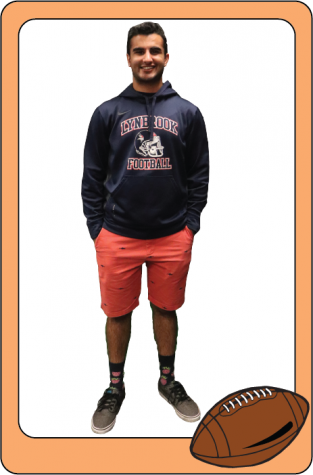 Zay Batlivala's love for football started long before he joined the Lynbrook football team in his freshman year. Growing up watching football and playing flag football as a child, the sport has always played a large role in his life.
"I've loved football all my life so playing on the school team was the ultimate football experience for me," Batlivala said. "My love for the sport really motivated me to keep going, and being fit and active also played a role in that."
From struggling to win games and recruit new players to becoming co-captain, the past four years have been filled with victories and losses both on and off the field. Through this journey, Batlivala's competitive spirit and the bonds he has built with teammates have remained constant.
"My favorite part about competing is just being a part of a team and the bonds that I build with my teammates," Batlivala said. "It has helped me become a better team player and think about other people and not just myself in a team situation."
These past four years have not only been filled with great memories but also with new experiences. Despite the team's poor track record when it comes to winning games, its determination to try their best never wavered. The team treasured the sport because of the experiences it gave them and the close community that resulted from it.
"I think that on the team, we know that what we're doing is about more than winning," Batlivala said. "At the end of the day, all that we want to do is show everyone that we're not just going to give up because we're outnumbered. Obviously, we don't like losing and everyone wants to win, but sometimes all we can do is our best."
Building close bonds between teammates was an easy task compared to getting other students to show the sport the same amount of respect as the players did. Due to the team's track record of regularly losing games, people stopped respecting the team. Football evolved into a joke among the students.
"I remember in my sophomore year, we were in danger of not having a team at all due to the lack of people joining," Batlivala said. "Now, I feel like the stigma around football at our school has changed and more people are joining. When I first joined the team, it was something people would make fun of me for, but now I think people have come to respect the team."
Through the ups and the downs of high school football, the one thing Batlivala treasures over anything else is the close connections he has made with the rest of his teammates.
"It's weird, but I feel like I have a connection with my teammates that's unlike any other friendship," said Batlivala. "They are the only ones who know what it's like to be on the team and they know what we've been through these past years."
Batlivala plans to join an intramural flag football team in college and will miss his friends from the Lynbrook team.
Sandy Matsuda: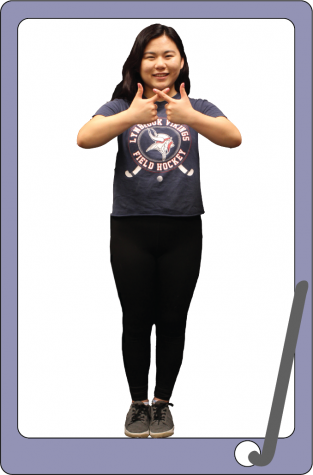 Sandy Matsuda's experience with field hockey dates all the way back to fifth grade, when Matsuda attended her older sister's field hockey games. She took inspiration from her older sister when she entered high school and tried out for the field hockey team out of curiosity for a sport that she had limited knowledge of. After joining the team, Matsuda found that she enjoyed the team dynamic the most as she was able to bond with upperclassmen and underclassmen through the game itself and outside activities, such as weekly pasta parties to socialize and energize before games.
"[Being on the team] gave me a community that I belong to," Matsuda said. "In high school, there are several [activities] which you can get involved in, and [field hockey] was an activity that I was heavily committing my time to. It helped me connect [with] more [people], get involved with school-related events, and made my high school experience a lot more enjoyable."
Field hockey has helped Matsuda become a better person and team player, improving her abilities to listen and compromise.
"Cooperation is a very crucial part of playing a team sport," Matusda said. "There are multiple ways you can play the game, and everyone has different perspectives so it's important to stay open-minded and communicate your ideas but also accept others. You have to take everyone into consideration."
The college Matsuda will be attending does not offer field hockey as an intramural sport, but she may continue to play the game recreationally. She will miss her team very much and hopes to come back to Lynbrook to watch field hockey games.
"I think I will miss everything [about field hockey], from playing the games to having our awesome pasta parties, but I think I'll miss my current and underclassmen field hockey teammates the most because many of the girls on the team have been with me for almost all my seasons," Matusda said. "They're like family to me."
Though Matsuda warns that there is a lot of running in field hockey, she believes that her underclassmen will be able to hold up and enjoy their time on the team.
I would tell my underclassmen to not worry too much and that everything will work out! They are getting a new coach next season and I know that they're going to do really well with [him] because he's very experienced in field hockey. They might have a hard time adjusting to the new team and the really tough conditioning, but I'm positive that they can get through it and have an amazing season.
Aditya Venkatesh: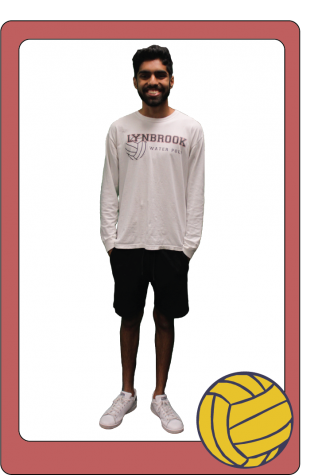 Aditya Venkatesh was a swimmer before a water polo player. But when he entered high school, he decided to have a change of pace and joined the water polo team.
"[My biggest motivation] was probably Coach Aaron because he was a really strong coach. The first year that he came, we went undefeated. The next season, we went to CCS. He really motivated everyone on the team."
While the coaches inspire Venkatesh to work hard, the team dynamic allows for an environment not solely focused on winning and makes sure that the water polo experience is enjoyable.
"We have fun. We work hard during practice, but the games are a lot of fun, and before [a game] we'll go to somebody's house and eat a lot of food. It's a good time."
Water polo has allowed Venkatesh to build skills, such as focus and work ethic, that translate not only in different sports but to different parts of his life. One such skill is respect, especially for the people he worked with, as well as worked under.
"We respected coach because of who he was as a person; he meant business when it came to waterpolo and during practice and his attitude transferred over to us. Outside of that he was one of the best people you'd ever meet. Just the fact that he was so passionate about making us better and winning while still being able to have fun and have random conversations with us made him someone we wanted to play for and wanted to win for."
His experience on the water polo team has not been without struggles. However, Venkatesh has taken his hurdles in stride. In junior year, he was playing goalie playing against Monta Vista when he blocked a shot with his face and broke his nose. As a result, he had to wear a mask for the rest of the season.
"If there was something to learn from it, was a block is a block even if it's with your face."
Venkatesh will likely join the water polo club at the college he is planning on attending. However, he will never forget his high school water polo experience.
"The friends that I made, and just being able to compete is something that I'll miss. It was a fall sport, so I haven't played in a while now, but it was a good time."
Venkatesh believes that his team will continue to perform well after he leaves.
Michelle Zhou: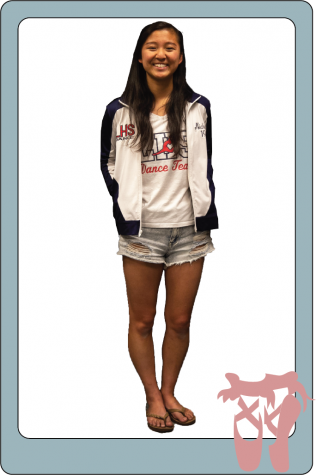 Michelle Zhou has been a part of the Lynbrook Valkyries dance team since her sophomore year. Starting dance from a young age, her passion for the sport grew with her. After dancing for 14 years, joining the school team was appealing as it was integrated with the school community because they performed at rallies and football games.
"I really liked being part of this school spirit," Zhou said. "Your teammates are people you go to school with, whereas at a studio it's random people from different cities. I thought it was a closer community."
Being on the team has allowed her to build close bonds with the rest of the dancers. The dance team is a year-round activity with 10 hours of practice every week so the dancers end up spending a lot of time together.
"I can go to my teammates about any of my personal problems which is really nice," said Zhou. "Plus, everybody's always working together. For example, in conditioning, we're all going through the pain together and it's fun to complain with your teammates even if it sucks in the moment."
The community they have built together is something Zhou will miss as she goes on to college. Dancing has also helped build her confidence and helped her step out of her shell a little more. The sport requires a lot of expression that is portrayed through expressions on the face and movement.
"It's helped me feel less afraid of being outgoing," said Zhou. "Dance is a lot of expressing yourself and all the facials are kind of embarrassing but it's interesting learning how to do them. I think it's helped a lot with it self confidence, which is something I like didn't expect from a sport team."
However, it was difficult for her to juggle her other extracurriculars, academics, and the dance team. After struggling with time management, she managed to figure out a schedule that fit her. Zhou plans on continuing dance when she moves on to college.
"The dance programs at the school I'm going to aren't necessarily the best, but I do plan on trying to join some sort of dance club or team and hopefully taking my experience and improving them if I can" said Zhou.
In the end, she will miss her teammates and the memories and inside jokes they have shared together. From practicing together and competing and watching all that hard work pay off, Zhou will find it hard to say goodbye to the girls she has known for so long.