K-pop collab met with disrespect
When I first heard that Jason Derulo was going to collaborate with Korean pop (K-pop) group NCT 127 (NCT) and Mandarin pop music artist LAY, I couldn't express how excited I was. The collaboration song "Let's Shut Up & Dance", a tribute to Michael Jackson, was an opportunity for Asian artists to gain recognition in the U.S. After I learned that the song was played on The Kidd Kraddick Morning Show on the Los Angeles radio station KISSFM, I became even more thrilled. However, my enthusiasm diminished as I scrolled through numerous articles about the radio hosts' ignorant commentary.
The radio hosts' disrespect toward NCT and LAY began when they inaccurately introduced the song as one sung by Jason Derulo and BTS, a different K-pop group. After being corrected, the hosts rudely brushed their mistake off by saying, "so it was just a group of Asian guys dancing?" and complained that they "got excited for nothing." Further, the hosts ended the segment by incorrectly referring to NCT 127 as "NC 127." They also failed to mention LAY in the segment.
After this incident, many K-pop fans on Twitter angrily pointed out the hosts' ignorance, even calling them "xenophobic." As a K-pop fan myself, I was irritated at how little research the radio hosts had done. Even though I didn't expect them to have extensive knowledge about NCT 127 and LAY's music, basic facts such as the artists' names weren't expressed properly. Confusing K-pop groups with each other also disregards all the work the artists have done for their music. All of these different groups and artists have something unique to offer, and refusing to differentiate international artists from one another generalizes K-pop music and the genre's image.
The ignorance displayed by the Kidd Kradick Morning Show hosts was not the first incident of Americans disrespecting Korean idols. In an interview with Access, an entertainment news show, at iHeartRadio's Jingle Ball in 2018, K-pop group Monsta X stated it was the first K-pop group to perform at Madison Square Garden; however, the interviewer diverted the attention from the group by mentioning that "BTS got a Grammy nomination today." Later, Access titled the segment "Monsta X Are So Excited To Learn BTS Got A Grammy Nom." The interview should have highlighted Monsta X's achievements, but instead, the interviewer belittled their success and focused on another group for the sake of an attention-grabbing title.
Mocking K-pop is not just prevalent in America, but also around the globe. For example, while discussing the "100 Most Handsome Faces" list of 2018, Greek television host Katerina Kainourgiou and her guests made demeaning comments toward K-pop singers. When former member of K-pop group Wanna One's Kang Daniel's picture came on the screen, Kainourgiou rudely asked if he was a man, ridiculing his "feminine" features. Furthermore, guests were in disbelief when it was revealed that Kim Taehyung, a BTS member, was ranked fifth on the list, with one guest even joking that the voters "probably have bad sight." While watching the segment, I was filled with annoyance at the host and her guests as they continually poked fun at the Korean idols' appearance. In Asian culture, many males desire delicate, feminine characteristics, and males wearing makeup is normal in the K-pop industry. The unnecessary comments made were insulting not only to the K-pop singers, but also to Asian beauty standards and culture.
I hope that people are able to perceive K-pop as more than just "a group of Asian guys dancing" and see the unique qualities of each group and artist. K-pop doesn't have to be everyone's cup of tea, but I hope that people will be more respectful toward not just Asian artists, but also Asian music and beauty ideals. The issue isn't solely about respecting K-pop, but rather just taking the time and consideration to respect individuals, regardless of race.
About the Writer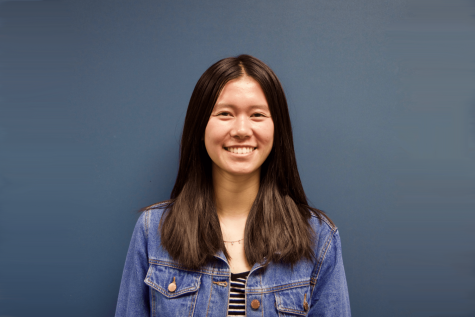 Kelsey Lu, Business/PR Manager
Kelsey is the 2018-2019 Business/PR Manager and a senior. She joined the Epic in 2016 where she explored the design, writing, and photography aspect of...