Working out after work: Lynbrook staff's various workouts
Teachers Diana Albaker, Jeremy Kitchen, Lester Leung and Isaac Pallone, can be commonly found working out in their own unique ways — Lagree, running, rock climbing, and biking, respectively.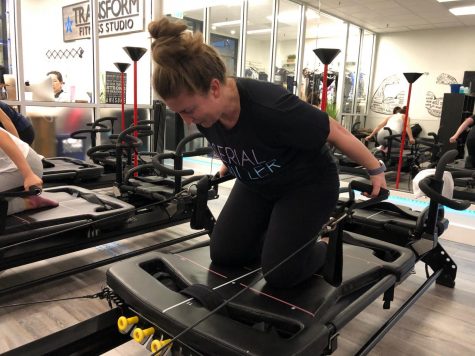 Mrs. Albaker:
Albaker takes part in Lagree, a combination of different workouts, including resistance training and cardio, that involve slow movement on machines to enhance muscle and body strength. Albaker, who started this workout almost two years ago, now goes to a Lagree class three to four times a week, which she really enjoys attending. She especially enjoys the welcoming atmosphere of the class, and the encouraging nature of all the instructors.
"The instructors have helped me redefine what healthy is," Albaker said. "It is not about being a size zero, but I know I am strong and I am resilient, and I walk away feeling empowered."
The classes, which are 45 minutes long, are short and impactful. They help Albaker dedicate time to herself and serve as an opportunity to destress as well as meet new people.
"You are so focused when working out, and you are just trying to push through the movement because it hurts and it is hard," Albaker said. "But, before class and after class, you start seeing the same people, and you just start talking, and it builds a small community."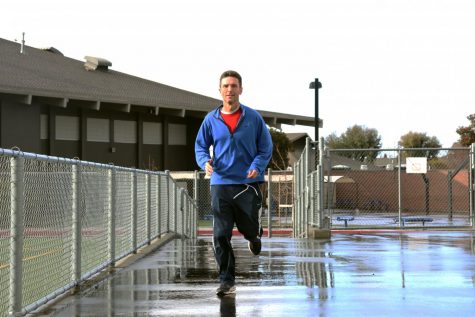 Mr. Kitchen:
Over the course of 15 years of teaching at Lynbrook, Kitchen — a.k.a. Kitchen Sensei — has been known for a variety of roles, including teaching Japanese, history and PE, as well as coaching track and basketball. After returning from a one-year sabbatical in Kumamoto, Japan, Kitchen has rejoined the staff as a Japanese teacher, and is now preparing to run in a 50-kilometer ultramarathon on March 2.
"I have run seven full marathons, but ultra marathons are bigger than that," Kitchen said. "To prepare [for the ultramarathon], I've been upping my distance. Sometimes, I'll be running, and I catch up to the track or cross country team."
Kitchen's training schedule consists of running five days a week. During the week, he runs about three times for an hour. On weekends, he does longer runs, which are about three to four hours long.
To Kitchen, running is almost meditative. His strict training schedule not only helps him improve his fitness, but also benefits him mentally.
"Running gives me a time to be by myself, destress and process things," Kitchen said. "I find that when I'm pushing myself physically and am physically fit, I usually feel better about the rest of my life — I'm less tired, and I have more energy."
Training for the ultra marathon has helped Kitchen stay fit and motivated. After the marathon, Kitchen plans to go back to running regularly, like he did before, continuing to stay healthy.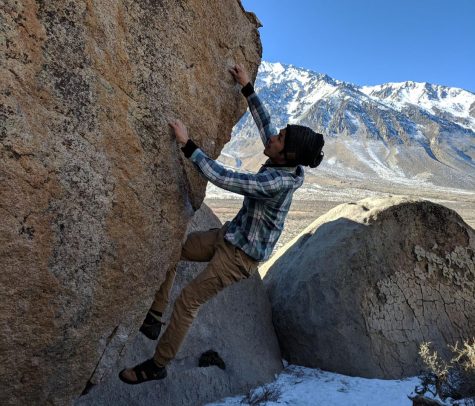 Mr. Leung:
When outside of the chemistry classroom, Leung is often found rock climbing at gyms or in nature. He got introduced to the sport by a friend when he came out of college, and picked up rock climbing as he wanted something that would keep him active and fit, as well as work with his busy schedule.
In addition to keeping him fit, rock climbing also provides Leung with countless special experiences to constantly look forward to.
"My wife and I are gearing up to do the Snake Dike Climb in Yosemite, either this summer or next summer," Leung said. "It's a pretty moderate climb that starts at the base of Half Dome, and reaches the top of Half Dome."
Leung encourages anyone and everyone to try rock climbing, as he believes it is not only a sport that exposes people to unique experiences, but it also has a rich social aspect, which is part of the rock climbing culture.
"[Rock climbing] is definitely a sport that you can do anywhere, where there are rock faces, and it allows you to travel as well," Leung said. "Anyone can be good at rock climbing as long as they maintain their fitness."
Mr. Pallone:
A common sight for anyone who visits Pallone's classroom is that of a few bikes standing at the front of the room. Pallone regularly goes biking as it enables him to explore many places in the Bay Area as well as allows him to try out the many different bikes — including mountain and road bikes — he builds from scratch.
Pallone's normal schedule consists of biking three to four days a week. During the week, he rides from Lynbrook to Montebello, a 25 mile loop. On the weekends, he mountain bikes longer distances, which can go all the way to Southern California. California's rich culture of biking allows him to explore many trails and opportunities for biking.
"The Bay Area is like the birthplace of mountain biking," Pallone said. "Here in the Bay Area, we have some of the best trails in the world. There are so many windy roads and back-country roads, that most people don't even know exist, and it is a really cool way to see a different part of the Bay Area."
Pallone draws a lot of inspiration from the older bikers, who have been biking for a long time, and aims to be like them in the future.
"It is very inspirational when you are biking on a trail, and you get absolutely blown out by a group of people that look way older than you," Pallone said. "To know that someday, maybe that'll be me with all my old timer friends with gray hair, it is just a lot of fun to bike dedicatedly for a long time. You never age out, and it's just something that you get better with the longer you do it."