Junior Daphne Zhu dusts her fingers with chalk; apparati — colorful hoops, balls, clubs, ribbon and rope — are scattered around her gymnasium. As sunlight slips through Bravo Rhythmic Gymnastics' windows, she traces recent recordings of her routines, marks mistakes, takes a deep breath and takes steps toward the floor to practice more. Rhythmic gymnastics is a sport that fuses gymnastics with apparati and music, strung together by artistry, agility, coordination and grace. 
"With apparatus, rhythmic gymnastics gave me a whole new way to express myself," Zhu said. "It was new and exciting so I fell in love with it." 
Zhu's origins in the sport sparked from her dance lessons, dating back to when she was 3 years old. Four years later, a friend from her dance studio inspired her to try out at her gym. Zhu was intrigued by adding apparati, which are certified items such as hoops and clubs, into dance. 
"Daphne has always been someone I looked up to," said freshman Mengdi Xiong, a rhythmic gymnast at Zhu's gym. "She has always been very supportive and she encourages everyone."
She also enjoys coaching younger gymnasts in beginner levels: correcting their technique, guiding them through developing new skills and occasionally choreographing fun routines for them. 
"It means a lot to me when younger gymnasts master something new," Zhu said. "They look happy and I'm really grateful for the opportunity to impact them and help them start amazing journeys as I had."  
A constant challenge in her sports career has been her injuries. Five years ago, Zhu injured her Achilles tendon, followed by knee and tailbone injuries, leading to disruptions in her training. She often had to choose between taking breaks and falling behind schedule or showing up with the risk of furthering her injuries. Some of  her previous injuries, which never healed properly, still affect her today. Over time, she has learned firsthand the importance of prioritizing mindfulness and physical health, especially in a sport where body and muscle control is essential for competitions. In competitions, they're rated based on aspects like body difficulties, dynamic elements, apparatus difficulty and dance steps. 
"It was really hard being injured because I didn't want to rest for too long." Zhu said. "It was very hard to get back into a flow; you lose flexibility, muscle strength and stamina." 
With a strenuous training schedule at the gym, from 4:30 p.m. to 8:30 p.m every weekday, it often leaves Zhu little time for balancing school and her personal life. To make up for this, Zhu tries to optimize her time at school: chipping away at homework during free periods like tutorial, lunch and brunch. Still, sometimes, this work in school isn't enough. She would often have to resort to pulling out classwork during car rides on her way to her practices, time that she would rather use to rest, for the sake of  her athletic performance and overall health.
"I'm starting to respect that when I'm tired and want to sleep," Zhu said. 
This mental strength fortifies her in other areas too, present in her pre-competition routines. One thing she incorporates before each contest is taking the time to close her eyes and visualize her routine just before walking onto the carpet. Afterward, to prevent herself from focusing on the negative parts of her routines, she tries to think of at least one good thing she executed, alleviating her worries.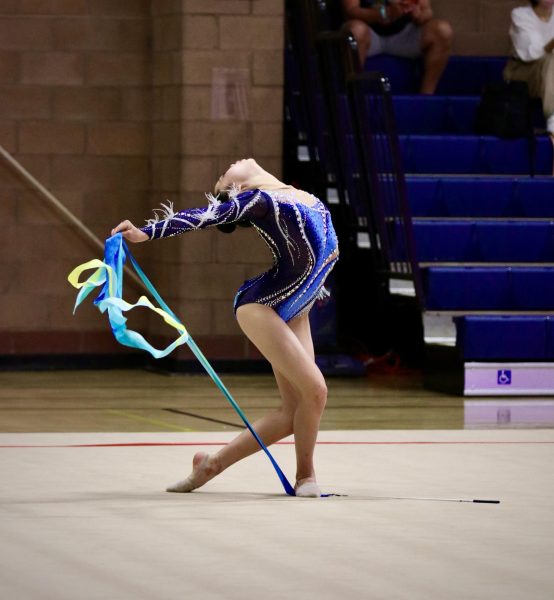 Through the challenges she faced, her teammates, parents and coaches have supported her along the way, creating an environment where she can thrive in the sport. An example of their tightly bound community is their carpooling system, where teammates and parents rotate trips to the gymnasium, a long commute, to ease communal responsibilities. 
She hopes to continue rhythmic gymnastics throughout the rest of high school, and as there aren't very many rhythmic gymnastics collegiate programs, she hopes to return to dance in college. 
"I've been doing it for so long, rhythmic gymnastics is a part of my identity — it's who I am," Zhu said.