Lynbrook evaluates various enrollment concerns
Hang on for a minute...we're trying to find some more stories you might like.
Enrollment of incoming freshmen students is a topic that the FUHSD community has continually revisited over recent years due to declining class sizes at Lynbrook. Despite the many measures taken to help increase enrollment, data projects an overall downward trend in enrollment numbers over the next three to four years.
With Lynbrook's enrollment reaching its lowest point in a decade in 2016, the FUHSD Board passed the Lynbrook Supplemental School Assignment Plan (LSSAP) to improve numbers. The LSSAP was a plan formulated by the Citizens Advisory Committee on Enrollment (CAC), a group of staff, students and community members who study FUHSD's enrollment needs and make recommendations to the board.
"We looked at and identified what the issues were, and we also had external analysts give us information on what the enrollment projections were. Using all the parameters, we tried to come up with the best compromise that we could," CAC member Jena Rajabally said. "We didn't want enrollment to suddenly grow because that would create a bubble. Instead, we wanted a gradual increase to the point where we had a very comfortable school population."
The LSSAP guarantees all students from Miller Middle School and Christa McAuliffe School the option to enroll at Lynbrook, while reserving 22 spots at the high school for Hyde Middle School students who wish to attend Lynbrook. Implementing the plan added around 80 students to the Lynbrook student body for the 2018-2019 school year. Additionally, the LSSAP contributed to Lynbrook's 200 overall transfer students for the 2017-2018 school year, a number significantly higher than that of any other school in the district.
In order to help students who qualify for the LSSAP make the decision of where to attend high school, the Lynbrook administration organized a "Shadow a Viking" day, which took place on Jan. 18. The event was led by Link Crew students, who led eighth graders through a typical day at Lynbrook, hoping to inform prospective students about courses and activities that Lynbrook offers, in addition to school culture.
"Although some online ratings about Lynbrook's environment are negative, after going on this tour, I've actually seen that it is a really nice school," said Usayd Ahmed, an eighth grade student at Lawson Middle School. "Everyone was really welcoming and open and that gives me a very positive outlook on the school."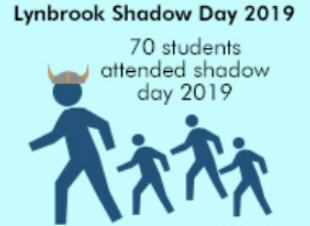 The decision to continue the LSSAP for two more years stems from recent data that showed that declining enrollment in the Cupertino Union School District, which feeds into FUHSD schools, has resulted in a decline in resident enrollment at Lynbrook. By 2023, resident student population for Lynbrook is projected to drop by more than 300 students, leading to the FUHSD board's decision to renew the plan by introducing a maximum of 90 transfer students each year.
"[The declining enrollment] is largely due to the fact that there are fewer homes within the LHS attendance area than in [the attendance areas of] the district's other schools, and families are choosing to stay in their homes rather than sell," FUHSD Superintendent Polly Bove said. "Although the high cost of housing is affecting enrollment throughout the Bay Area, once more houses sell, we may see more students."
Although all the other FUHSD schools are projected to have lower enrollment as well, the effects on Lynbrook are comparatively more significant, thus leading to the creation of the CAC. Since Lynbrook's student population is already traditionally lower than the other schools, the effects of declining enrollment will be noticeable much sooner. Before implementing the LSSAP, the CAC evaluated the plan to ensure that it would not heavily affect enrollment at the other high schools in FUHSD.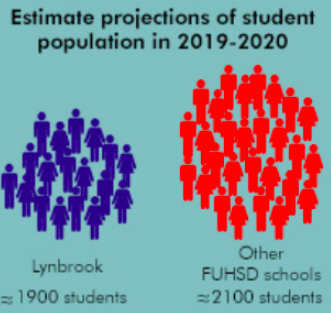 The FUHSD is searching for long-term solutions to stabilize decreasing enrollment since a low student population at Lynbrook has many consequences on the school. A smaller student body would lead to a decline in staffing, resulting in fewer elective course options, with the possible removal of classes such as French 1, Japanese 1 and some music classes. Fewer staff would also potentially reduce the number of clubs available to students. Additionally, a school with lower enrollment would compete in the lower division of the California Interscholastic Federation (CIF), the governing body of sports in California high schools. Furthermore, decreased participation in athletics could result in certain sports not having teams.
By implementing the LSSAP to help maintain previous stable enrollment numbers at Lynbrook, the community hopes to maintain its expected student population size. While the smaller exiting senior Class of 2019 and larger prospective freshman Class of 2023 may provide temporarily improved enrollment numbers, the FUHSD will continue to seek further long-term solutions."This year, there was a chance that we would not have a football team because we didn't have enough students coming out to play," Rajabally said. "[Sports teams] are a part of the school's culture. We want to have teams representing our school, whether it be in sports, or in drama, or whatever activity it may be. We don't want to lose that."
About the Writer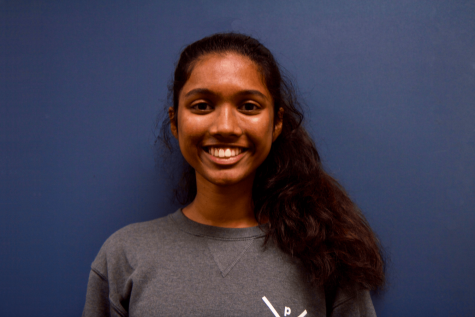 Srinidhi Seshadri, Web Editor
Srinidhi is a rising senior and the Web Editor this year. Through her time on the Epic she's come to love all aspects of journalism (especially video-journalism)....