Boys soccer scores through the season
Diana Xu, Managing Editor
February 1, 2019
Knowing he had to save this ball in order for his team to win, junior and goalie Ryan Markert stood in position, ready to react. The next few events were a blur: the sound of a whistle, the kick of a ball. He went left. No. The ball went down the middle. By reflex, Markert, with the weight of the team's success on his shoulders, shifted his weight and reached out in front of him, pushing the ball away from the goal. The team shouted and ran toward Markert in victory; his performance determined the outcome of arguably one of the most notable games in the ongoing season, the championship game against Wilcox High School for the Homestead Christmas Cup XXV, Lynbrook winning 1-0 in yet another win for the boys varsity soccer team.
"Just watching the guys' reaction around [Markert] was a bonding moment for the whole team," said Lynbrook alumnus and coach Robert Macpherson. "In that moment, I knew this team was going to go a long way because they were all together."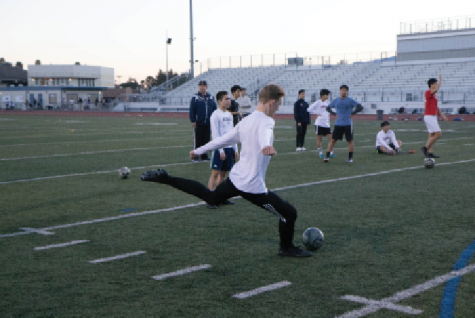 With two sophomores, eight juniors and 12 seniors, a lot of the players on the boys varsity soccer team have trained and worked together before. Similarly, Macpherson has worked with many of the players already, whether it be as a club soccer coach, the Lynbrook JV coach or the Lynbrook varsity assistant coach. Despite his previous experience with some players, getting the entire team on the same page is often difficult, as many of the boys play for different club soccer teams and accordingly, come in with different playing styles and formations.
As a first-year head coach for the varsity team, Macpherson acts for the benefit of both the individual players as well as the entire team. The players know that even if they make a mistake on the field during the game, they will not be pulled out of playing time. Macpherson allows them to play confidently and creatively without ramifications. Not only does Macpherson want the best for his players, but he also understands them, easily creating a bond on and off the field.
"Bonding with [the boys] seems to come naturally as I am someone who loves the game myself, like they do," Macpherson said. "I hope the way we speak to each other about the game, and the passion I have for it reflects on them. I have some conversations with individuals about the game, and we talk about the tactical side of it. When we walk away from the field, we'll still be talking about soccer together."
Since early on in the season, Macpherson and the players have established a unified goal to make it to Central Coast Section (CCS) this year. With this in mind, the team has worked hard, with opportunities for success, growth and improvement. For example, winning the Homestead Christmas Cup XXV marked the beginning of the team's winning streak of seven wins, one tie and one loss. Unfortunately, the streak came to an end on Jan. 11, when the boys lost 0-1 against Cupertino High School.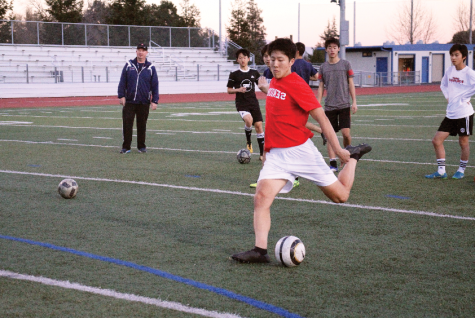 "The game against Cupertino showed us that there are still things we need to fix, such as possessing the ball, creating scoring opportunities and collective defending, in order to win the league and get to CCS," said varsity co-captain and junior Luka Mandic. "I think it was a reality check for us because we were getting a little ahead of ourselves, and it put us in our place."

As each game is unpredictable and offers new obstacles, practice is essential in order for effective delivery of their skills during games. While some coaches may try to make their players fit into their style, Macpherson tries to figure out what the team's style and accentuate that on the field.

The team practices every school day from 4 to 6 p.m. and often has games on Wednesdays and Fridays. The boys follow a diligent regimen, which includes the first step of arriving on time; those who are late are required to run at the end of practice. Next, the team utilizes approximately 15 minutes to stretch and warm up through activities such as jogging and passing the ball back and forth. While stretching, the players can discuss any opinions they may have on strategies such as formations for an upcoming game. After stretches, the team moves quickly into executing drills to improve accuracy and develop experience in preparation for actual games, where a player's ability to maneuver and react are crucial. Toward the end of practice, the players play a half-field game, simulating a real game and allowing them to master new skills.

"

Enjoy every minute of the season. It is going to go by so fast. It is going to be over, and you are going to be looking back, but just continue working hard and relish every minute you will have together because I not only see you guys as a team, I see you guys as a lot of friends together, and that is what you will keep in your lives forever.

— Robert Macpherson, coach

With extensive daily training and time spent with one another, the boys face both individual and team obstacles.

"Last year especially, I was really hot-headed as a freshman," said varsity player and sophomore Ethan Israel. "I didn't really know how to communicate with people, and I always thought the whole team revolved around me. This year, I am more aware of my actions, and I get along with my teammates more."

Having played together for multiple years, most team members settle disputes or disagreements by just communicating with one another. In addition, there is a new dynamic within the team, possibly contributing to the little conflict it has.

"In previous years, we'd have the underclassmen take the balls back and put stuff away, but now we have a new dynamic where everyone is treated the same, which really brings out positive energy," Mandic said.

The team's determination, positivity and passion shines through even after practice.

"A lot of guys will continue training on the field after practice, getting work in whenever possible, which is something respectable that hasn't been too popular in the past," said varsity co-captain and senior Denver Yu.

This year, the team has also started to plan for pasta parties with FIFA tournaments hosted at a teammate's house. The boys have also worked in the snack shack at football games to help raise money for the team, and on days when there is heavy rain, they sometimes watch their own recorded games together. Online, the players have a lively Facebook Messenger group chat in which they talk about practices or discuss how they played during a game. In addition, the chat is also used in a light-hearted way, with the players often joking around with one another, not just as teammates, but instead as friends.

"Everybody is welcoming," said varsity player and sophomore Shuntaro Akeyama. "When I joined the team this year, I did not feel left out. I was really excited because it gave me the opportunity to practice and play with teammates who are older than me. They really helped me improve even more."

As the team continues to train and grow together, it has never lost sight of its goal: making CCS this year. With a new energy and an improved team dynamic, the boys look forward to playing the rest of the season together as one.