Cosmo Cao hits the ground running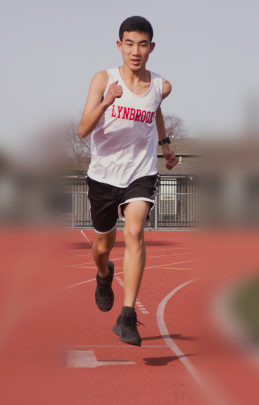 15:57, 15:58, 15:59, 16:00: junior Cosmo Cao watched the numbers on the stopwatch elapse, mocking him, each second more agonizing than the last.
16:01: his muscles ached, and his legs felt flaccid, but he was only inches away from approaching the finish line — he could not relinquish a season's worth of hard work now.
16:02.4: he crossed the finish line, earning the first-place title at the cross country team's most highly-anticipated meet of the year — the De Anza League (DAL) League Finals.
Cosmo's cross country season this year may have ended with him taking home the first-place medal from a distinguished meet, qualifying him for states, but his journey began with the modest, sandy track at Miller Middle School. It was there that Cosmo began to participate in track and cross country at the beginning of seventh grade.
"Cosmo reminds me somewhat of Forrest Gump: blindly running forward and never questioning where [life] will take him," said Yang Cao, Cosmo's father. "Cosmo is distinct in the sense that he does not have natural talent in running. However, when he focuses on something, he is dedicated and will always push himself to accomplish [his goals]."
Cosmo's commitment to the sport compelled him to join the track team in his freshman year of high school. His passion for running was propelled by encouragement from his coach, who also happened to be the cross country coach. He urged Cosmo to participate in the varsity cross country team in his sophomore year. As a result, Cosmo was on the varsity team in his sophomore year by default, even though he had no prior exposure to competitive high school cross country.
"[Joining the cross country team as a sophomore] felt kind of awkward because it was my first year doing high school cross country when everyone else already had a year of experience," Cosmo said. "To add to that, I was on the varsity team, so I was by far the youngest and least experienced. Thus, I spent a lot of time following other people and trying to get the hang of it."
As a newcomer who did not know what to expect from his first year running high school cross country, Cosmo did not formulate a set of standards or goals. He relied mostly on his other more experienced teammates to guide him through the inevitable obstacles and pitfalls of the sport. This past season, however, with a year of experience already under his belt, Cosmo and his teammates synthesized their ambitions into one common objective: to make states. This hope, however, came at a price.
During the season, cross country takes up a lot of time — practices take place every weekday after school for approximately two hours. On top of the scheduled daily practices, varsity runners often take it upon themselves to practice on weekends as well to stay well-conditioned. Cross country is a very physically taxing sport — long runs are typically seven or eight miles, while workouts are generally composed of shorter distances at faster speeds. Moreover, cross country can often be mentally exhausting.
"Every sport has its own difficulties," Cosmo said. "For cross country, it is having the mentality and the mindset to persevere. The hardest part is to attain that mindset in which you are constantly trying to improve yourself so that you can tolerate the monotony of the sport."
At the beginning of the cross country preseason in August 2018, Cosmo pulled a calf muscle, immobilizing him for approximately two weeks. When he resumed training afterward, he was slower by just a few seconds, but for runners, even a minor change in time can be detrimental. His reduction in speed frustrated and demoralized him, as Cosmo discerned that his lack of sufficient preseason training might influence his performance and outcomes during the actual cross country season.
As the day of DAL League Finals drew nearer, the team recognized the magnitude of the race, as the team was one day closer to fulfilling the goal it had established at the beginning of the season: to qualify for states. Their individual results at the DAL League Finals would determine whether or not they qualified for states.
Needless to say, Cosmo's sacrifices and hard word proved to be rewarding: he earned the DAL League Finals first-place title, achieving a time of 16:02 for a distance of 2.95 miles and qualifying for states.
"The coaches were really happy that [Cosmo] won, but were not entirely surprised," said Jake White, one of the cross country coaches. "We told Cosmo he could win and to not be surprised if he was leading at some point in the race. We had studied the competition and knew it was possible… [What I admire most about Cosmo] is his commitment and leadership. The [other runners] look up to him. The team is better as a whole because he is on the team."
In cross country, shiny medals and grand trophies are not the only incentives or rewards for runners. Cross country has helped Cosmo blossom into a well-rounded leader. As a lead runner, Cosmo's duty is to ensure that the team is on track with their progress, lead workouts and perform well during races to serve as a role model for his peers. Therefore, Cosmo has learned to hold himself to a higher standard, no matter what difficulties may pose as hindrances.
"[Cosmo] has developed his body and his mentality to perform well no matter the circumstances," said sophomore Rohit Malhotra, one of Cosmo's teammates. "Cosmo has not stopped training in a year. He comes out and relentlessly trains day after day."
In November 2018, Cosmo's high school achievements presented the potential for a collegiate-level athletic career; just a junior in high school, he has already been recruited by Pomona College, a Division III university which boasts its reputation of having one of the top cross country teams across the nation.
Cosmo's experiences during his two seasons of high school cross country have proved invaluable. Additionally, the lessons cross country taught him have solidified Cosmo's philosophy that no matter how steep the hill seems or how long the course is, anyone can succeed as long as they persevere against obstacles and pitfalls with tenacity and willpower.