Erwin and Wong: the voices of "This Viking Life"
Patricia Wei, Kelsey Lu, Katie Chen and Srinidhi Seshadri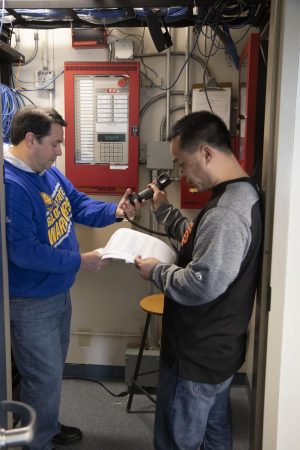 It is 8:50 a.m. in the office on a Wednesday morning, and assistant principals David Erwin and Eric Wong and school psychologist Dr. Brittany Stevens are ready for another show. Promptly at 8:55 a.m., Erwin, standing in an electrical closet in the office, plays a song on the PA system for the whole school to hear. Erwin and Wong then read the daily bulletin off a script prepared by Erwin while classrooms rapidly call 7756, Stevens' office, to guess the name of the song. Erwin and Wong have dubbed these weekly announcements "This Viking Life," produced by WLHSTV — just one way the two administrators add humor into their day.
Erwin named Stevens a producer of the show, and she reviews the scripts he writes for the announcements.
"Mr. Erwin and Mr. Wong make each other and us laugh all the time," Stevens said. "Their friendship is really positive and adds so much humor to our lives."
Erwin and Wong began working together in 2013, when Wong came to Lynbrook after serving as a teacher and dean at Fremont High School. At that time, Erwin had been working at Lynbrook as assistant principal of activities for three years. Prior to working at Lynbrook, Erwin was the principal of Taylor Middle School in Millbrae, California. Both began their careers in education as history teachers and had similar reasons for becoming administrators: wanting to work with a school on a larger scale to make a long-term difference.
"I look at being an administrator as being in a position to help take part in systemic change," Erwin said. "For example, I really believe change comes from what happens day-to-day in a classroom, but [being an administrator] puts you in a position to find the right people to put in a classroom. I like taking part in the behind-the-scenes part of that."
In addition to their shared background as history teachers, the two bonded over sports, both having coached high school sports: Erwin coached tennis and Wong coached baseball. While walking around supervising campus, they often chat about the latest Golden State Warriors game.
"I put a lot of value in forming relationships with the people I work closely with," Wong said. "I think it's important to have a job where you like being around like-minded people who challenge you and are working toward the same goals."
This year, Erwin oversees the master schedule, coordinating the classes that Lynbrook offers, and Wong manages guidance and facilities. Although they work with different aspects of the school, they frequently check in with each other and the rest of their administration team during weekly meetings. Wong believes that the openness the administration team shares allows them to be honest and constructive toward each other's ideas.
"We really have an open door policy in the main office for both students and staff," Wong said. "Those on the administration team were all teachers or guidance counselors at some point. We are trying to make lives easier for both staff and students."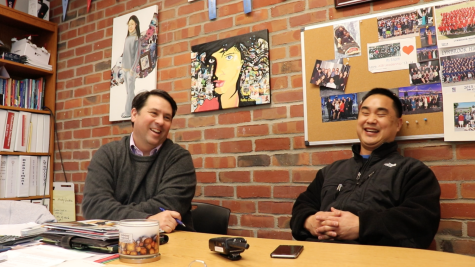 Although Erwin and Wong no longer spend every day in a classroom, they seek to find ways to interact with students. Homeroom, they believe, has allowed them to better connect with students on campus.
"I do miss having the direct contact with students that came with teaching history," Wong said. "I enjoy finding those opportunities to go into classrooms and getting to better know students."
Erwin, who is the father of a sophomore, often feels a paternalistic responsibility toward students.
"I'm old enough to be a parent [of the students here]," Erwin said. "Sometimes I see students here not just as students, but my children, and I want to see them do well."
Erwin and Wong's different experiences and attitudes complement each other. For Wong, who has worked solely in FUHSD, Erwin's experience in other districts such as Hayward, San Lorenzo and Millbrae brings him perspective on how schools outside of FUHSD face challenges. For Erwin, Wong's easygoing nature allows him to be himself. Both embrace a casual working environment, bonding over how they prefer to not wear ties to work.
"I feel like [Mr. Wong] has helped me become lighter and funnier," Erwin said. "There's a running joke that he's my little brother."
Erwin and Wong also establish better friendships with other office staff members by spending downtime with them. They often eat lunch together during sixth period and go to the new weight room to work out in the afternoon. Every year, Wong plans an event for all staff members in the office to eat dim sum together and enjoy each other's company while appreciating what each person does for the school.
"There are many times when we deal with stressful situations, and I feel like I can go to either [Mr. Erwin or Mr. Wong] help in making a decision," Stevens said. "They're great assistant principals because they have the balance of being administrators who can follow rules and make decisions but also make personal connections with staff."
Erwin and Wong began reading the announcements together on Wednesday mornings in the middle of the 2017-2018 school year for logistical reasons: ASB, which normally does the announcements every morning, does not meet on Wednesday. Eventually, Erwin and Wong added their own spin to it. During Homecoming Week in 2018, for example, Erwin put together a podcast in which he interviewed teachers about their Homecoming experiences in high school.
"Mr. Erwin and Mr. Wong make the announcements engaging and exciting, and I think it encourages ASB students to make the announcements more interesting too," senior Robyn Lee, ASB Community Link commissioner said. "The music encourages students to work together." Erwin has more than 100 ribbons in his office to give to each fourth period class that guesses the song correctly, and Stevens estimates that 20 to 30 fourth period classrooms call each week.
"Mr. Erwin and Mr. Wong enjoy each other's company so much and run down to each other's offices to say, 'I want to share this with you!' The announcements are an extension of their friendship," Stevens said. "I love that they get to do that."
Connecting over sports and food, as well as their desire to help students, Erwin and Wong have a friendship that helps them look forward to coming to work.
"We're sometimes sarcastic and joke around with each other, which shows a level of comfort and trust," Wong said. "There's times when we have to deal with really serious issues, and we know we have each others' back."