Buster lends a helping paw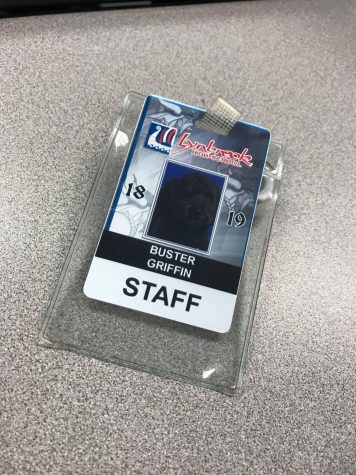 One unique member of the Lynbrook community always catches people's eyes as he
walks around campus. Just four years old, he has his own staff ID card, walks on all fours and has a unique smile. This is Buster, Lynbrook's very own service dog.
Buster, a goldendoodle with black, curly fur, has a calm demeanor. From a young age, Buster underwent intense training to become a certified service dog, which is no easy task. It consisted of one and a half years of basic training followed by a year of advanced training. During basic training, Buster spent his time with puppy raisers, volunteers who help raise and train the puppies to learn basic commands such as "sit", "come" and "lay down". The puppies also work on their social skills by getting out in public and interacting with people and other dogs.
After this, Buster progressed to advanced training for another year, which was more demanding, as dogs learn how to open the accessible doors for the disabled in public buildings, turn lights on and off and retrieve items for their owners. In addition, they learn commands that are specific to their respective owners. For Buster, these were commands for Shelby Griffin, the daughter of Lynbrook's athletic director, Jennifer Griffin. One such command is "go find." When Shelby Griffin needs help, she tells Buster to "go find mom" or "go find dad," and Buster will then find Jennifer Griffin or her husband.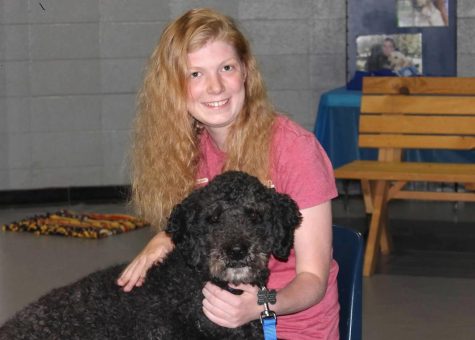 Even after completing advanced training, however, there was no guarantee that Buster would qualify to become a certified service dog. Dogs who are unable to endure the tough training become emotional support dogs, therapy dogs or facility dogs who are trained to work with a handler in a facility setting, all of which are service animals that have a slightly lower certification than service dogs. The certification of a service dog allows the service dog to accompany people with disabilities in all areas of the facility where the public is normally allowed to go. Despite the difficulty of the training, Buster fulfilled all the requirements and graduated in 2016, earning his certification as service dog.
Shelby Griffin, currently a senior at Mountain View High School, has autism and a learning disability which causes her to have anxiety when leaving the house and a fear of loud noises and crowds. Because of this, she often preferred to stay at home. Jennifer Griffin wanted a service dog to provide her daughter comfort and emotional support when Shelby leaves the house or is in a noisy area. Mrs. Griffin was notified of a potential service dog for her daughter in February 2016, after seven years of waiting since they had applied for one.
Once they were contacted, the Griffins flew to Grants Pass, Oregon, to meet and train alongside Buster during his last two weeks of advanced training before he graduated. His graduation was a momentous ceremony in which the puppy raisers handed over each certified service dog to their respective owners.
Unfortunately, Buster is unable to travel alongside Shelby Griffin when she attends school. However, Buster has been given the opportunity to continue his work of providing comfort and emotional support in the special needs programs at Lynbrook. On Mondays and Thursdays, he works in the Academic Community Transition (ACT) program, which is comprised of students who have moderate to severe disabilities. On Tuesdays and Fridays, Buster works in Voyager, which is comprised of students with mild to moderate disabilities.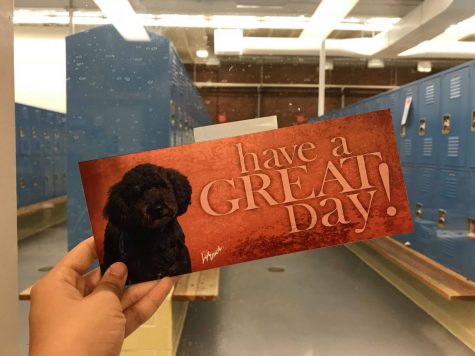 Jim Schussler, a teacher in the ACT program, says that Buster helps ACT students by comforting them and calming them down during class.
"It's hard for [the ACT students] to get settled down, and when they see Buster, they're able to direct their excitement toward him. They will get in their chairs and get ready for us to get started," Schussler said. "Otherwise, it's hard for them to concentrate and to be situated."
In addition to calming the students, Buster provides the ACT students with opportunities to grow. This is because the ACT students need to make sure Buster is getting the care he needs as a dog.
"Having Buster in the ACT room is good for teaching responsibility," Schussler said. "[The students] have to take Buster on regular walks and make sure Buster has water."
Buster has also made an impression on the staff that help assist the ACT students.
"Buster's impact has just as much of a positive impact on the staff as kids," Schussler said. "We love getting down and playing. He is just one great big old furball that we can get down and play with."
Voyager students are students with mild to moderate disabilities and are on a diploma track in which they will earn their high school diploma during the graduation ceremony of their senior year. Voyager lead resource specialist Nieke Rynders-Taylor says that Buster adds to a positive environment in the classroom.
"For students, Buster is a reassuring presence in the classroom. He doesn't judge and doesn't care about grades or how you dress. He gives unconditional love and acceptance," Rynders-Taylor said. "Students know that Buster gives great hugs and cuddles. Just by being in the room, he can turn a bad day around for a student."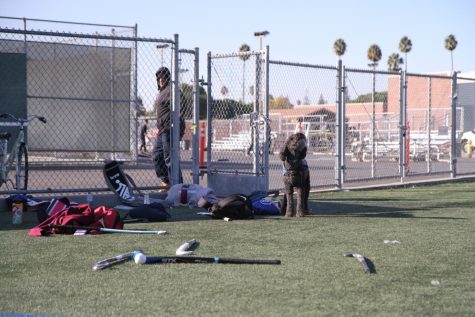 Outside of the classroom, Buster would occasionally attend the girl's field hockey practices after school, as Jennifer Griffin had coached Lynbrook's varsity field hockey team. He would join Mrs. Griffin during some of the practices, lay next to the players' backpacks and field hockey equipment as he watches the players practice and let the team players pet and play with him.
Junior Anvi Anand, who plays on Lynbrook's varsity field hockey team, recalls a special moment with Buster during one of their practices.
"Buster is a super mellow dog so he doesn't really run or bark or anything," Anand said. "One time we were running a cool down lap, and [Buster] starts hopping around and sprinting all across the field and that was the first time I seen him to that. Another memory I have is that our tent broke and flew away. Buster was underneath and the tent went flying away and being the mellow dog that he is, he gets up, turns his head and doesn't do anything. It was really cute."
The next time you see Buster around, give him a pat for the amazing job he does in making Lynbrook a more paw-sitive place!