Sparkling stories behind students' jewelry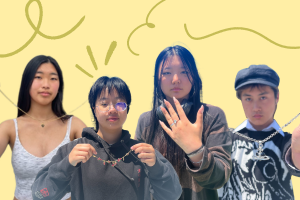 Owing to recent fashion trends, jewelry has skyrocketed in popularity, becoming a staple of stylish modern outfits. But there's more to jewelry than just shine and glitter — jewelry allows people to showcase their own personal style. Through chains, rings, bracelets or piercings, each has a different story to tell.
Sophomore Richard Yuan's current favorite piece is a black-beaded necklace that he purchased from a flea market stand. He often wears jewelry to add intricate detail to outfits that he feels would otherwise look bland. Weaving an appealing combination of his wardrobe and jewelry, Yuan has collected a significant selection of necklaces.
"I'm a huge fan of necklaces," Yuan said. "They really draw attention to the top of your body, and chain necklaces can also be used as hip accessories."
Junior Crystal Lee owns a black heart pendant with delicate crystal detailing that she purchased online in fall of 2021 and remains her favorite piece of jewelry. To Lee, jewelry often holds sentimental value and expresses her personal style and fashion tastes.
"It's like my comfort piece that I wear almost every day," Lee said. "It holds significance for me since it's the first piece of 'nice' jewelry that I bought for myself, and it goes great with any outfit I wear."
Junior Jocelyn Li enjoys bonding with others over similar interests by experimenting with unique combinations of jewelry. She owns a distinct ring that she discovered while cleaning her mom's jewelry collection. Its significance stems from its centerpiece aquamarine stone.
"I was discussing birthstones with my friends when I realized that the aquamarine happened to be my birthstone," Li said. "It's a little different from the jewelry that I normally wear, but it has allowed me to try new styles."
Sophomore Luthien Wang wears jewelry primarily for aesthetic purposes and to bring flashes of color to her outfits. One of her favorite pieces is a golden bracelet she received for her 16th birthday. The multi-colored crystal watermelons strung by a gold chain caught her eye and seemed to perfectly symbolize the beginning of summer.
"It suits my style because the jewels are brighter colors, and it adds a pop of color to my black-and-white fashion style," Wang said.