Kimchee Masala spices up Lynbrook music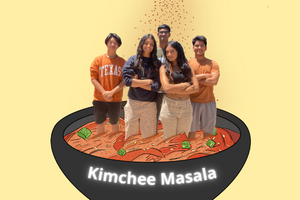 With a count-off from the drums, the band starts to play and the neighborhood swells with bright music. In synchronization, strong bass blankets and solidifies under sharp electric guitar and drum snares, a honeyed voice tying melodies together. With a unique blend of different cultures and genres, Kimchee Masala is ready to spice up the Lynbrook community. Composed of seniors Jacob Chung, Sravya Vakkalanka, Rishab Sakalkale, Serena Kher and Keshav Kannan, and formed in February 2023, the new band gives its members a new way to explore various genres of music and bond as a team.  
The band started when singer Vakkalanka and guitarist Kher were looking for a drummer to perform with them at open mics. However, Lynbrook did not have many drummers available, and it took some time before they found their drummer, Sakalkale, and asked him to join them. 
"The creation of the band was by chance," Sakalkale said. "It wasn't planned, but it kind of happened in stages." 
Despite only playing drums for a month, Sakalkale agreed to be the drummer. Soon after, Chung and Kannan joined as bass and electric guitar players, respectively. Because none of them had a drum kit, they began practicing in the Lynbrook band's practice room, leading to their first band name, PR 1. Unfortunately, there were no available social media handles for PR 1. After brainstorming various names, ranging from Fungus Dogs to The Shagettes, it was Chung who came up with their current name, Kimchee Masala.
"We wanted to make a name based on the characteristics of all the people in the band so we decided to blend our ethnic and cultural backgrounds," Kher said. "So we combined kimchee and masala together. They both taste really good and we're all really hungry."
The traditional Korean spelling of kimchee, a fermented vegetable dish, is a nod to Chung's Korean heritage. The Indian term masala also reflects the ethnicity of the remaining members and adds dimension and duality.
After forming, the band borrowed a drum kit and moved from the practice rooms to Salkalale's garage. Their sound is indie, with hints of rock, and combines the music tastes of all the members, ranging from jazz to Japanese pop.  
"We play a bunch of different music, and we all have different musical backgrounds," Kannan said. "So together,, I think it's an interesting blend of music." 
Kimchee Masala focuses on covers, usually practicing on weekend mornings. They work on songs from various genres and decades, ranging from "Criminal" by Fiona Apple to "That's What I Like" by Bruno Mars, and adapt them to their own style by adding different structures and elements.
One of Kimchee Masala's challenges was finding a time to practice that worked for everyone, and agreeing on the sound of their band and the songs they wanted to play. Chung is into Japanese music, Kannan plays a lot of jazz and R&B, Kher and Salkalale lean toward rock and Vakkalanka dabbles in a wide variety, especially indie music. In the end, they decided to not restrict themselves to only one genre and merge a diverse set of styles.  
"I play a lot of Japanese-influenced music on bass. But now, I'm playing more indie rock and music based in America," Chung said.  "It's really interesting because I've never really done that before."  
Kimchee Masala has given all the band members a space to grow as musicians and bond. Some of their favorite memories include eating food together during practices while learning more about each other. 
While the members of the band will be attending different colleges, they plan on playing at events throughout the summer and will book them through emailing and contacting venues. They are also contemplating continuing their band through Zoom, as they'll be located in different areas in the country. 
"I do other performances on my own, and when I see openings, I ask if they take bands or when I see bands playing, I ask them how they got the spot," Vakkalanka said.
 Kimchee Masala is competing in the Battle of the Bands happening during Grad Night and is performing in the First Friday concerts in Los Altos and  the San Pedro Square Market in June. They share snippets of their behind-the-scenes practices on their Instagram account @kimchee.masala and hope to continue meeting in the summer before going to college. 
"We're making our music our own — we don't want to play the exact original," Salkalale said.