Lights at Lynbrook: Special Education teacher Miguel Alderete
Miguel Alderete has been a special education teacher at Lynbrook for 16 years. Throughout his time at Lynbrook, Alderete has also been a coach and class adviser. In this interview, Alderete shares about how he started his career in education and his most memorable experiences at Lynbrook.
Listen to the audio of the interview here:
---
How did you get into teaching?
Teaching was actually the furthest thing from my mind. I wanted to be a lawyer first, then I wanted to be an aeronautical engineer. I went to college and didn't like aeronautical engineering. I didn't know what I wanted to do, but I was fortunate and had a good political science teacher and took way too many classes from him. A friend of mine said, "Hey, I work at the teen center. We need someone to help out tutoring. I said, 'That sounds fun.' So I did that and had a really good time. I had no idea what I wanted to do with my life, and thought, "You know, maybe I could be a teacher! I like what I'm seeing right here. I like seeing change and growth. I like seeing people excited about topics. That's pretty cool!" I changed my focus and started gearing more toward education, did a lot of things at U.C. Davis that would have led me down that path. And then U.C. Davis canceled its education program due to budget cuts. So I scrambled and ended up at San Jose State because the school was desperate for applicants at the time. I literally hand-delivered my application, and that same day I was accepted, which you'll never see happen again now.
I went through the credential program and became really disenchanted with education. I did my student teaching and got even more so disenchanted by the politics and larger class sizes.
The thing I liked about tutoring is that I saw immediate results, and it's harder to see that in a larger class. Don't get me wrong, I see teachers on this campus work magic in large classes. That's just not me. So I spent many years in private industry doing other things, like purchasing and sales. And then there was a recession. I lost my job and didn't know what to do. But, I had a valid teaching credential, so I could substitute teach. And I needed to pay rent. My focus still wasn't, "I'm going to be a teacher," because I'd given that dream up already. The first assignment I was given was in special education. I freaked out over it a bit because there's a negative connotation associated with special education. That stigma was immediately dashed on the first day. I was like, "Education can be like this?" I was transformed. I had an absolute blast during those two weeks, and I felt bad when those two weeks were up. The kids missed me and threw me a party. I ended up subbing for the rest of the semester and thought, "You know, I could be a special ed teacher." That seemed fun and it invigorated me and it got me going.
What about that special education experience impacted you?
There were kids there who were pure joy. They knew they had issues, they knew they had difficulties in things, but they had a positive outlook. It was a small class, so I was able to work with them one-on-one and I could see over the two weeks that I was there, there was improvement. I was building relationships with kids. I was able to figure out what their needs were and just make growth. I liked that we were able to do what was right for them, instead of saying, "This is the state standard that you have to follow."
I actually do the analogy with my students about ice cream. Generally speaking, we all like ice cream. But we don't like the same flavor. Everyone has special tastes. I was getting that in special education. I was giving individual attention. I created a bond with them. And the growth, that's what gets you in. You can see the progress. Sometimes a kid can get lost in a class of 30. That doesn't happen in a class of 10.
How did you come to Lynbrook?
It's a funny story. I went to the job fair hosted by the Santa Clara County Office of Education. I had a valid credential in social studies, but not yet in special education. But I told schools I was interested in special education, one of the hardest positions to fill. Because I didn't have the credential, they forgot about it until I called them. They said, "That's right! You did want to do special education. The interviews are tomorrow. Can you make it?" And I said, "Yes." I showed up to the district office. It was me, in a suit surrounded by 15 people in special education throughout the district. It was intimidating because it was a tiny room. And I am not the tiniest person. They called me up that same day. Jan Broman, who used to be the principal secretary at Lynbrook, called me and said, "We want you to do an onsite visit." Lynbrook wasn't my top choice. Eventually, Fremont and Homestead called me up. I had friends teaching at both of those schools already. I didn't know anyone at Lynbrook. So Lynbrook, by default, was my last choice. After visiting all three schools, I realized, "I got to go with Lynbrook." They're the ones who made me feel the most welcomed, and it felt like a family. I really feel like it's a family here. Everyone who's gotten married here in my department, I've been to their wedding. I know their families. I know teachers' kids who've gone through here; it's a family here.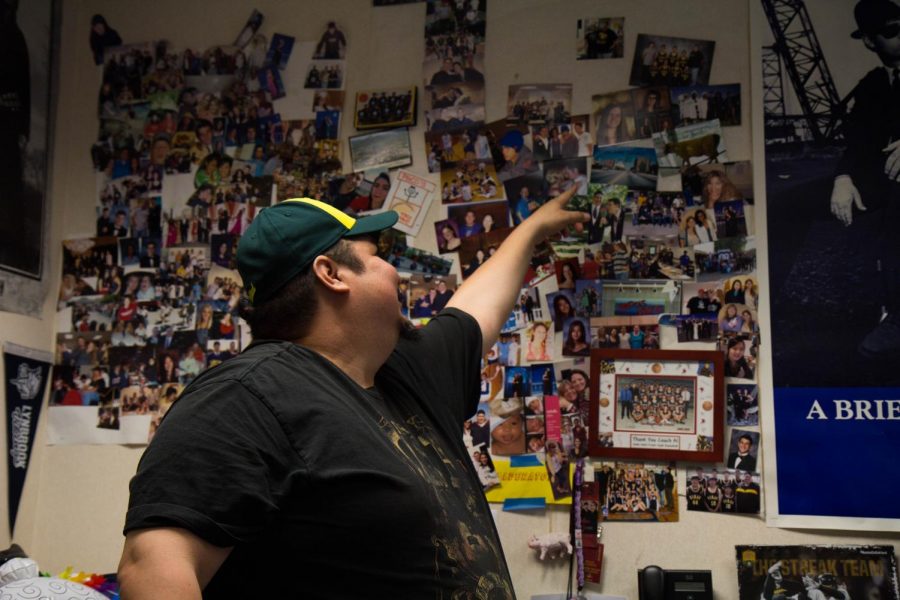 High school wasn't the best time for me. I hadn't developed my identity yet. But there were people that were just inherently good, and they don't care who you are, they'll be good to you. I've seen so many lights here at Lynbrook. It's all about helping people. That's what drew me to education. Every time I see someone I can classify someone as a light, it brings me so much joy.
What are some challenges about teaching?
I think mental health issues were always there, but we have the awareness now, and we're seeing how big of a problem it is. There's just way more stress in the world now than there used to be. There's the pressure of where we live. You could make more than hundred thousand dollars a year here in the Bay Area and still be considered low-income. You go elsewhere, you're top 10 percent. That's added pressure here too. There's all these external factors here that weren't here in the beginning. When I was first hired here, there was a big group of teachers who lived in the neighborhood. Good luck trying to find a teacher who can afford to live in the neighborhood now.
What are some of your favorite memories from your time at Lynbrook?
I have tons of favorite memories. I was class adviser for the Class of 2007. I still keep in touch with a lot of those people. I've seen them married now, starting families. There have been times when we had national science winners, or the time the girls basketball team won the CCS championship, or the time Eric Surprenant won the CCS for hurdles, and it's like… Wow. There's a giant mosaic of what Lynbrook has become. I've had students I've literally known all their lives, come here and graduate. It's like the whole story of not just me, but of Lynbrook.
It's like being part of the lives of kids and just seeing their growth. Just seeing a change. They're developing their identities. Just becoming these awesome, amazing people. It's just awesome to say, "I knew them when…" It's really special to just be part of people's lives.
What are you proud of?
I'm kind of proud of this homeroom thing. We haven't even implemented it yet. But I think we're trying to tackle something that's ongoing continuous for the mental health of our students. We can show them that not all education happens in the classroom. Not everything is learned out of a book or computer. Sometimes, being part of a successful person is just being around other people. I really like that. It's never going to perfect, but what I'm really proud of is that we're constantly trying to find ways to help out students. It can be something as simple as schedule changes, or moving finals before mid-year break. All those little things are done to try to help students.
What kind of environment do you try to create in your classroom?
The biggest compliment I ever got from a student was: "Your room feels homey." You learn best when you're in a relaxed state, and if you feel homey and safe in my room, you're going to learn more than if you feel anxiety going in there.
What hopes do you have for your students this year?
The same hopes I have for them every year. I just want you to get better and feel better about yourself. Have faith in yourself. You don't need to be perfect. Just be better.
Is there anything else you want to add?
This place is a special place. If you walk around, you're going to find some absolutely amazing people. I may not be the best fit for you because everyone is different. But there's going to be someone here who's going to be right for you. Find that person. Find that mentor, because we have that here at Lynbrook. You can't pick your teachers, but you can still talk to any of them. That's what tutorial is for. We're here to help.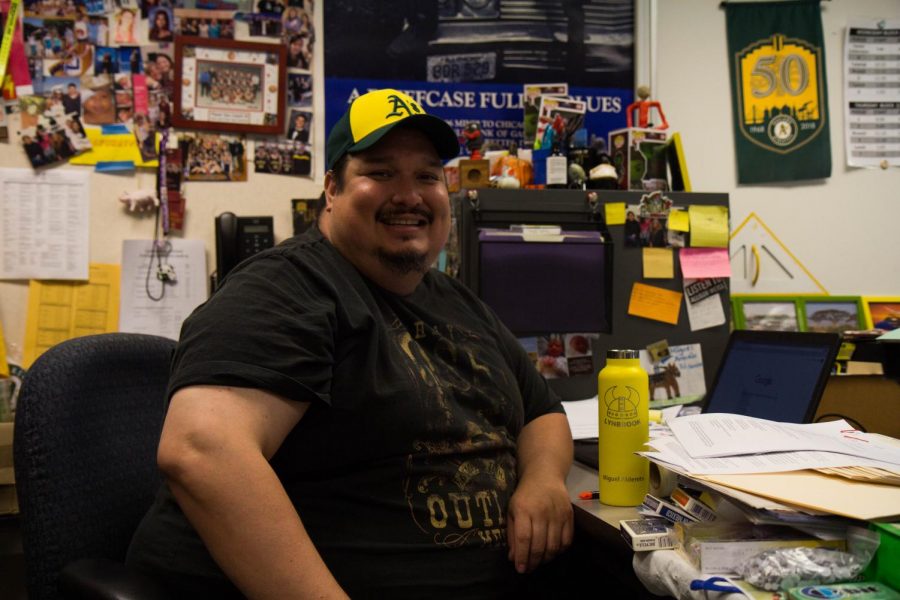 Patricia Wei