Editorial: Encourage solidarity by accepting student-led movements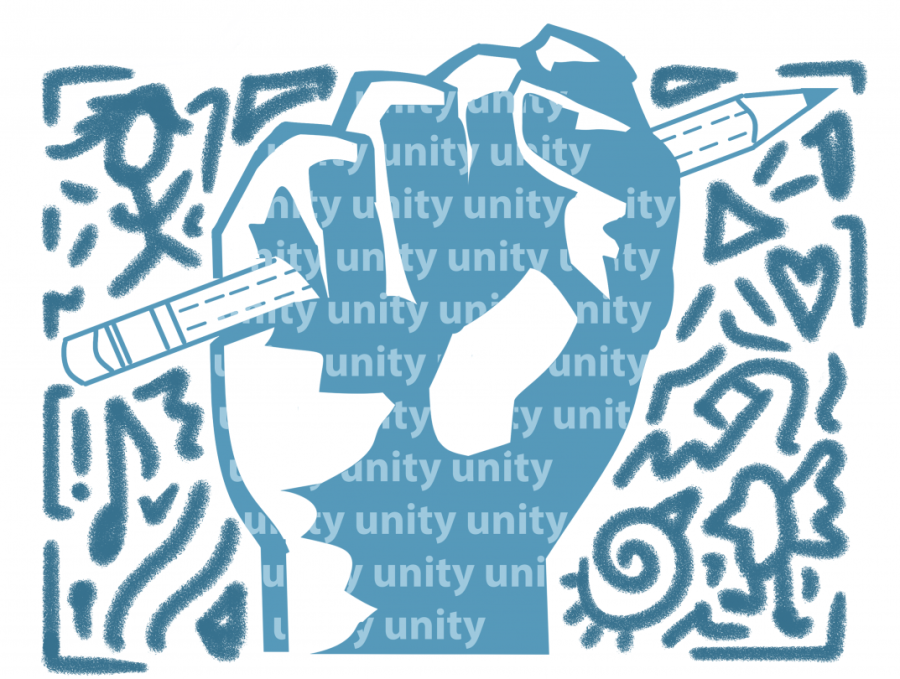 Streets and quads across America on March 14 were filled with students and teachers standing together as a tribute to the seventeen lives lost in the recent Parkland shooting and making a call for improved gun control. In light of the movement, we, the staff of the Epic, declare solidarity with fellow student activists.
On Feb. 14, 19-year-old Nikolas Cruz opened fire on Marjory Stoneman Douglas High School's campus, murdering 17 innocent students and staff members and injuring numerous others, making it one of the largest school shootings in American history. In response to this tragic event, students across the country started protesting and demanding gun reform. Students participated in this national student-led movement through a walkout one month after the event. The movement gave students the opportunity to support each other and voice their thoughts on the issue.
"When I heard about what happened, I was disturbed and the thought that schools were not as safe as I thought struck me," said junior Arushi Gautam. "The walkout just gave us the chance to see that we have created a safe environment for each other to express our opinions."
The walkout was seventeen minutes long to represent the seventeen lives lost the day of the shooting. During that time, students presented heartfelt speeches at the top of the quad with the goals of remembering those who died and urging fellow students to be the generation that ends gun abuse once and for all.
"I wanted to hear other people's opinions and I supported the cause the walkout stood for," said senior Celina Day. "I was glad that other people were also willing to stand up for what they thought was right and did not stand by and be repressed."
In general, most Lynbrook staff have been supportive of student protest and have remained neutral on the issue. Although teachers could penalize students for leaving class for the walkout, many chose not to and allowed students to freely exercise their right of civil protest. Some teachers, however, chose to hold students accountable for "cutting" class.
A potential result for leaving in the middle of class deterred some students from being a part of the walkout, but to others like Gautam, the cause was more important.
"So many people kept telling me not to walk out and that nobody was going to notice us doing it but the thing about the walkout was that doing it was a way to show your support for your community," said Gautam.
A nationwide protest, March For Our Lives, was also held on March 24 against the injustice caused by gun violence against students in schools across America. Many Lynbrook students participated with posters in hand.
In general, Lynbrook administration has been very supportive of these movements. Although they were concerned of possible security issues that the walkout could bring, they felt that this would be a meaningful experience for all students and staff.
"It was great to see students care about an issue deeply enough that they go out of their way to get guest speakers and community members," said Vice-Principal Eric Wong. "Anytime you see students take skills or lessons that they've done in class and apply it to real world things that they care about, is really cool."
In other schools across the nation, administration have implemented severe policies, such as forcing students to wear transparent, plastic backpacks so their contents can be plainly seen. This is a clear violation of privacy and although may provide a temporary solution to the problem, alternative options should be pursued. We are lucky that this isn't the case at Lynbrook, but the student body still need to be aware of the world we live in.
"I think, sadly, more measures or more restrictions need to be taken," said Wong. "We ask all students to stay vigilant, and if you see anything that is weird, always let an adult know."
We, as a staff and as individuals, feel very strongly toward preventing any further devastating events like the ones mentioned earlier, and helping rebuild our communities.
We believe that Lynbrook students who feel strongly about the cause and want to get involved can make a larger impact by contacting their state representatives. They can follow suit of student activists from Parkland who have been openly challenging government officials and National Rifle Association (NRA) members to implement gun policies.