Robotics finishes a rewarding season
Hang on for a minute...we're trying to find some more stories you might like.
Tick. Thirty seconds left. Hands slippery with sweat, the Lynbrook robotics team drivers carefully maneuver their robot to achieve one final feat in the competition: throw the last light blue cube into the given basket. The team of drivers, which consists of seniors Elton Chang, Shadaj Laddad and Jing-Chen Peng and juniors Eesha Deepak and Aayush Shah, had practiced this action with their robot numerous times, but the team grew nervous in the heat of the competition, surrounded by cheering crowds and yelling coaches.
Lynbrook Robotics, which competes with the team name FIRST Team 846, had an extremely successful season this year. The team was ranked ninth out of 60 teams in a second seeded alliance and qualified for regional finals. At the finals, after partnering with Team 971 from Mountain View High School, the team was able to win the Quality award.
"I think the Quality award was a great accomplishment for the team," said junior Shaunak Bhandarkar, officer at large of Team 846. "The award really showcases the systematic approach and organization we value on this team."
On March 17, Team 846 flew to Lubbock, Texas, to compete in the 2018 Hub City FIRST Robotics Regional. At the Hub City Regional in Lubbock Texas, they finished qualifications in fourth place in a field of over 40 teams, with a record of 9-2. Lynbrook was the first pick overall, joining alliance captains Team 1619, Up-a-Creek Robotics from Colorado. They swept elimination matches 6-0 to win first place at the regional competition to qualify for the FIRST Championship. They were also awarded the Excellence in Engineering Award Sponsored by Delphi for their modular student-designed robot, and for their work in bringing the Scala programming language to FIRST. They finished the Hub City Regional with a stellar 11 game win streak.
"I am very impressed with out team's performance this season," said Bhandarkar. "Our success extends across the entire team, as we had a well-engineered design, quality software, as well as successful driving at our recent competitions."
"
Our team was much more organized this year, since we managed to complete nearly all of our goals during the build season, which is our safe 6-week period of designing, building, programming, and wiring our robot."
— Nikash Walia, junior
At the Silicon Valley Regional, a top notch regional in the FIRST program, the robotics team placed ninth after finishing the qualification matches with a record of 7-2. They were picked second overall, by Team 971, Spartan Robotics from Mountain View, and they went on to sweep the quarter and semi final matches with a record of 4-0. The finals were close fought, but the Lynbrook robotics team ultimately lost against 2 defending world championship teams. Lynbrook also won Motorola's Quality Award which cited their widespread use of perfectly neutral counterbalancing, and their consistent autonomous control routines that used the pure pursuit algorithm.
From April 18 to 21, Team 846 competed at the FIRST Championship held in the George R. Brown Convention Center and Minute Maid Park. The team broke their previous record at the championship: the team took home seventh place in 2014, but took fifth place this year.
"I was decently impressed with our effort, because we managed to break our previous record," said junior Nikash Walia, officer at large of Team 846.
To many members, however, robotics is much more than just competition. To them, robotics is a tight knit family where team members work and travel together to achieve a common goal.
"Robotics is extremely rewarding because all the work we put in results in a really strong team bond between everyone," said junior and public relations officer Aayush Shah. "For most of the kids everyday, it's school, then robotics, then homework then repeat."
Many members held an interest for robotics and programing well before high school. Some started in the middle school league the First LEGO League, while others watched competitions as children and were inspired to participate in them in high school.
"I joined the team when I was a freshmen because I had visited a competition when I was younger," said Shah. "It got me really excited to see robots battling it out on the field, and I knew that that was something I wanted to do, too."
About the Writer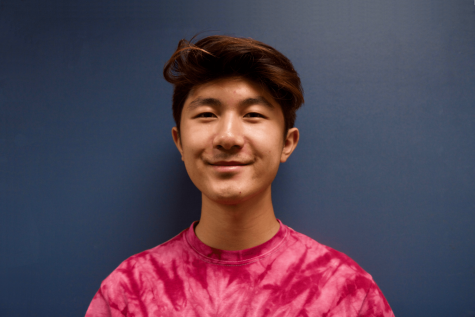 Jonathan Ye, Writer
Jonathan is senior. He enjoys listening to music, hanging with friends, and playing any type of sport. He hopes that in the future, he can travel to all...