Dropping natural lawns for a drought-tolerant future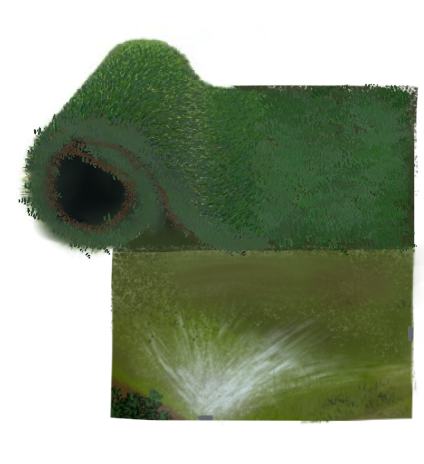 Despite a winter of heavy rain and atmospheric rivers, it will take more than one good year to stop California's drought problem and replenish water sources. Residents must reduce their water use across the board, and one of the most effective ways is by replacing natural grass lawns, which according to the EPA consume about 33% of the average American's household's water. Homeowners should switch to native and drought-tolerant plants, while local governments should encourage this transition by making the process cheaper through tax rebates. 
Like much of the Western U.S., California has been suffering from one of the worst statewide droughts in 1,200 years with consecutive years of little precipitation and an increasingly warmer climate. While this winter has been quite wet, the drought is not over. During the upcoming summer months, California residents will have to reduce their water usage and there are already restrictions in Santa Clara County that limit outdoor water use. 
Californians should replace their grass lawns with other types of yards, such as artificial lawns or with drought-resistant plants to save water and help alleviate the drought. The typical image of American suburbia includes a perfectly manicured green lawn, an outdated symbol of wealth and homeownership. This image is much harder to keep in California with warmer temperatures increasing the amount of water needed. 
"Lawns or grass is the most widely watered crop in the United States, more than agricultural products," junior Nicholas Kong said. "So getting rid of lawns makes a big difference."
One solution to conserving water is to replace lawns with artificial turf. These turfs can help property owners save money, while still maintaining the look and feel of real grass. Turf also makes the upkeep of sports fields easier and gives all athletes a uniform playing field. 
"They use [artificial turf] for the field because it uses a lot less water," English teacher David Clarke said. "And also the cost based on the maintenance, including water, is more for grass than it is for turf."
Despite its benefits, artificial turf has its own problems. Turf absorbs heat, making the temperature of the grass extremely high during warm days. It also has ecological impacts, disrupting the lives of organisms and ecosystems below ground, and unlike natural plants, does not benefit the local ecosystem
The best way to improve one's lawn is to combine the drought-friendliness of artificial turfs with the natural benefits of grass through drought-tolerant and native plants. Native California grasses can provide the feeling of a typical lawn, while using nearly half as much water. 
"Instead of replacing grass with turf, there are also landscaping rebate programs that are more sustainable, water-efficient, and don't require that much money, " sophomore Daphne Zhu said.
 Government programs are now incentivizing people to change their lawn to low-water-use landscapes, with Valley Water offering rebates to those who make the switch. Local residents looking to change their residential landscapes from high to low water use can get a rebate up to $3000 through Valley Water, while also saving money in the long run by using less water. By having more incentives and making drought-tolerant options more available, local and state-level governments can encourage more people to save water, helping California alleviate some of the worst effects of the drought.