Is America's power far-reaching or overreaching?
"We will defend our freedom, we will bring freedom to others and we will prevail," President George W. Bush said on March 19, 2003, just before the U.S. invasion of Iraq. Three years later, over 300,000 Iraqi civilians had been killed by U.S.-led forces. Throughout the Revolutionary War and the Cold War, America has emerged as a global superpower — one with political, economic and technological supremacy. However, this status is entangled with imperialism, military action and foreign control. 
  A nation with one of the highest standards of living, America's influence encompasses a rough majority of the globe. For starters, the U.S. military is currently the most funded and equipped in the world. In terms of gross domestic product, the U.S. is an economic fortress, boasting the highest GDP of $26.13 trillion as of 2022. American culture is also widely embraced among foreign countries, with English being the most wide-spoken language in the world, popularized by the U.S.
But this wasn't always the case. In 1898, America obtained Puerto Rico, Cuba, Guam and the Philippines after winning the Spanish-American war, establishing them as an imperial power with colonial land claims. The U.S. further subjugated Filipino and Latin American governments in the early 1900s, often using unethical techniques. Over the years, the development of nuclear technology gave the U.S. a military edge, coupling with their political influence during the communist scares of the Cold War to push the country forward.
America continues to exercise its military power, often resulting in the unintended killings of foreign civilians. After the Sept. 11 attacks, President George W. Bush spearheaded the U.S. invasion of Iraq in 2003, called the "War on Terror". As a result, irreparable damage to Iraqi healthcare and infrastructure was incurred, with hundreds of thousands of civilian deaths remaining unreported and the displacement of nearly 38 million Middle Eastern and African civilians. Even as the U.S. aids civilians with loans, food and basic necessities, citizens continue to suffer casualties as a direct result of its military involvement.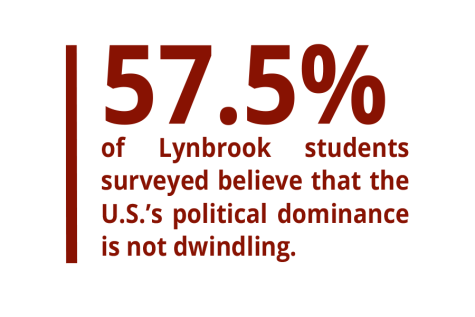 "No aid is free. Some countries are required to adopt policies similar to the U.S, such as holding elections or enacting stringent laws on drug use, to receive aid," said Kenneth Faulve-Montojo, Senior Lecturer of Political Economy and International Relations at Santa Clara University. " A lot depends on the circumstances under which the aid is tied."
These patterns are seen with the U.S. invasion of Afghanistan, in which U.S.-inflicted civilian casualties increased by 330% under the Obama and Trump administration, as reported by Brown University's Watson Institute. Afghan women, in particular, now reside under the oppressive Taliban after the U.S. withdrew its troops from Afghanistan, claiming U.S. casualties had reached an all-time high and thus should continue no more.
"We should not intervene in arbitrary political matters that do not actively harm people. But, during times of massive genocide, humanitarian crisis or ethnic cleansing in developing countries, U.S. interference is the most logical thing to do," junior William Jiao said.
Inequalities ensue when a powerful nation closes its doors to underprivileged societies. These discrepancies were exacerbated by the Trump administration that created restrictions on the U.S.-Mexico border and enacted a Muslim travel ban. The Biden administration is attempting to repeal Trump's "Remain in Mexico" policy implemented during his presidency, requiring Mexican citizens seeking asylum in the U.S. to wait for U.S. court hearings, a process that can take years. 
"Given what the U.S. has to offer, it's important for it to create an immigration policy that is inclusive, but still maintains national economic stability," junior Vaishnavi Kunapali said.
America's ability to indirectly manipulate the actions of others, whether by enacting harsh laws against immigration or practicing forceful military action, presents caution to its abuses of power.