Freshmen welcomed with orientation club showcase
Club booths with colorful poster boards greeted the Class of 2026 as they entered the Freshmen Orientation Club Showcase on Monday, Aug. 15. ASB organized the showcase to introduce incoming freshmen to clubs prior to Club Info Week.
At the showcase, club officers gave freshmen a run-down of their club while answering questions. Clubs also handed out promotional stickers, and some even provided live presentations such as flying a model airplane, breakdancing and a guitar solo to make the showcase more interactive.
Every year, ASB hosts Club Info Week in mid-September for clubs to promote themselves, allowing students of all grades to sign up. However, in the scramble to enroll in clubs, crowds can be disorienting for students as they navigate from one booth to the next, causing them to miss out on crucial information.
"It has been particularly hard for freshmen to get engaged in clubs because they are new," principal Maria Jackson said. "ASB wanted freshmen to get a little glimpse into what clubs are around so they can have some concept of what to expect on the actual club day."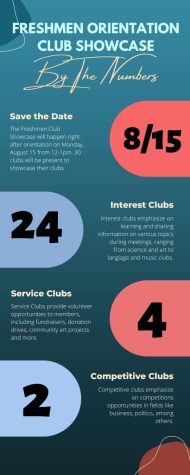 Freshmen Orientation Club Showcase was ASB's solution to minimize crowds through a freshmen-only event, allowing freshmen to ask questions to learn about clubs in a low-stress environment. Freshmen were not able to sign up for clubs as ASB wanted them to learn about and explore the different clubs on campus without the pressure to commit to them.
"We hope that this freshmen-only event will allow freshmen to more comfortably integrate into the clubs and opportunities on campus," ASB Vice President and senior Shyon Ganguly said. 
In planning the showcase, ASB selected 30 clubs from a pool of 40 that expressed interest in presenting themselves. Many clubs sought to expand membership, and a more intimate setting would allow freshmen to explore a particular club more thoroughly. 
"We prioritized representing clubs with fewer members, allowing smaller clubs to gain exposure and feedback from prospective freshmen," Ganguly said. 
Freshman membership has always been a priority for clubs. First-year students contribute to club diversity, which is essential for a club to last as the senior class graduates. 
"Having lots of freshmen is a healthy sign for a club because it means that it's attractive and worthwhile for new members to join," Astrophysics Club president and senior Daniel Wang said. 
Clubs are always looking for new and innovative ways to attract and retain freshmen members. The new club showcase allows officers to create this bond from the get-go. 
"We used appealing pictures of food, an interesting subject, to entice freshmen to join our club," Culinary Arts Club officer and senior Leejae Kang said. "I hope that freshmen were able to be introduced to a variety of clubs and find something they were interested in." 
Captivated by the overwhelming array of interests to explore, freshmen are enthusiastic about the extracurriculars Lynbrook has to offer as the school year begins. 
"The freshmen club showcase gave me an idea of what Lynbrook and its extracurriculars look like and what I can explore here," freshman Charlotta Dai said.