Tracking Coach Jake's long running and coaching career
A gray van parked near the Lynbrook track is a familiar sight on a typical afternoon in the fall and spring. Those not involved in cross country and track and field may not know the van belongs to Coach Jake White, who drives throughout the neighborhoods to check in with his runners during practices, making sure they are on the right routes and ensuring that no one has fallen behind or gotten injured. Jake's van is also always stocked with a first-aid kit, water for the team and occasionally granola bars as well.
Before becoming a coach, White was a dedicated runner himself. He took up the sport and started training in his 30s, and, refusing to accept age as an obstacle, continued running for decades until his early 70s and achieved his personal best times in races from ages 38 to 40.
White grew up in Utah and moved between a few different West Coast states before settling down in California. Here, he started training during his free time outside of his family commitments and work in printing and construction. 
"As soon as I started running, my mind was totally clear," White said. "It was total meditation and total freedom."
White competed in track events, ranging from the 800 meters to the 10K runs, as well as marathons and road running events like the 5K. Throughout his first 10 years of running, White ran an average of 70 miles a week for practice. As he grew older, he gradually reduced the number of miles he ran for practice in accordance to his physical capabilities. In the second 10 years of his running career, he ran an average of 60 miles, and in the following 10 years, 50. He joined a running club as a "masters runner," a runner older than 40, and became one of the top masters runners in the area. For a while, he was even sponsored to run by Reebok Racing Club. 
White has fond memories of different runs and races he participated in and enjoys sharing stories about his experiences with the runners he coaches. He has a few memories that make him chuckle: like bursting out into a cheerful song about facing a desert wasteland with five miles to go as he and his friends were returning from a 15 to 20 mile run. 
On another occasion, on an unusually hot day, White lined up with 1,000 or so competitors, many of whom were experienced runners, for a 30K race starting at Golden Gate Park. White thought his high heat tolerance would prove an advantage that day. Sure enough, as the race progressed, more people dropped out with every 5,000 meters, and White finished among the top 5. 
Not only do White's stories help liven up practice, but they also motivate the runners he coaches. 
"You can tell he's passionate about running, and that passion is really contagious," junior Sophia Wu said. "With cross country and track, there is that competitive aspect to it, but he mainly stresses enjoying running and focusing on yourself to achieve self-improvement throughout the season. He makes the team dynamics really warm and welcoming."
White began coaching track and field and cross country more than 20 years ago. Before coming to Lynbrook, he coached for around 10 years at different schools like Adrian Wilcox High School and Archbishop Mitty High School. At Lynbrook, he found especially strong support and respect among the track and field coaches, which allowed them to coordinate well despite their focuses being on different groups of runners. 
"There's support for everyone on the team," White said. "You need a balanced program in order to be competitive at meets."
Since he was already retired when he began coaching at Lynbrook, White made use of his free time to help build up Lynbrook's track and field team. He found opportunities for invitationals and encouraged more runners to participate in those meets, even if they were not the top athletes.
Normally, White helps plan out practices for distance runners, which can vary greatly from day to day. For example, after a tough race on Saturday, White may plan an easier and slower-paced 6 or 7 mile run for Monday, which is when the runners feel the greatest effects from Saturday's competition. On the following days, he increases the intensity with tempo runs, which are at a more difficult but still manageable pace, and with interval workouts at the track to help the runners build confidence for another upcoming race on the weekend.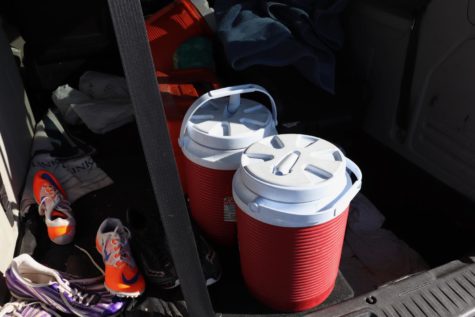 Throughout White's coaching career, his coaching style has underwent some changes. In the past, he was more strict and demanding of the runners under his mentorship, but over time, he has developed a more caring approach. 
"I think I'm a better coach than I was 10 years ago," White said. "I worked the kids harder back then. A couple times I made mistakes with runners by giving them too hard of a workout. I keep more of an eye on the kids now. I think every year I got better as a coach because I understood a bit more."
He helps guide runners toward the decisions that benefit them the most, recognizing when to lower the intensity of their training or setting up training to help a runner transition to a different running event. During their high school years, an athlete's body is still developing, and the training and events that fit the student at the moment sometimes differ from the event they competed in when they first started. 
"I like how he puts a lot of emphasis on how we feel as an individual," junior Srushti Patil said. "So if we're ever injured or our muscles feel strained or if we're just not having a good day, he won't push us to a limit that we can't go to. He's understanding and respectful of our physical abilities."
After races, White also advises the runners on how to improve with different strategies. Many times to win races in her freshman year, Patil followed one of White's suggestions to "sit and kick" by letting other runners take the lead, following closely on their heels while looking at their shoulders to go all out toward the end. 
White has an incredible passion for running, but the core of his love for coaching cross country and track and field is working with student athletes and watching them start with potential and grow throughout one or more seasons. 
"What I enjoy most about coaching is the kids," White said. "It's 100% the kids. It's such a joy for me to be able to come out here. I'll have to figure out what to do with myself and all the time I'll have on my hands when I retire. It's just so much fun."
Looking ahead at the path of his coaching career, the future holds a lot of uncertainty, but many of the insights White has gained on the track will stay with him. As someone who started running at 32 and continued for 40 years, he has advice to help runners continue their training even as they grow older or find less time on their hands. 
"Don't put any requirements on yourself," White said. "Don't say, 'I have to run 5 miles. I have to do this and that.' I say, 'let the door hit you in the butt.' The hardest thing to do is to get out the door. Don't necessarily plan the run; just let the run happen."