Joomi Park swings her way to Occidental College
Senior Joomi Park first picked up a golf club in middle school. With five years of persistent hard work and determination, she has now committed to play Division III golf for Occidental College, a liberal arts college in Southern California. 
Park's dad initially introduced her to golf when she was in seventh grade. He played for fun with his colleagues and wanted to improve by taking lessons with a private coach. Park joined the lessons and soon set her sights on playing for Lynbrook's golf team, so she began to register for tournaments as a part of the Junior Golf Association of Northern California to improve her skills.
"When I would go to tournaments, I would see all these kids [whose] scores would be 70 or 80 [strokes]" Park said. "When I played 80s or 90s, 70s or 80s was all I wanted."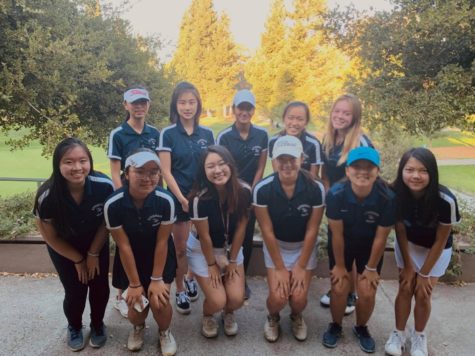 Golf scores are tallied by adding up the number of strokes for each of the 18 holes in the course, and Park was motivated to decrease her score to catch up to her peers, some of whom had been playing golf for twice as long as she had, at tournaments. Training with a new coach and learning a different swing during her sophomore and junior years helped Park decrease her score by more than 10.
Park not only achieved her goal of making Lynbrook's golf team, but also became team captain of the varsity team during her senior year. She facilitated fun golf games including a golf version of the basketball shooting game "knockout," where players try to place the ball in the hole before the person behind them. These games helped the team to bond and make freshmen feel welcome. 
"Joomi is really positive," said sophomore Jibin Lee, Park's teammate at Lynbrook. "Upperclassmen can be intimidating when you are a freshman, but she gets rid of that."
Although she was part of Lynbrook's golf team, Park still competed individually at tournaments, mostly during the summer. Without the need to balance her sport with homework, she focused solely on golf during the two-month period, going to 10 to 15 tournaments every summer. Park usually practiced on the range, where players drilled fundamental skills, during the school year, but not having school allowed her to practice more often on the course.
After practicing her new swing for nearly a year, Park scored 77 at the Junior Tour of Northern California — her first score under 80. Park was excited to continue her progress with her newfound confidence and to end her high school career strong.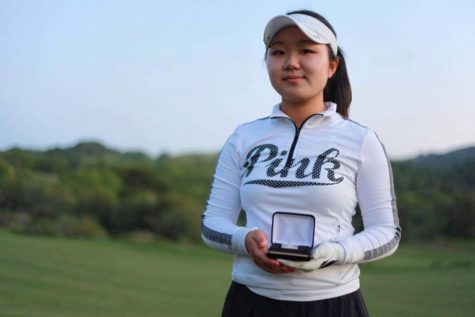 Then, the unexpected happened: golf courses everywhere shut down due to COVID-19 in March 2020, so Park could not practice at all until May, when they reopened. As with changing her swing, Park was able to embrace adversity through the pandemic.
Playing golf for a college team had been in the back of Park's mind since she started high school, but she only began taking the recruitment process seriously in her junior year. During her senior year, she began to talk to different coaches, emailing back and forth with them about the schools and their golf programs. She contacted around six schools but liked Occidental College the best from the start and applied Early Decision.
"I like how [Occidental] is a tight-knit community — the coach has already sent me multiple handwritten cards, and the captains reached out to me right after I was accepted," Park said. "Even though I have not attended the school yet and played on their team, they were very welcoming."
Whether they want to play their sport in college or not, Park advises other athletes to continue working toward their goals despite tough obstacles.
"
There are going to be hard times everyday, but just work through it and don't give up. If you work hard, you will get the result that you want.
— Joomi Park, senior
"There are going to be hard times every day, but just work through it, and do not give up," Park said. "If you work hard, you will get the result that you want."
Park's major is currently undecided, but she is interested in pursuing a psychology-related area of study or the arts at Occidental. As she enters college, Park hopes to explore different subjects and find a career that she is passionate about while continuing to improve her golf skills and decrease her scores to the low 70s.
"Even though I might struggle sometimes, I hope to continue [playing golf] all throughout college and then continue after college [as a hobby], too," Park said.