An outdoor adventure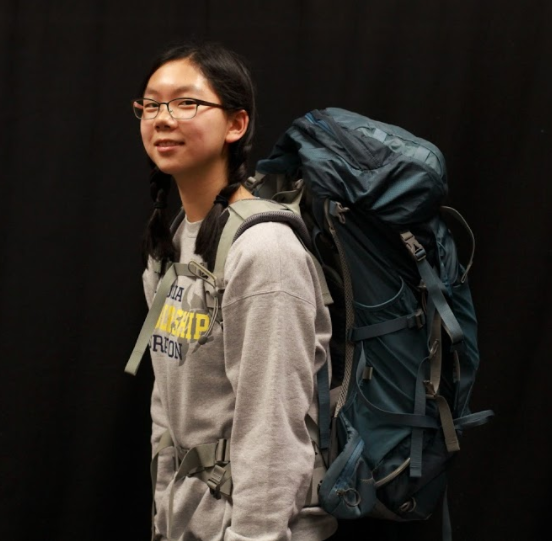 The wind whistled around me as I sat with my legs crossed on the granite rock. I fell speechless at the sight in front of me and settled to just simply watch the sun's gradual ascent over the peak of the mountain. It was the most breathtaking sunrise I had ever seen.
That was the picture-perfect ending to my backpacking trip in Yosemite National Park last summer. For those of you who know me as someone who has still never gone camping before, you'd be very surprised to hear that I voluntarily go backpacking, which takes much more effort than camping. Yet, in the middle of an uncommonly hot July, I found myself in the Tuolumne Meadows area of Yosemite, with a 35-pound backpack on my shoulders, ready to begin a nine-day exploration of the High Sierras.
I had never done anything like backpacking before, so I had no idea what to expect. It's safe to say that I was more than a little apprehensive about the trip before setting out, from no showering for nine days to carrying everything I needed on my back for five to seven miles a day.
Then, as the trip actually began, I found myself becoming more and more immersed into backpacking and Yosemite itself. In just those nine days, I hiked to the summits of two mountains, camped by several lakes and rivers and even witnessed a Chinese rocket re-enter Earth's atmosphere. I fell in love with the clear water of the Yosemite rivers, the elusive tadpoles of the High Sierra lakes and the ubiquitous purple lupin flowers of the Tuolumne Meadows landscape.
In Yosemite, I was so disconnected from the outside world that I was able to just live in the moment and take life second by second. Leaving all my constant worries behind, I enjoyed the simplicity of the daily routine of waking up early in the mornings, packing, hiking a few miles during the day, spending afternoons wading in a lake or a river and then settling down under the stars for the night. I felt myself gaining a greater appreciation for nature and the small things in life, which had gone unnoticed before the trip because of my fast-paced life back home.
Somehow, backpacking grounded me. In nine days, I had experienced many firsts: getting sunburnt for the first time, sitting around my first campfire and seeing my first shooting star. I had learned what it meant to be persistent by pushing myself to my limits to continue to hike even when I had reached the point where I was so tired that I could not even put on my backpack after a break. I had hiked through the pain from the blisters on my feet and the scrape that left behind a scar that still remains on my left knee. I had gained more confidence in myself, in my ability to be independent and in my strength to do something as physically and mentally straining as backpacking. I returned from Yosemite ten shades darker and ten times more aware of myself and the world around me.
After the trip, I easily fell back into my usual routine at home, of panicking over chemistry tests and essays, burying myself in never-ending lists of to-dos and worrying about my next steps.
Through this all, though, I haven't forgotten about my time backpacking. Whenever I have too much on my hands, I remind myself to stop for a while and think back to it. The persistence it ingrained inside of me has carried me through more chemistry tests than I can count and far more essays than I ever thought I would write in one year. It's my hope that what I learned in Yosemite will never leave me, and that one day, I might return for another extraordinary backpacking experience.
They say that everyone has a special place, a place that makes them smile in times of sadness and laugh when the going gets tough. For me, that place is Yosemite, and it was backpacking that brought me there.