Ma Rainey's Black Bottom: A window into the past and the present
Much like the call-and-response pattern of multiple voices in Blues music, the characters in Netflix's Ma Rainey's Black Bottom continually engage in conversation, attempting to make sense of the unreasonable injustices they face. From the opening sequence itself, director George C. Wolfe shows the audience the hearth-like relief that Blues music provides for Black people living in 1920s America, even if that relief is only momentary. 
Ma Rainey's Black Bottom is based on the 1982 play of the same name, written by trailblazing Black playwright, August Wilson. The play is part of Wilson's Century Cycle, a collection of 10 plays each set in different decades of the 20th century that depict the various struggles of African-American individuals during each time period. Set in 1927 Chicago, Ma Rainey's Black Bottom follows Ma Rainey, a real-life Blues singer of the 1920s, and her band as they record an album at a recording studio run by white men.  
Viola Davis portrays Ma Rainey with fortitude and spirit. A seasoned Wilson actor and 2016 Academy Award winner for Fences, another Wilson movie adaptation, Davis embodies the weight — literally and metaphorically — of Ma Rainey, a tough-on-the-exterior, authoritative Black woman. Although the character may initially seem obnoxious or overbearing, Davis helps the audience explore Ma Rainey's nuanced emotional layers. Through this engrossing process, it becomes evident that Ma Rainey has developed a tough exterior to own her power and dignity, without being taken advantage of by white people or anyone else. 
It is convenient and stereotypical to make such powerful and influential women seem diva-like or difficult to deal with, but this is where Davis's extraordinary skill is showcased at its very best. Davis brings a complex combination of grit and empathy to her character, portraying Ma Rainey's unapologetic and outspoken qualities with mastery. Consequently, scenes like Ma Rainey's abrupt and firm request for two bottles of Coca Cola right before a recording and her public romantic affection for another woman seem valid, empowering and extremely refreshing. Needless to say, these incidents especially hold power as windows into the countless desires and liberties denied to Black people, especially Black women, of the time.
The struggle for dignity and authority is relevant to Ma Rainey as a woman, especially as a woman of color. Her desires and unabashed nature do not antagonize her, as such characters are stereotypically imagined; instead, through voicing her desires and ensuring that she receives them, she maintains power, something a woman like her would not likely be afforded. She is also completely and fully aware of the extent of her abilities and talents, and confidently asserts her position in order to help her gain the recognition which she might not get otherwise.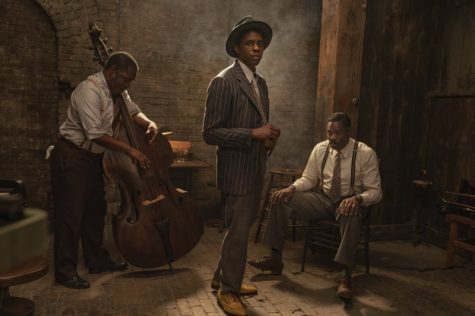 The movie also stars Black Panther actor Chadwick Boseman in his final movie role before his passing due to colon cancer in August 2020. Boseman plays Levee, a young and idealistic trumpet player in Ma Rainey's band, aiming to break out of the band to compose and record his own, modern songs. Levee's naivete and blind faith in his future success make Boseman's wholehearted and brilliant portrayal painful to watch. For one, as a Black man and Black artist in white society, Levee's idealism makes way for tragedy throughout his life. Additionally, knowing that this was Boseman's last performance, and one that occurred while he was dealing with colon cancer, makes Levee's questioning of his own mortality and life seem achingly ominous. Boseman's portrayal is equal parts dynamic, weighty and gut-wrenching, making it one of his best performances. 
At its core, Ma Rainey's Black Bottom is a study of power and dignity in face of systemic injustice, and each Black character embodies a key aspect of struggling for and finally attaining those qualities. This theme is incredibly relevant today, especially in light of the resurgence of the Black Lives Matter movement in 2020. 
The white recording studio owners in the movie reflect the inherent discrimination in facets of the American judicial and law enforcement systems. In the movie, the white characters are primarily interested in the profit they can make off of Ma Rainey and her band's incredible musical talent, instead of their individual preferences and struggles. 
 "All they care about is my voice," Ma Rainey says. "They hear it come out but they don't know how it got there." 
Ma Rainey's Black Bottom's empowering relevance to our times is striking, yet an indicator of the injustices that continue to face our society, 94 years after the time period of the story. As much as we would like to believe that things have changed, Black people continue to face systemic undermining, women continue to stand at unequal ground to men in society, and LGBTQ+ people continue to be marginalized. However, the movie provides examples through which individuals can assert their power in the face of hardship and continue to hope for the better, thus reinforcing the movie's relevance to humanity. 
Watch the trailer to Ma Rainey's Black Bottom below: