Navratri and Dussehra 2020: Celebration of spirit
Brightly colored skirts swirl as people dance in circles, Dandiya sticks clack together and swift feet squeak against the linoleum flooring. The air radiates warmth and energy as the occasional laugh rises above the loud music and the overlapping conversations. During a typical year, this is a familiar sight to those who celebrate the Hindu festival Navratri by attending Garba, where hundreds of strangers unite through dance. However, due to the restrictions caused by COVID-19, Garba, as well as many other Navratri festivities, have come to a halt, forcing families to adopt creative ways to celebrate.
One of the most popular festivals in South Asia, Navratri is celebrated during the Hindu month of Ashwin, which usually occurs during the months of September and October. This year, festivities were held from Oct. 17 to Oct. 26. Navratri directly translates to "nine nights" in Sanskrit, and Dussehra, the accompanying festival, occurs on the 10th day. Navratri is also a precursor to Diwali, another widely-celebrated South Asian festival whose name means "festival of lights" and occurs on Nov. 14 this year.
Although Navratri is celebrated in different ways and for different reasons across the subcontinent, there are a few mythological stories that have influenced many of the festivities. One is the story of Lord Rama defeating Ravana, the ten-headed demon king, in the Hindu epic Ramayana. Ravana abducts Lord Rama's wife, Sita, and he sets out to Ravana's kingdom, Lanka, to defeat Ravana and free Sita. Another popular story is the legend of Goddess Durga. Mahishasura, a shape shifting demon, waged a war against the gods and Durga was sent by the gods to defeat Mahishasura and save the earth from destruction. The battle began on the seventh day of Navratri, known as Saptami, and the 10th day, known as Dussehra or Vijayadashmi, was the day of victory. Although Navratri is also a harvest festival in some regions, the overarching theme of the victory of good over evil is prevalent across all regions.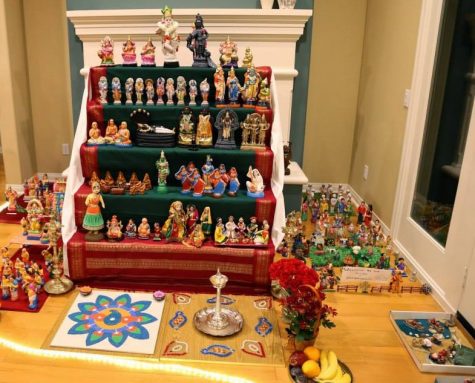 Within the Indian subcontinent, Navratri festivities vary by geographical region. In South India, many families celebrate Golu, a tradition that involves creating a festive display of dolls and figurines. These dolls represent all the energy forms in the cosmic universe, from Gods all the way down to humans, animals and nature. They are arranged on an odd number of steps, such as 3, 5, 7 and 9, because these numbers are considered to be the most auspicious. The 10th day is dedicated to Saraswati — the Hindu goddess of knowledge, learning and arts. Over the 10 days, families visit each other to admire the displays, participate in musical performances — singing bhajans, or devotional songs, and performing classical dances — and eat traditional South Indian food. 
In North India, Dussehra is combined with Navratri and the entire ten day period is known as Navratri. The battle between Rama and Ravana is said to have been 10 days long; thus, Navratri is celebrated for 10 days and the last day, the day of Rama's victory, is celebrated most extravagantly. During the 10-day-festival, both Rama's victory and the different Hindu goddesses are celebrated. One of the highlights of the festival is the Ramlila, translated "the play of Rama," which involves acting out various episodes from the Ramayana epic. Another highlight is the Kanya Puja, occurring on the eighth or ninth day of Navratri, where young girls are worshipped as forms of the different Hindu goddesses. Customarily, nine girls are worshipped as the nine forms of Goddess Durga, but often, the puja is expanded to celebrate all young girls.
"When I was a kid, we used to get invited to different houses because I was a girl and they would give me little bits of money or small goodies like bangles or colored pencils," physics and math teacher Anshul Agarwal said. "I used to save that money very judiciously to collect and spend on my favorite things such as a magnetic pencil box."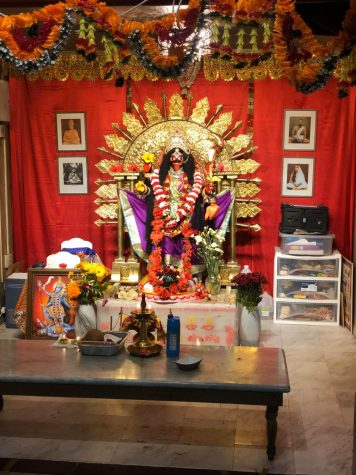 Eastern India celebrates the festival as Durga Puja, a 10-day event honoring the Hindu warrior goddess Durga. It typically involves meeting with family for the puja, or religious service. This is then followed by visiting pandals, temporary religious structures, for the opportunity to see an auspicious image of the goddess and take her blessings, known as darshan. Similar to South Indian celebrations, music, food and socialization are prominent characteristics of Durga Puja.
In Western India, especially the state of Gujarat, Garba and Dandiya Raas dances are popular. Garba involves people forming a circle and dancing around a clay lantern with a light inside, or commonly around images of the goddess Durga. Dandiya Raas is similar to Garba, but involves dancers striking small wooden sticks with a partner. Both of these originated as Gujurati folk dances, but as Navratri celebrations have grown more extravagant, individuals of all cultures have joined in participating. They celebrate the 10th day as Dussehra, on which they honor both Durga and Rama. 
For many individuals, one of Navratri's defining aspects is the opportunity to meet and connect with family and friends. With social distancing protocols in place, this year, the festivities were expectedly different. In typical years, families celebrating Golu often receive so many invitations that the event is informally known as "Golu-hopping" because they can only afford to spend a few minutes in every home to visit them all. However, this year, many have opted to connect with others through video calls instead of in person.
"My family FaceTimes people that are putting Golu so that we can still greet each other and celebrate, but other than that there's nothing that we can really do," said junior Alaap Rag.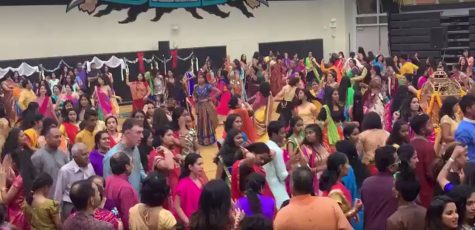 Other events that usually bring hundreds of people, such as Garba and Dandiya Raas events were also cancelled this year. Typically, many high school gyms would be transformed into a space for families to dance, socialize and eat together. Some of the most popular local events, such as the one sponsored by the Sankara Eye Foundation, would regularly host more than 8,000 people each year. While this is no longer feasible due to COVID-19, there are some virtual dandiya classes being held so that people still have the option to dance.
"I missed dandiya, but even though we couldn't go out because of COVID-19, we still had a little dance party inside our house, just the four of us," Agarwal said. "It gave us the happiness of being together, and my kids were able to connect and remember that there was something called dandiya, which I feel is a great thing because they are very forgetful to such customs and traditions otherwise."
Durga Puja primarily focuses on the deity, so individual families can still carry out religious rituals. Traditions such as going to places of worship for darshan, however, are no longer an option. Many places of worship offer online darshan, and families that typically perform the rituals together video called this year to recreate the same energy and festive spirit. 
Despite the new challenges this year, the spirit and significance of Navratri stayed the same. 
"Taking away the celebration aspect, it's a bummer because you don't get to meet people and that's part of the festival itself for sure," said junior Aryan Dwivedi. "But by taking it away we get to connect with why we're doing it in the first place and focus a lot more on the spiritual or the methodical purpose of Navratri."